Parents Left Waiting As Pfizer Delays Vaccine Push For Kids Under 5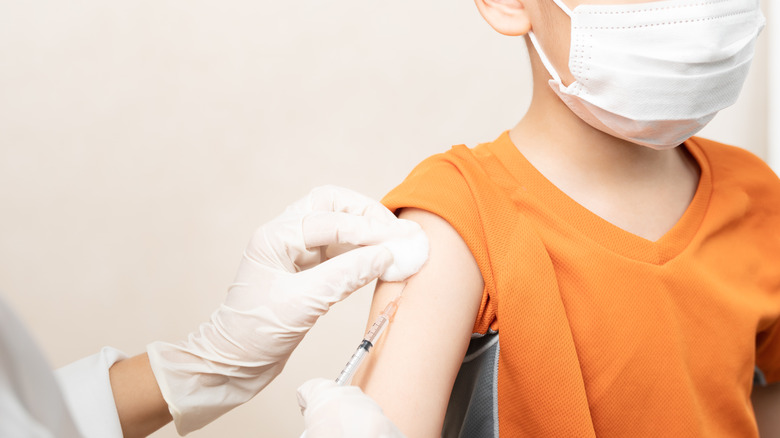 myboys.me/Shutterstock
Parents who had hoped to get their young children vaccinated against COVID-19 now find themselves facing an extended wait again, with Pfizer announcing that it will delay seeking authorization for use in kids under 5 years of age. It's a blow to efforts to continue reopening the US as the pandemic continues, a period which has seen parents of younger children left in limbo due to an absence of preventative vaccinations.
Currently, the Pfizer-BioNTech COVID-19 vaccine – which is marketed as Comirnaty – has approval from the US Food and Drug Administration (FDA) for individuals 12 years of age or older. It is also being administered under the FDA's Emergency Use Authorization (EUA) process during the pandemic for children aged between 5 and 11 years.
The hope, however, had been that the FDA would grant an extension of that EUA, which would cover even younger children. Currently, there is no authorized or approved vaccination for those under 5 years of age, which leaves parents and caregivers forced to balance the requirements of their daily life – including work – while simultaneously keeping children isolated from potential infection. The COVID-19 vaccinations have been shown in clinical testing to significantly decrease the likelihood of a severe or life-threatening case of the disease.
Vaccine trials for younger kids didn't go as planned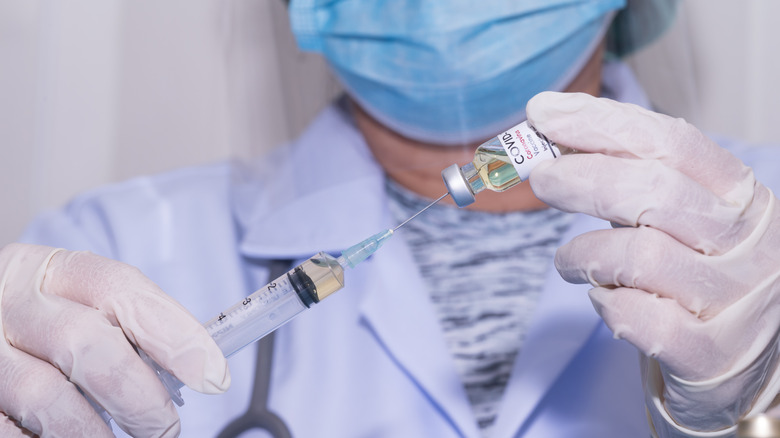 Komsan Loonprom/Shutterstock
Ongoing trials have looked at the potential impact of extending vaccine use to those babies and small children. The process hasn't been a simple one, however. Back in December 2021, for example, early data indicated that those 6 months to 4 years of age would likely need a third dose in the vaccine regimen, given less than robust responses from the initial two-dose series.
Today, Pfizer announced, it would "extend their rolling submission" for the Pfizer-BioNTech vaccine.
"The trial in children 6 months through 4 years of age is ongoing and data on the first two 3 µg doses in this age group are being shared with the FDA on an ongoing basis," Pfizer said. "Cases continue to accumulate according to the study protocol and more data are being generated because rates of infection and illness remain high in children of this age, especially due to the recent Omicron surge."
It's the third dose which is adding the delay. "Given that the study is advancing at a rapid pace, the companies will wait for the three-dose data as Pfizer and BioNTech continue to believe it may provide a higher level of protection in this age group," Pfizer explains. "This is also supported by recent observations of three dose booster data in several other age groups that seems to meaningfully augment neutralizing antibody levels and real world vaccine protection for omicron compared to the two-dose regimen."
It means that, rather than having authorization for expansion to younger people within a matter of days or weeks, it'll now be later in 2022 before that happens. Pfizer says it expects to have the three-dose protection data available sometime in early April. After that, the FDA and CDC will give their verdict on deployment.
Without a vaccine, some familiar precautions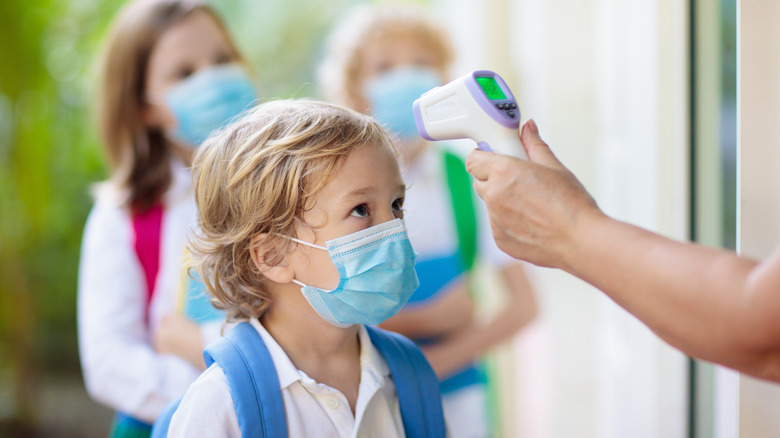 FamVeld/Shutterstock
Currently, around 8,300 children are taking part in the Phase 1/2/3 trial, with participants in the US, Finland, Poland, and Spain. The youngest children are given a lowered dose of the drug, with the initial two doses separated by approximately 21 days. The third dose is given at least two months later.
In response to the request, the FDA said today that it would postpone the Vaccines and Related Biological Products Advisory Committee meeting that had originally been scheduled for February 15th, 2022. The new meeting will be scheduled after the third dose data has been delivered.
The FDA's hope, the agency said today, had been to explore whether a two-dose regimen would be sufficient, particularly given more virulent strains of COVID-19 in evidence in the US and abroad. "Given the recent omicron surge and the notable increase in hospitalizations in the youngest children to their highest levels during the pandemic so far, we felt it was our responsibility as a public health agency to act with urgency and consider all available options, including requesting that the company provide us with initial data on two doses from its ongoing study," Acting FDA Commissioner Janet Woodcock, M.D., and Peter Marks, M.D., Ph.D., director of the FDA's Center for Biologics Evaluation and Research said in a joint statement. "The goal was to understand if two doses would provide sufficient protection to move forward with authorizing the use of the vaccine in this age group."
Now, though, parents and caregivers are being advised to continue with the same precautionary measures that they have already been undertaking. That includes social distancing and masking, along with vaccination of any family members or caregivers who are eligible.