Corsair K70 RGB PRO Keyboard Serves Up 'Tournament-Grade' Features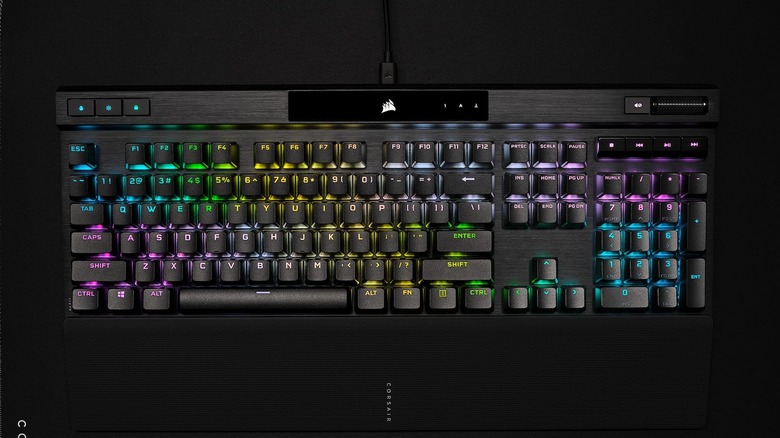 Corsair
Corsair today announced a follow-up to its K70 RGB keyboard with the release of the K70 RGB PRO. At first blush, the two keyboards look similar to one another, but there are some key differences between the original K70 and its PRO variant. For starters, Corsair seems to be positioning this new keyboard as a good choice for competitive or even professional tournament gamers, as the "PRO" moniker suggests. 
In fact, Corsair is even calling this a "tournament-grade" keyboard, but of course, that also suggests a fairly hefty price tag. Indeed, don't expect the K70 RGB PRO to come in at an inexpensive price point, as it costs well over $100. The keyboard also offers some degree of customization, as buyers get to choose from a variety of CHERRY MX switches for their keys. Don't let the colors fool you – this is no flashy toy with bright lights hiding low quality. This is the sort of keyboard you use when you mean business in heavy duty gaming.
Choose your switches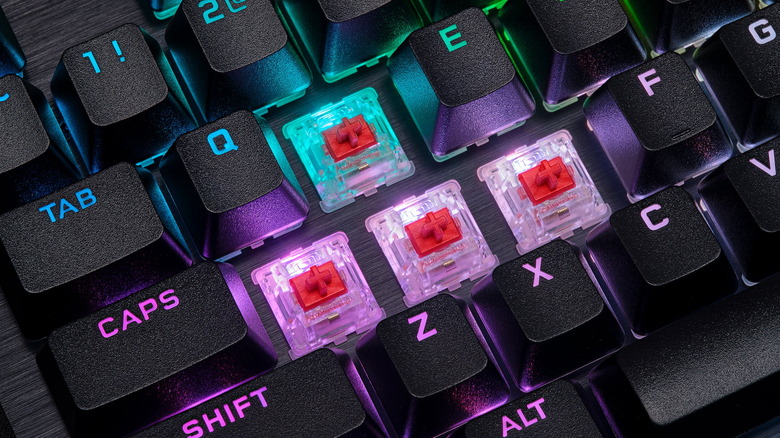 Corsair
Like the original K70, one of the main draws of the PRO variant is that it supports a range of CHERRY MX RGB switches. When you purchase the K70 RGB PRO, you'll be able to pick from five different types of switches: Cherry MX Speed, Red, Brown, Blue, or Silent. These are the same switches that are available on the standard Mk.2 K70, though at this point, it seems like there aren't any low-profile switches available for the K70 RGB PRO.
It's nice to have options, especially if you want a mechanical keyboard but don't necessarily want the audible click of loud mechanical switches. Just as well, having the option for linear actuation in the Speed and Red switches means even more options for customization. It's possible that we'll eventually see Corsair launch a version of the K70 RGB PRO with low-profile switches, as both the standard K70 and the older K60 PRO have low-profile variants, but for now, the five full-sized switches are all we have to choose from.
What does "tournament-grade" mean anyway?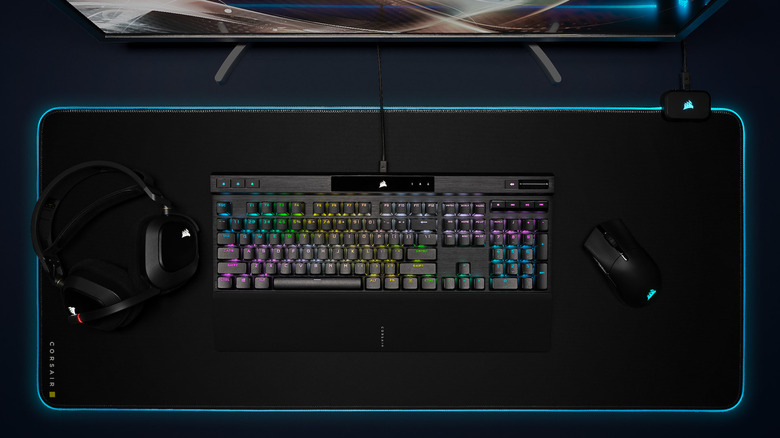 Corsair
There are a lot of design similarities between the standard K70 and K70 PRO. Both have per-key RGB lighting, and both have a brushed aluminum chassis. Both are also full-sized keyboards with an aluminum volume roller in the upper right corner. The K70 PRO, however, comes with a redesigned wrist rest that magnetically attaches to the keyboard's aluminum frame, and Corsair's "AXON" technology to cut down on input latency. Corsair says that inputs on the K70 RGB PRO are delivered "up to 8x faster than standard gaming keyboards," but that's a somewhat poorly-defined metric and probably not super noticeable to average gamers anyway.
In any case, what does that "tournament-grade" designation Corsair touts actually mean in the case of the K70 PRO? Apparently, it's a reference to the keyboard's tournament switch, which when pressed will change the RGB profile to a pre-set static backlighting and "disables any accidental macro activations."
If that sounds like something you want, you can pick up the K70 RGB PRO from Corsair's website beginning today for $159.99. Orders placed through Corsair's website are currently taking 1-2 weeks to ship, but for those who want it sooner, it's also worth noting that the keyboard will be available at Best Buy starting on February 13th.