60 Ferrari F40s congregate at Silverstone to celebrate 25th anniversary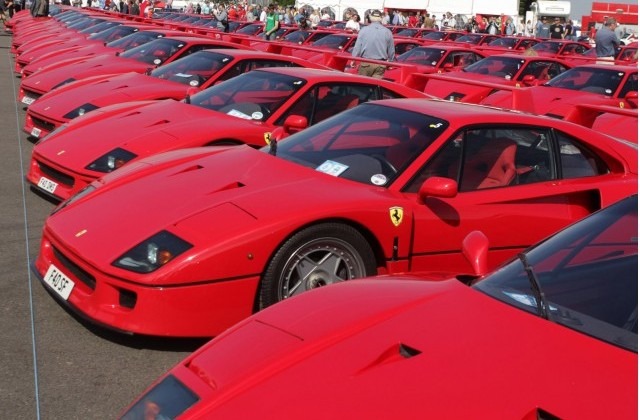 Seeing any kind of classic car gathering is something special, but when 60 Ferrari F40s congregate in the same spot, it's an event to pay attention to. 2012 marks the 25th birthday of classic (and rare) sports car, and to celebrate, 60 Ferrari F40 owners brought their cars to the Silverstone Classic this past weekend in the UK. MotorAuthority reports that this was a record-setting event for the Ferrari F40, as the last time an event like this happened, only 40 cars showed up.
That was back in 2007, when the car turned 20 years old. Now that the F40 is five years older (and still just as good looking), the Ferrari Owners' Club of Great Britain thought it was appropriate to blow that old record out of the water, arranging for 60 F40s to show up this time around.
What makes the F40 so special? Well, aside from the fact that it's a Ferrari, it was created to celebrate the birth of the company. The Ferrari F40 first rolled off the production line in 1987 as a celebration of Ferrari's 40th anniversary, and has the distinction of being the last car commissioned by Enzo Ferrari before he passed away in 1988. Only 1,315 were made, and as such it has become one of the most sought-after Ferraris out there. With all of that being said, it's no wonder that 60 F40 owners were willing to show off their cars during the Silverstone Classic.