5D Mark II price drop? Not so, Best Buy offers an Instant Discount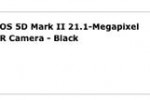 We may receive a commission on purchases made from links.
You know it's hot when the device are selling at Ebay for as much as 20-percent more than its asking value. If you've just discovered the 5D Mark II Digital SLR with one-of-its-kind full HD 1080P video feature, and you got to have it for the Christmas; try calling around local Best Buy electronic chain stores, or using the their online tool to check for store availability.
Most online and B&M camera stores are shut off with pages-long waiting list on the 5D sequel, two of my shooting buddies actually turned to Best Buy and got theirs last weekend. To sweeten the deal, Best Buy is running a five percent discount on the 5D mark II right now; no debate scheme, no cut-out coupon but an instant discount of $135 worth. Good enough to counter the sale tax at some States, yes?