54 Chinese bullet trains recalled for safety reasons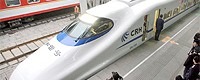 It hasn't been long since China saw one of the worst rail disasters in the history of the super fast bullet trains that crisscross the country. Two of the hi-speed trains collided killing about 40 people. The tragedy triggered what some say is an unusual wave of critical coverage in the media and public fury. The accident also resulted in a freeze of new approvals for rail projects in China.
Today China's second largest train maker has announced that it is recalling 54 of the bullet trains that are in use on the Beijing-Shanghai line for safety reasons. The train maker is called CNR Corp and it has stated that the recall costs are undetermined at this time and that the recall would not affect sales contracts with current customers.
Exactly what the safety issue with the trains is that forced the recall hasn't been announced. However, a CNR subsidiary called Changchun Railway Vehicles was ordered by the ministry of Railways to stop delivering its CFH380BL train after faults in the automatic safety systems of the train were found. It's also not clear at this time how the recall will affect service on the flagship Beijing-Shanghai route. Chinese officials has already announced that the number of trains operating on flagship route would be reduced by a quarter before the recall.
[via CNBC]