Minecraft has enjoyed immense popularity over the last few years and it is still a hot item around the holidays. Assuming you have a Minecraft fan on your shopping list, there's a good chance they already have game editions for their favorite platforms, but that doesn't mean you can't find something from the franchise to put under the Christmas tree. Here are our top five Minecraft gift picks for the holiday season.
1. ThinkGeek's Deluxe Diamond Sword
Owning a diamond in Minecraft is something like a status symbol, only it highlights hours of digging and crafting for resources rather than earning points to buy items. The diamond sword is a great weapon, many times more powerful than a wood or stone sword, and one that lasts considerably longer. It only makes sense, then, that a true Minecraft fan would want one of their own — a real-life diamond sword to hang on the wall or brandish during opportune moments.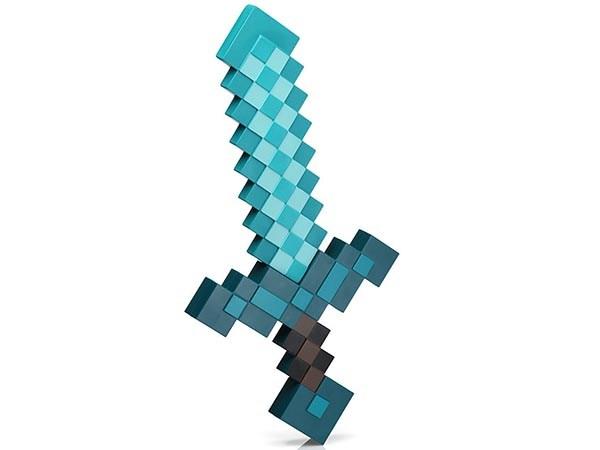 ThinkGeek's Deluxe Diamond Sword makes the top of the list for a number of reasons: it is very unique looking as far as real-life items are concerned, it is relatively inexpensive, and just about everyone can find a way to use it — a wall hanging for adults, perhaps, and as a thankfully dull play weapon for children.
This item is made from foam and plastic, and features the same small pixelated blocky look as diamond swords from the game. The Deluxe Diamond Sword is 21.25-inches long, 1.5-inch thicks, and 11-inches wide at the hand guard. It is properly 3D and weighs a mere 7 ounces. Price is $19.99 USD.
The Gameband + Minecraft wearable is something that'll appeal to (PC, Linux or Mac) Minecraft gamers, the type who take their worlds seriously and who may even want to take their worlds with them wherever they go. This bracelet looks similar to an ordinary fitness band, but it has an arguably more important purpose: backing up your Minecraft world.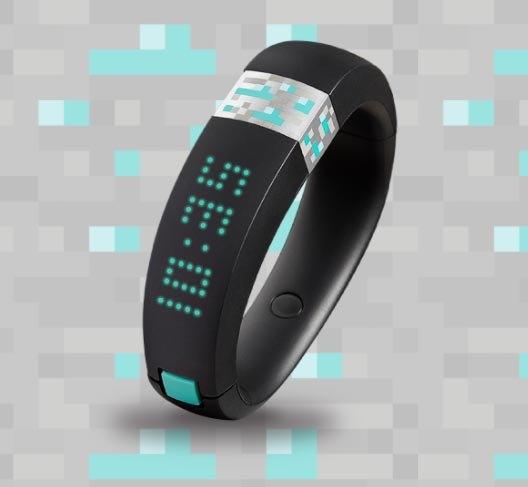 The Gameband, when pulled apart, features a USB connector. Plug the band into your computer, then open the related folder and launch the "Gameband" app. This will then fire up Minecraft, where you'll not only be able to play, but also access some preloaded maps and mods. When you're finished playing, the game data is backed up to the company's cloud service.
The company offers two versions of the Minecraft bracelet, one that features the diamond design, and another that features a redstone design. The diamond version is currently listed as sold out, though that may change in the future. The diamond version costs $79.99 USD, and the redstone version costs $49.99 USD.
The creeper hoodie is exactly what it sounds like: a hoodie designed to look like a Minecraft creeper complete with the green blocky look and a somewhat frightening face on the hood. It's the kind of gift you can give an adult or a child, though a child will perhaps better appreciate the spooky aspect of the design that sidesteps being truly frightening.
The hoodie is offered through various retailers on Amazon; it is made primarily from cotton and features a zipper that stretches all the way to the top of the hood (for those times you want to go full-creeper). The creeper's eyes and mouth, while appearing solid, are actually a black mesh, allowing the wearer to talk and see while the hoodie is zipped fully closed.
Minecraft, as with any popular video game, is the subject of many manuals and other books, not the least of which are four primary titles. You'd have to assume that any proper fan would prefer all four books, not just one, and that they'd probably consider these books collectibles, therefore wanting the best-looking edition.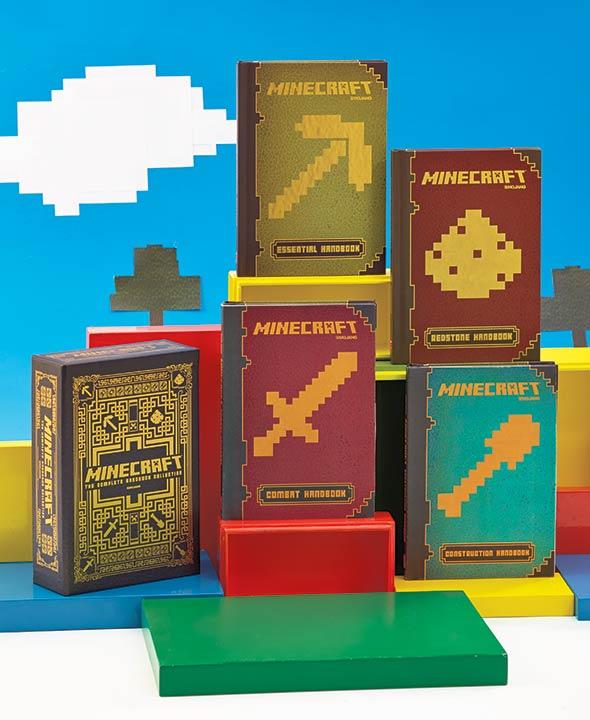 Thus enters this 4-book box set available through The Lakeside Collection. The entire collection features the Essential Handbook, Redstone Handbook, Combat Handbook, and Construction Handbook. These are the updated editions, with each measuring 5.5 x 8-inches. Each book features a classy gold-foiled slipcase with iconic imagery. The box set is currently priced at just under $12 USD.
5. ThinkGeek's Light-Up Diamond Cube
Finally, we have another ThinkGeek product, the light-up diamond ore cube. This cube is exactly what its name suggests: a cube designed to look like a diamond ore block from Minecraft, and it lights up at night. The cube features three light settings: low, medium, and bright, and could be used as an accent light or a nightlight. The light is controlled using taps.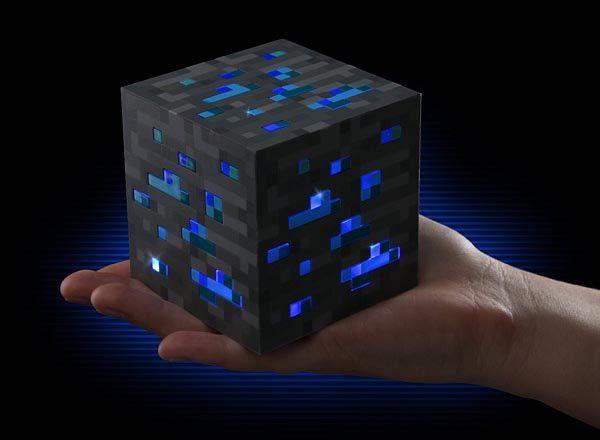 The product isn't terribly large, though, measuring only 3-inches on each side. You could pair it with the similar redstone light-up cube, though, to create a wall of Minecraft blocks. The diamond light-up cube is priced at $19.99 USD.
Wrap-up
Minecraft is still a massively popular game and there's no shortage of gift items, whether you're looking for replicas, clothing, or something else entirely. Have you found the perfect Minecraft gift? Let us know in the comments!
Disclosure: SlashGear uses Amazon affiliate links, and if you buy something we may get a small share of the sale