5 Things You Need To Know About The 2017 Honda Ridgeline Black Edition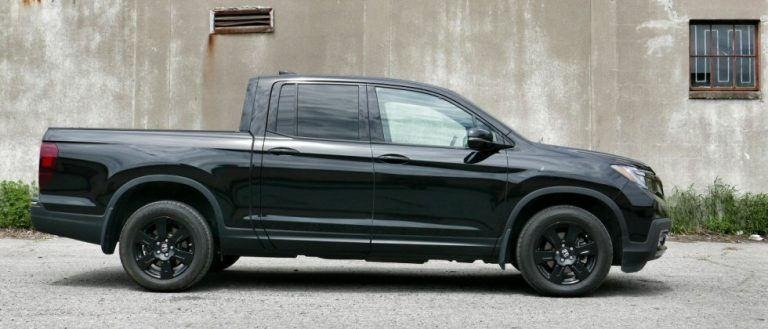 The original Honda Ridgeline's career arc looked much more like that of a sports car than a truck: after a strong start out of the gate in the mid-2000s, consumer interest in this unique not-quite-a-truck, not-quite-a-crossover trailed off until it was axed less than 10 years into its production run.
For 2017 we're treated to an all-new edition of the Ridgeline, one that hopes to rekindle at least some of the interest enjoyed early on by the first-generation pickup and learn from some of the mistakes Honda made in its initial design. I spent a week behind the wheel of this unique unibody hauler to see how well it fares against the current crop of very competitive mid-size trucks.
Check out these 5 things you need to know about the 2017 Honda Ridgeline Black Edition.
1. It's Bigger, And Lighter, Than The Ridgeline Of Old
As with everything automotive, the 2017 Honda Ridgeline has gotten larger after its most recent redesign. Based on the same platform as the also-new Honda Pilot three-row crossover, the four-door, five-passenger Ridgeline sports a longer wheelbase (3.2 inches more than before) in order to improve stability while loaded, as well as a five foot, four-inch cargo box that itself contributes 3 inches to the 3.1 inches in overall length gained by the pickup.
Despite also being marginally wider and taller than the previous Ridgeline, Honda has somehow managed to remove just under 75 lbs of weight from the vehicle. Still, it's heavy for its class, checking in with 4,500 lbs of curb weight, a factor that informs its very average fuel mileage rating of 19-mpg city / 26-mpg highway for front-wheel drive models. Those figures lag behind four-cylinder gasoline and diesel editions of the lighter Chevrolet Colorado / GMC Canyon twins, but are competitive when compared to the Toyota Tacoma and the GM offerings equipped with V6 engines.
2. Smooth, Smooth, Smooth
Although it might be a bit portly, the independent front and rear suspension in the 2017 Honda Ridgeline ensure a very smooth ride, even when hauling. Think of it as a Pilot that's been given the Subaru Baja treatment and you've got a good idea of how the Ridgeline handles: like a big crossover, rather than a lumbering pickup. Still, the Canyon/Colorado (its most recent competitors) manage to offer similar levels of comfort with a live axle setup, and the Honda isn't as much of a revelation as it was when it first debuted into a more rough-hewn mid-size truck world.
The 3.5-liter V6 under the hood of the Ridgeline is rated at 280 horsepower and 262 lb-ft of torque, and its six-speed automatic transmission sends that output to either the front or all four wheels (as in the AWD Black Edition I drove) with little drama. It's not a rocket, but acceleration is adequate, and the Honda is also very quiet in the cabin at highway speeds.
3. Do You Want To Tow? Better Order All-Wheel Drive
People who don't buy pickups for style points tend to actually do 'truck stuff' with their trucks. Given that despite its handsome looks (vastly improved over the departed model), no one is buying the 2017 Honda Ridgeline for the image it projects, I'm going to assume that most owners intend to put the vehicle to work occasionally.
This poses a bit of a problem when setting out to tow. If you order the Ridgeline in front-wheel drive form, you'll be restricted to 3,500 lbs of trailering capacity, or about what you'd find in most modern crossovers of similar size. Given that the average trailer weight in the United States is right in that ballpark, it's not as much of a restriction as you might think – until you start to compare it to the loftier tow ratings of pretty much every other mid-size, rear-wheel drive truck out there. Stepping up to an all-wheel drive Ridgeline nets you an extra 1,500 lbs of pulling power, but that's still at least 2,000 lbs behind the competition.
Another tow-related quick in the Honda is the lack of any real tow/haul functionality for the vehicle's transmission. There's no low gear available on the shifter, nor is there a dedicated towing mode accessible to the driver, which means you have to completely trust the automatic tranny under all hauling circumstances. That's out of step with how traditional pickups are used, and designed, and it feels like a big blind spot for the Ridgeline.
4. As Practical As Possible
While towing might come across as a big of an afterthought for the 2017 Honda Ridgeline, the same can't be said for dealing with any other type of cargo. The interior of the truck is littered with useful storage nooks and cubbies, the back seat easily folds up to offer significant storage space inside the cabin, and you can even slide flat gear underneath the rear row while it's being occupied. Then there's the in-bed storage system that comes standard with the truck, complementing the many tie-downs and the ability to place a piece of 4x8 plywood flat between the wheel wells – something neither the Colorado nor the Toyota Tacoma can do. Granted, that piece of particle board will be hanging out over the tailgate (with the Colorado enjoying a 10-inch length advantage with its available long box), but that's the case with many modern crew cab designs regardless of size. The bed of the Ridgeline has also now been separated from the cabin in a marked departure from the first version of the pickup Honda presented us with.
Of course, there are quirks. The cargo bed features integrated speakers linked to the truck's audio system so you can tailgate without having to rely on a Bluetooth speaker to power-up the party (although the deactivate about 4 miles per hour to prevent you from being the late-night mobile party that everyone loves). More irritating is the lack of a lock for the Ridgeline's tailgate. Sure, it can unlatch sideways away from the curb in addition to dropping down, but if you install a tonneau cover on your truck – like millions of pickup owners do – you've got zero security for your cargo. It's a puzzling omission that's begging for an aftermarket answer or a redesign for 2018.
5. Infotainment Needs A Do-Over
Everything about the 2017 Honda Ridgeline Black Edition screams 'easy to live with,' with one glaring exception: the vehicle's terrible touchscreen infotainment system. Please give us back the volume knob, Honda. We'll do anything you ask – and no, a touch-sensitive slider on the side of the LCD screen just won't do (and neither will a similar setup on the steering wheel). While you're at it, how about a knob for dialing through radio stations, too, and a more logical menu and screen flow that won't confuse and confound when trying to move from navigation to media to vehicle settings? It's the worst feature of an otherwise very modern vehicle, and it's surprising that Honda continues to deploy an infotainment system that lags behind even Toyota's no-frills Entune.