5 Things You Need To Know About The 2017 BMW X5 40e iPerformance SUV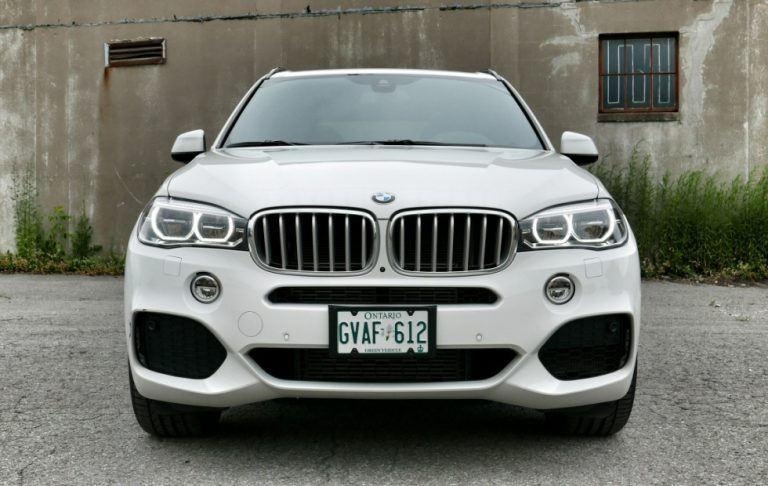 High performance SUVs are a niche in the family hauler segment, but those that also offer plug-in hybrid efficiency find themselves in an even more vanishingly small subset vehicles. The 2017 BMW X5 40e iPerformance is something of an eco-terrorist, a two-ton electrified conundrum that does its best to convince you it's on Team Gaia all while barely being able to conceal its hardcore Jones for sweet black crude.
Still, after spending a week together, I was for the most part taken in by the X5's charms. Is its plug-in drivetrain largely superfluous given its bulk and mission statement? Yes. Did the PHEV aspect of the SUV at any point impede my enjoyment of the vehicle? Not at all, and that's perhaps the most salient take-away from BMW's dalliance with putting a modest battery in its extroverted people mover.
Here are 5 things you need to know about the 2017 BMW X5 40e iPerformance.
1. Don't Worry About Power
Have I mentioned already how heavy the 2017 BMW X5 40e iPerformance happens to be? With that figure weighing on your mind, you might be concerned by the fact that its hybrid drivetrain makes use of an admittedly-tiny 2.0-liter turbocharged four-cylinder engine, matched with a single electric motor. Fear not: given that the 40e iPerformance was new model to me, during the drive home I assumed it featured the venerable turbo inline six found in past hybrid models. I was shocked to later discover that the SUV's respectable acceleration and passing power was sourced from a drivetrain with two fewer cylinders.
On its own the turbo four is good for 240 horses, while the electric motor provides another 111 ponies. The official rating for the vehicle is 309 horsepower and 332 lb-ft of torque, and numbers that are actually a little better than the xDrive35i's (factory underrated) 300 / 300 turbo six. An eight-speed automatic transmission handles the shifting duties for the X5, just like in the gas-only models, and the transition between EV mode, electrical assist, and ICE motivation are notably smooth. All-wheel drive is also standard with every PHEV X5.
2. Remarkably Comfortable, Yet Surprisingly Nimble To Drive
So often with a large, heavy vehicle, the suspension settings required to satisfy the expectation of sharp handling also deliver ride quality like a cement mixer filled with ice cubes. The BMW X5 40e iPerformance very sensibly doesn't go too far in the direction of its X5 M track-star sibling, preferring instead to strike a balance between poise and pleasingly comfortable commuting. The vehicle's adjustable chassis allows for you to stiffen the suspension (and heighten shift points / throttle response) in Sport mode if you want to get a little more wild, and the X5 retains its exposure surprisingly well for such a huge and ponderous-looking beast. It's a perfectly-tuned driving experience regardless of how heavy your right foot gets, or how twisty the road ahead might become.
3. Oodles Of Interior Room
The BMW X5, in any iteration, doesn't ask you to make any concessions to practicality due to its styling. It's got a tall roof, a wide track, and a long wheelbase, and it makes the most of each of these attributes in providing a respectable amount of passenger and cargo room – although the latter comes with a bit of an asterisk. In carving out space for the X5 40e iPerformance's 9.2 kilowatt-hour lithium battery, there's a little less cargo room available – about four cubic feet – as compared to a non-hybrid version of the SUV, for a total of 72.5 cubes with the rear seat folded down. You also lose the option of a third row of seating, which is a blessing in disguise for a vehicle the size of the X5, as you wouldn't want to stuff anyone other than the smallest of small children behind the ample second row. There's a split tailgate hanging out at the rear of the vehicle, too, which means your groceries won't tumble to the ground when you pop the hatch.
4. EV Mode Is Vestigial, Charge Times Lengthy
As decent as the vehicle's hybrid system is at shouldering the overall load when working together with the gasoline engine, it's a good thing the latter has 260 lb-ft of torque to call on when needed because the battery range of the 2017 BMW X5 40e iPerformance isn't all that great. Despite the promise of nearly 20 miles of driving in EV mode – at speeds of up to 75-mph – the mass of the X5 dictates that you drive as gingerly as possible at urban-friendly velocities if you hope to achieve that metric. Electric-only operation is seamless, as I mentioned earlier, but you simply won't get that much use from the e-juice in real-world driving, and without it you're looking at roughly 25-mpg on the highway and around 18-mpg city (with an official all-included rating of 56 MPGe).
Compounding the issue of its humble battery size is an equally meek charging capacity that tops out at 3.5-kilowatts, which means that the X5 40e is only able to lap up half of what the Level 2 chargers you'll find at the mall are capable of putting out. Hours of charge time (up to three from empty to full) for less than 20 miles of EV range aren't a winning combination when contrasted against the state-of-the-art for PHEVs.
5. $6,600 More And You're Still Slower Than The Base Model
Almost everything about the 2017 BMW X5 40e iPerformance is pleasing. The SUV is roomy, useful, reasonably quick, and certainly comfortable, and like any BMW it offers a deep options list so you can customize your ride to your heart's content. When it comes to value, however, it's hard to recommend the 40e iPerformance unless you're dead-set on driving a hybrid.
With a sticker price of $63,200, the PHEV is already close to $7,000 more than the base model X5, which also happens to be a half-second quicker to 60-mph (6.1 for the turbo six, 6.5 for the hybrid). Even if you add all-wheel drive into the mix, you're still paying a $4k premium for the privilege of scant EV range. As much as I liked the iPerformance, I'd recommend purchasing either the diesel or gas models that sit below it in price and spending the money you save on the extra gear you want.