5 New Windows 10 Features Worth Looking Into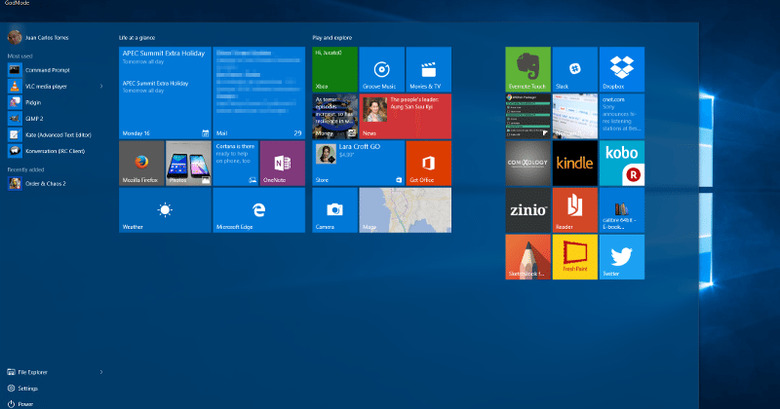 Microsoft has just rolled out the biggest update to Windows 10 for PCs yet. Considering its new practice of flowing updates as they come, it might almost be unusual for Microsoft to dump such a huge update and yet here it is. Of course, this is more than just a maintenance release and if you've been following news and hints for the past months, you will most likely be familiar with some of the changes. But in case you're only jumping in now, here are some of the five most noteworthy changes to your Windows 10 experience.
Start Menu expanded
The Start Menu, or Start Screen, has been one of the most controversial features of Windows 8, so it is no surprise that Microsoft poured a lot of attention to it for Windows 10. Although of course not everyone is still satisfied, things have changed rather substantially, and mostly for the better. Almost. Microsoft continues to refine this gateway to the Windows 10 experience, and in the big November update, the Start Menu gets a few more special abilities. For one, it is now possible to fit more tiles in a single column. When it launched, a column only had enough width to accommodate three medium tiles or one large/wide tile and one medium tile, which was an odd (no pun intended) arrangement. Now, by simply flipping a switch, you can have 4 medium or 2 large/wide tiles in a single row.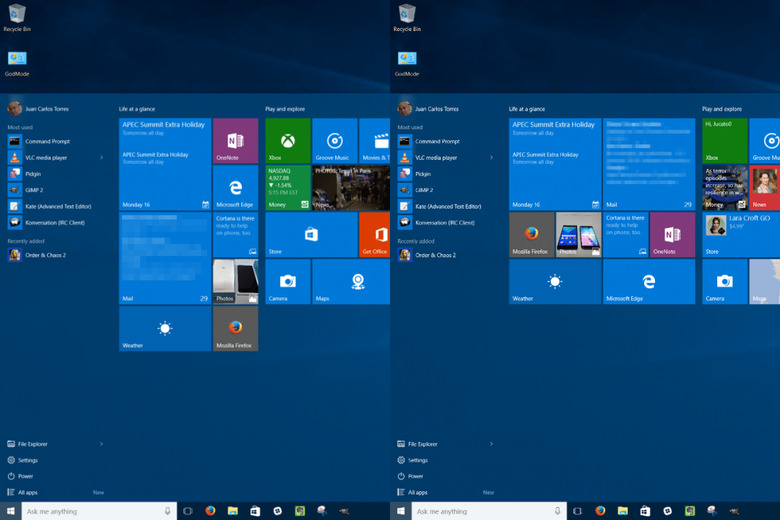 The tile sizes themselves haven't change, so there's no "extra large" size. At least for now. In addition, Jump Lists have made their way to the Start Menu. Introduced in Windows 7, Jump Lists allowed users to right-click on a pinned program to see a list of recently opened files, links, or any other thing associated with the software. Of course, that depends on the program supporting that feature, so not every tile will have that new list.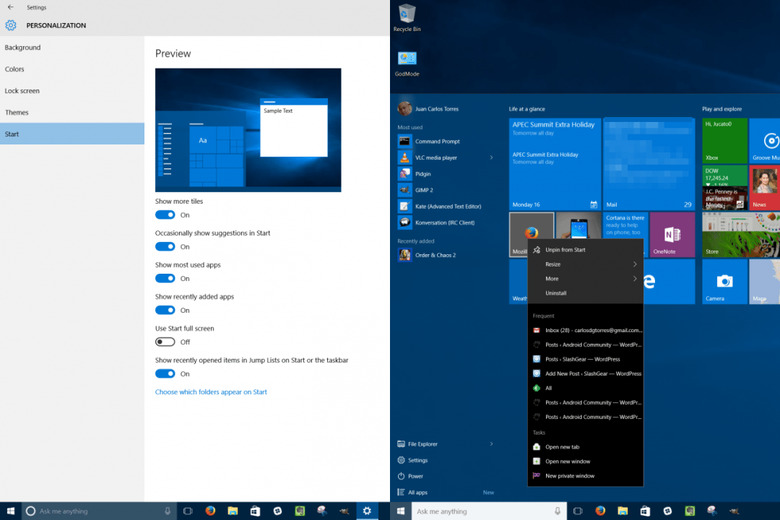 Apps become nomadic
Disk usage has always been one of Windows' biggest (no pun intended) flaws, taking up an inordinate amount of space that quickly grew out of hand over time. Targeting mobile devices, which by nature had considerably smaller storage capacities, only magnified that problem. While Windows 10 does reduce consumption to a certain extent, it still isn't as lean as any other OS out there. In the past, some software on Windows allowed you to install them on any location other than the "C:" drive (or wherever Windows is installed to). With the Windows Store apps, however, that wasn't possible. At least until now.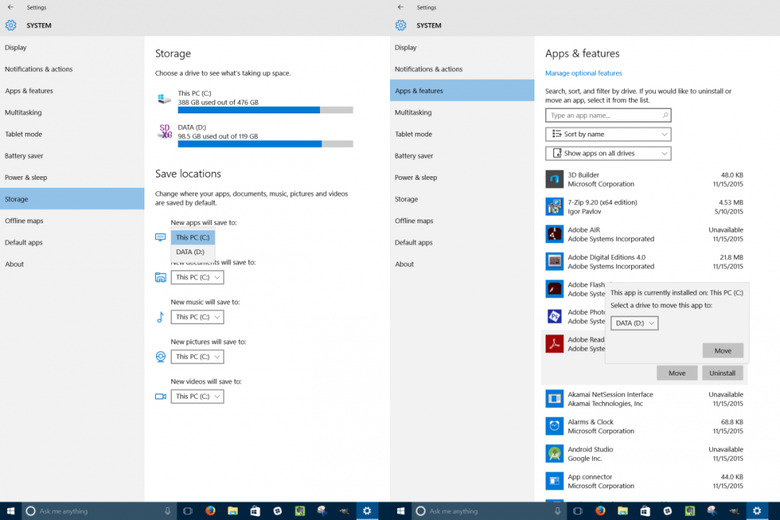 Yes, now you can actually install Windows Store apps on other drives, even a microSD card semi-permanently inserted into a Windows tablet. You will have to set the default installation location for apps and only those apps installed after that change will be placed in that new location. You can, however, also move apps to a different drive, much like how you can move some Android apps to SD card storage after the fact but not before. It's not as straightforward as before, but at least the option is there.
Cortana gets your scribbles
Microsoft has been portraying Cortana has a personal assistant that understands you and can predict your needs. Much like a cross between Siri's personal touch and Google Now's predictive senses. Now Cortana even understands your handwriting to some extent. If you have a Surface (3) or Surface Pro, you can now use your Pen to write a reminder by hand, including time or location and Cortana will decipher your scribble and turn that into the proper reminder. Or at least she'll try.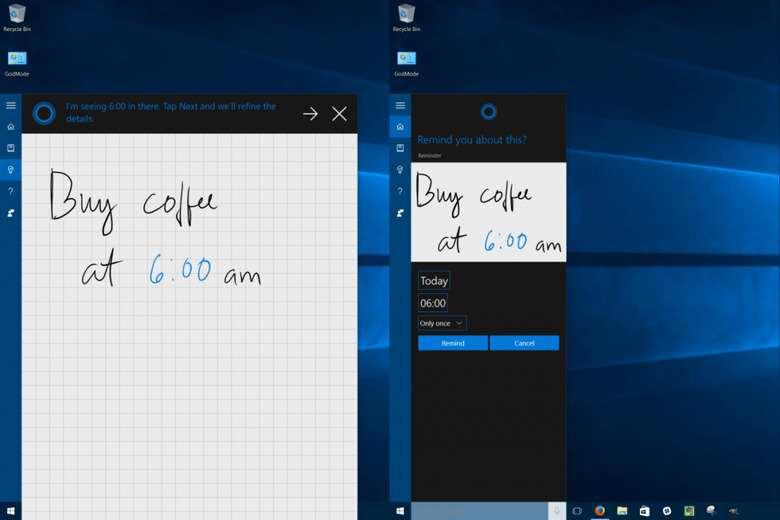 Microsoft Edge moves to the cutting edge
Another new technology that Microsoft has been trying to push into people's consciousness is the Edge browser. Ditching decades' worth of Internet Explorer baggage, Edge is trying to start from scratch, which also means it is still getting some new features you might have come to expect in modern browsers. For example, it is only now that Edge gets the ability to sync favorites and reading lists across all Windows 10 devices. We imagine that will also apply to Windows 10 smartphones really soon now. The browser also gets tab previews when you hover your mouse over an inactive tab. The preview is real time so you'll see if something significant has changed in one of those other tabs without having to switch to them.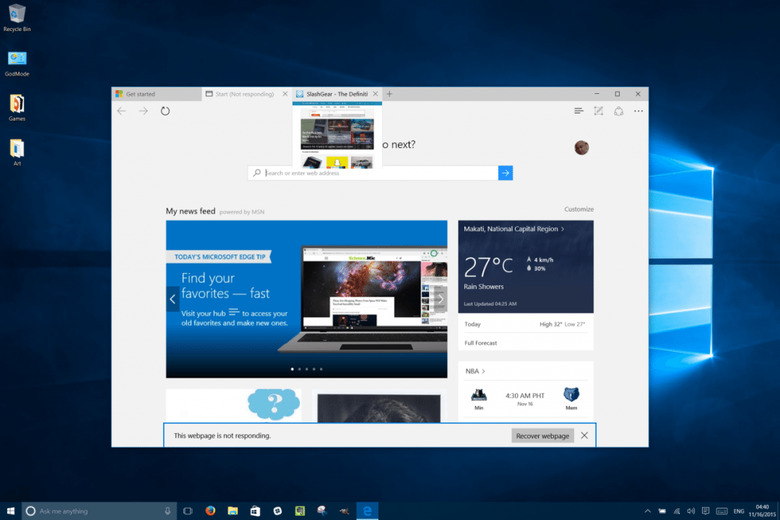 Never lose your device again
Windows is no longer just confined to desktops and laptops. These days, it can also be found on tablets (or even laptops) with GPS chips inside. Aside from navigation purposes, this technology can also be used as a security feature, allowing users to track down the last known location of their devices. Good thing, then, that the latest Windows 10 update now has a Find My Device feature that does what it says. At least to some extent. It doesn't exactly find the exact real-time location of your Windows 10 computer but instead records its last known location at certain intervals. And it only does that when the device is connected to Wi-Fi and has enough battery charge. Again, not a perfect solution, but could still be useful in a pinch. You'll have to activate the feature by default and, of course, be aware that you are sending your location to Microsoft's servers.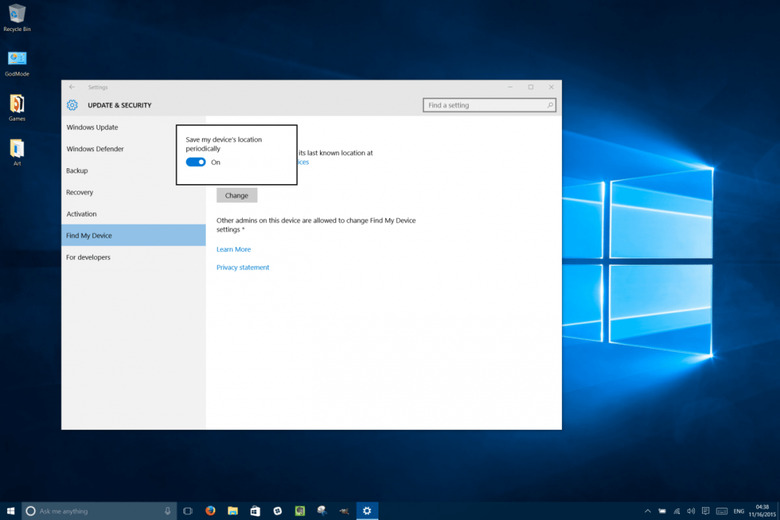 Wrap-up
There are many other other improvements that have arrived this month on Windows 10, like personalization options that lets you finally use the same accent color for window titlebars, or dedicated messaging and phone apps for Skype (which could later become independent phone and messaging apps of their own). And those are just the visible changes, with a a lot more under the hood. Normally, this would equate to a Service Pack update for Windows, but the almost rolling nature of the release is testament to Microsoft's thrust of portraying Windows not just as a software but also as a service.