5 Fast Facts About AMD's Ryzen 2nd Gen CPUs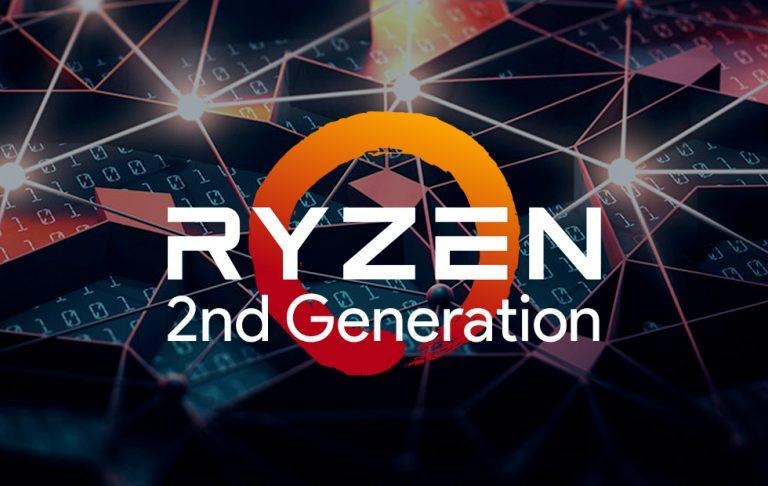 Today we're taking a quick look at the latest in CPU power from AMD in Ryzen 2nd Gen, in four configurations. This is the firsts official announcement on hardware for Ryzen 2nd Gen, and it comes in four different packages. The factoids we're about to run down should give you a good enough idea of what's going on to get yourself in the mood to move on from 2017, at last.
1. First 2 types, 4 models
Two different lines were revealed today in the Ryzen 2nd generation mix. One is Ryzen 7, the other is Ryzen 5. The four models revealed today include Ryzen 7 2700, Ryzen 7 2700X, Ryzen 5 2600, and Ryzen 5 2600X. All of these models will work with your X370 platform tech with one simple BIOS update.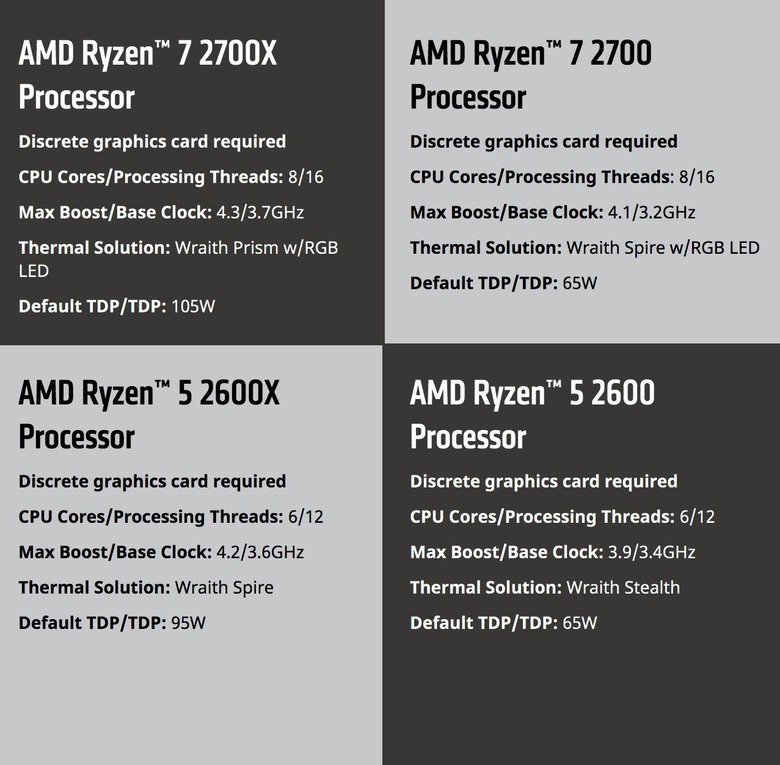 Above you'll see specs straight from AMD showing what these first two types (and four models) are all about. Gaze upon the two 8-core, 16-thread models as well as the two 6-core, 12-thread models, in all their basic numbers-toting glory.
2. Reviews Embargo
For all those folks out there that want to get in DEEP with these processors before deciding to buy, note the embargo. There's a review embargo in place that's up on the 19th of April. That's less than a week from today – and it's also a rather important date for these processors – SEE: List item #5.
3. Coolers Included: Wraith Prism, Spire, and Stealth
No longer will you need to bow to the tyranny of sold-separately coolers! Most buyers, we suspect, will find a bundled cooler to be a welcome feature on this whole line. Some might want to pick up their own, 3rd-party-made cooler, but those people are completely mad! Especially when it comes to the top tier here with the Wraith Prism RGB cooler – which is oh so very fancy.
• Ryzen 7 2700X : Wraith Prism RGB
• Ryzen 7 2700 : Wraith Spire RGB
• Ryzen 5 2600X : Wraith Spire
• Ryzen 5 2600 : Wraith Stealth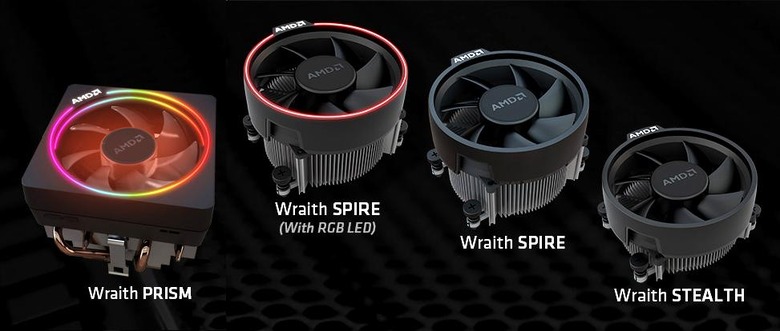 4. Pricing
Suggested pricing on these pieces of hardware ranges from $329 down to $199 – cheep! Ryzen 7 2700 has a SEP of $299, Ryzen 7 2700X SEP is $329, Ryzen 5 2600 SEP comes in at $199, and Ryzen 5 2600X SEP will be $229 USD. You'll be safe in assuming prices will be similar to, but not exactly the same as, these prices when you find these bits of hardware in stores.
5. Release Dates
You'll be able to see some photos and unboxings and oddities starting today, but full reviews are embargoed for release date. That's the 19th of April, 2018. If you're confident enough in AMD's work here to preorder, you'll be able to do that already, right now, today. Go on then, go for it. Nobody's even looking, they're all heading home from work. Go for it!