4N analog watch looks digital and is very exclusive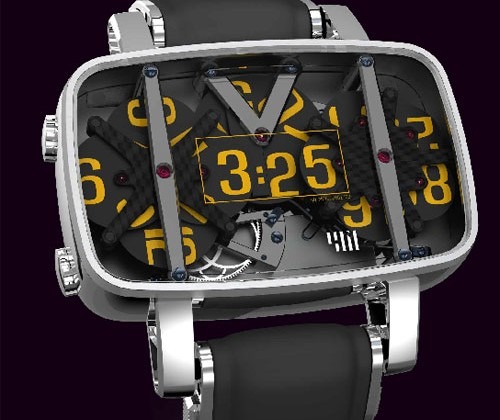 Yesterday I talked about the cool Maze of Time concept watch that used different colors to show the time in digital numbers. The watch was cool, but it looks like a cheap hunk of junk next to the awesome N4 watch from French watch designer Francois Quentin.
The watch displays time with orange numbers on black rotating discs that look like a digital readout. The cool watch is officially known as the 4N-MVT01/D01 and is limited to only 16 pieces. The display and movement of the watch are mechanical with exposed gears and sprockets. The movement of the watch is powered by manual winding and displays time in with a 12-hour clock.
Each of the three discs that are used to display the time are made from aluminum or titanium and held inside a carbon cage structure. 4N will offer the watch in 18K white gold and platinum versions. The dial is covered by a sapphire glass crystal and the band will be offered in a variety of materials. Pricing is unknown, but with the materials and design, this is definitely one of the "if you have to ask" types of products.