4G WiMAX spreads in preparation for HTC EVO 4G debut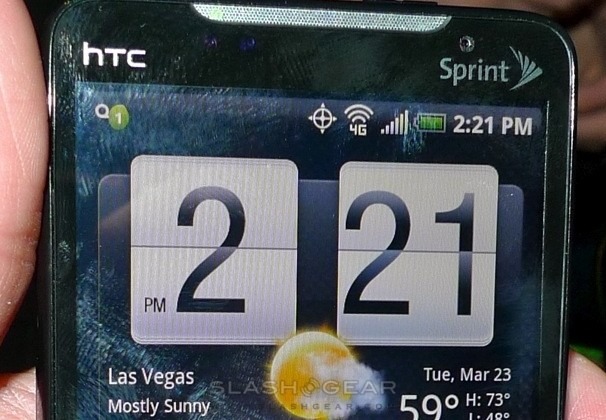 4G is spreading, and Sprint/Clearwire have both announced new WiMAX coverage in Central Pennsylvania.  The extended network – which promises data speeds of 3-6mbps – now covers Harrisburg, Reading, Lancaster and York, and service will be available both from Sprint and Clearwire.  That's good news if you live there and have been eyeing the upcoming Sprint HTC EVO 4G, the WiMAX-toting Android smartphone due later this year.
Meanwhile next in line for 4G roll-out are New York, Los Angeles, Boston, Washington, D.C., San Francisco, Miami, Denver, Minneapolis, Cincinnati, Cleveland, Salt Lake City, St. Louis, Pittsburg and Kansas City, though while the carriers say they'll be seeing WiMAX in 2010, there's no public roadmap.  WiMAX service starts at around $30 per month (fixed), though Clearwire are running a discount promotion at the moment; more details in the press release below.
Press Release:
Clearwire Expands 4G Footprint in Central Pennsylvania

4G Network Expands to Cover an Additional 271 Square Miles of the Keystone State

Curtis Heffelfinger Named Clear General Manager

for Harrisburg, Lancaster, Reading and York

Consumers and Businesses Now Have Access to Mobile Internet Service Many Times Faster Than 3G

4G Mobile Internet Promotion Available for the First Two Months with $25 Service Credit at Clear.com

HARRISBURG, PA – May 3, 2010 – Clearwire Communications, LLC, an operating subsidiary of Clearwire Corporation (NASDAQ: CLWR), announced today the expansion of its sales operations for CLEAR's super fast mobile Internet service throughout Central Pennsylvania including Harrisburg, Reading, Lancaster and York. The company also named Curtis Heffelfinger as general manager for this area.

With CLEAR®, consumers and businesses can access the Internet wirelessly at true broadband speeds – at home, in the office, and on the go – anywhere in the CLEAR coverage area. CLEAR covers 271 square miles and more than 739,000 people in areas such as Greater Harrisburg from Mechanicsburg to Hershey, Greater York from West York to Hallam, Greater Lancaster from Millersville to East Petersburg, and Greater Reading from Sinking Spring to Mount Penn. CLEAR's network already blankets 1,000 square miles and offers service to 3.6 million people in Philadelphia.

"We are excited about this day for two reasons: we believe that CLEAR is truly going to revolutionize the way folks in Central Pennsylvania access the Internet, and it's personally gratifying to me given that Harrisburg is my hometown," said Curtis Heffelfinger, general manager for CLEAR. "Customers can eat lunch on City Island while conducting a WebEx meeting and baseball fans can stream radio while tailgating in the parking lot before a Revolution game in York. We're providing an Internet experience that is unmatched and we can't wait for people in Central Pennsylvania to enjoy it."

A CLEAR Difference

The CLEAR customer experience is similar to that provided by Wi-Fi, but without the short-range limitations of a traditional Internet hotspot. CLEAR uses a wireless 4G technology that differs from Wi-Fi called WiMAX, which provides service areas measured in miles, not feet. Furthermore, CLEAR gives users average mobile download speeds of 3 to 6 mbps with bursts over 10 mbps.*

As the Internet integrates deeper into daily life, the opportunities to stay connected and be productive are enhanced by CLEAR in numerous ways. For example:

• A mobile professional no longer needs to seek out Wi-Fi hotspots or be constrained by the speeds and limitations of 3G modem cards;

• A college student or retiree can now have affordable Internet service to meet their needs at home, on campus and on-the-go;

• A commuter can now work or access entertainment sites like Hulu or Pandora on the way to and from home;

• A busy parent can now have full Internet connectivity for kids studying or playing games in the back of the family minivan.

For these and many other customers, CLEAR's simple and innovative pricing provides ultimate flexibility. CLEAR's mobile and residential plans can be purchased by the day or by the month, with several no-service-contract options available. Home Internet service plans start at $30 per month. CLEAR 4G mobile Internet plans start at $40 per month. For a limited time, customers in Harrisburg, Reading, Lancaster and York can take advantage of CLEAR's online-only mobile Internet promotion with plans starting at $15 per month for the first two months after a $25 service credit with a two-year service agreement. This online promotion is available at http://www.clear.com.

Additional savings are available for customers purchasing a combination of services such as home-and-mobile or mobile-and-mobile options. Combination plans start at $55 per month.

True road warriors will benefit from the speed and reach of the CLEAR 4G+ dual-mode 4G/3G service. CLEAR 4G+ offers customers access to the entire Clearwire 4G network and 3G mobile Internet service outside the CLEAR service area. CLEAR 4G+ is available for $55 per month.

Visitors or occasional users with a WiMAX-enabled device can also purchase a convenient day pass for $10.

Full details about CLEAR products, service plans and options for business customers can be found online at http://www.clear.com, at a CLEAR retail store, or by visiting an authorized CLEAR dealer. CLEAR retail stores in Central Pennsylvania are located in Capital City Mall in Camp Hill and Park City Mall in Lancaster.

CLEAR service is also available from a number of other outlets including Best Buy, Frys, MicroCenter and RadioShack.

Simply Plug-In and Go

CLEAR offers several simple choices for broadband connectivity.

• Clear USB Modem and Clear 4G+ Mobile: Mobile users simply plug-in CLEAR's compact, mobile WiMAX-enabled USB modem into their laptop to get online. From Ubee, the USB modem is available for only $64.99 or leased for just $3.99 per month. Customers can purchase the modem from a store or online. Customers who travel across the U.S. may purchase the Clear 4G+ mobile USB, a dual-mode (4G/3G) modem from CLEAR. The dual-mode capabilities give the truly mobile user access to nationwide 3G network service whenever the CLEAR 4G service is not available. The 4G+ mobile USB is available to lease for only $5.99 per month.

• Residential Data & Voice Services: For residential service, CLEAR offers customers a wireless high-speed modem, about the size of a small book. Customers simply plug the modem into a power outlet anywhere in their home or office and connect the modem to their PC or wireless router. This enables consumers and businesses to install high-speed Internet service without the need to schedule an appointment, drill holes in their walls, or otherwise disrupt their day. The Clear Home Modem Series G, a residential modem from Gemtek, can be purchased for $79.99 or leased for just $4.99 monthly. Residential customers can also add in-home voice service with purchase of the Clear Voice Adapter. There are 3 packages to choose from – Basic Home Clear Internet with Voice, Get Two, or Get Three – all with flat monthly rates.

• Clear Spot: With the Clear Spot, any existing, off-the-shelf Wi-Fi device (compatible with 802.11b/g) can connect to CLEAR's mobile WiMAX network. The Clear Spot creates a personal Wi-Fi hotspot that travels with consumers anywhere they happen to be within CLEAR's mobile WiMAX service area. This $139.99 device is a portable, battery-powered router that seamlessly connects up to eight standard Wi-Fi-enabled devices (computers, mobile phones, portable gaming, consoles, cameras, etc.) to the Internet via a Clear USB modem to access CLEAR's mobile WiMAX network. The Clear Spot is compatible with both the Clear 4G and Clear 4G+ mobile USB dual-mode service options.

• Intel Embedded WiMAX Laptops: The Dell Inspiron Mini 10 netbook featuring the Intel® AtomTM processor N450 with embedded 4G technology is now available for customers through select CLEAR retail locations, telesales and http://www.clear.com. This addition further extends the company's leadership in 4G mobile computing. Clearwire customers can also select from one of 30 different 4G-ready Intel® Centrino® Advanced-N + WiMAX 6250 embedded netbooks and notebooks from leading manufacturers including Dell, Lenovo, Fujitsu, Samsung, and Toshiba. The Mini 10 is available for $249.99 after instant rebate.

CLEAR's 4G Markets in 2010

CLEAR's 4G network will expand to numerous markets around the country, and services will be offered by different service providers depending on the market. Some of the planned 4G markets in 2010 include New York, Los Angeles, Boston, Washington, D.C., San Francisco, Miami, Denver, Minneapolis, Cincinnati, Cleveland, Salt Lake City, St. Louis, Pittsburg and Kansas City.

For more information about CLEAR, visit http://www.clear.com. You can also follow CLEAR information on Twitter at @Clear_Events. Detailed company information about Clearwire is available at http://www.clearwire.com.
Press Release:
Sprint Extends 4G Leadership: Launches Service in Harrisburg, Lancaster, Reading and York

Fast Mobile Broadband Service Available to Residents of South Central Pennsylvania with Money-Back Guarantee

OVERLAND PARK, Kan., May 03, 2010 (BUSINESS WIRE) –Today, Sprint (NYSE: S) launched 4G service in the Pennsylvania cities of Harrisburg, Lancaster, Reading and York. With 4G, customers in this pocket of south central Pennsylvania can enjoy the benefits of mobile broadband connectivity in a local park, sitting at an outdoor cafe on Main Street or riding on a city bus. Sprint 4G users will experience fast mobile downloads, streaming video without the annoyance of buffering, and turbo-charged Web browsing. This launch further accentuates Sprint's commitment to deliver 4G service to consumers across the country. Sprint now offers 4G in 32 markets nationwide. And, with the Sprint Free Guarantee, customers can try 4G for 30 days and if they are not satisfied, they can cancel service and have the opportunity to be fully reimbursed.1

With 4G service, residents of Harrisburg, Lancaster, Reading or York can equip any Wi-Fi-enabled device, such as a newly purchased iPad, with a red-hot connection using the Overdrive(TM) 3G/4G Mobile Hotspot by Sierra Wireless. With the Overdrive, users can connect up to five Wi-Fi devices – such as an iPad, iPod Touch or Zune HD – to speeds up to 10 times faster than 3G.2 Also, later in 2010, Sprint will launch the nation's first 3G/4G Android phone, HTC EVO 4G, which will provide a superior and robust multimedia experience. HTC EVO 4G is also a hotspot, making it possible to download music, pictures, videos in seconds – not minutes – and watch streaming video on-the-go.

"We powered up 4G in south central Pennsylvania today, allowing commuters, time-stressed parents, gamers, teens or anyone the ability to make fast, mobile Internet connectivity portable and private," said Karen Paletta, regional vice president, Sprint. "You no longer have to sit at a coffeehouse on an unsecure Wi-Fi connection to enjoy fast speeds on your laptop. With an Overdrive you can enjoy a true mobile broadband experience with any Wi-Fi-enabled device."

Customers interested in Sprint 4G can take advantage of the new Sprint Free Guarantee, the most robust satisfaction guarantee in the wireless industry, allowing customers to try a new line of service with Sprint for 30 days. If a customer is not completely satisfied with Sprint during that period, they can cancel service, return their device and get reimbursed for the device purchase and activation fee, get the early termination fee waived, get a full refund for monthly service plan recurring charges incurred and get all associated taxes and fees waived. In addition, Sprint will waive the restocking fee for new customer exchanges as part of this policy. The refund excludes taxes and fees not associated with the plan, premium content, third-party billing and international charges.

Later this year, Sprint expects to launch service in multiple markets, including Boston, Cincinnati, Cleveland, Denver, Los Angeles, Kansas City, Miami, Minneapolis, New York, Pittsburgh, San Francisco, Salt Lake City, St. Louis and Washington, D.C. Today, Sprint 4G covers nearly 40 million people and expects to have up to 120 million people covered by the end of 2010. View 4G coverage for all Sprint 4G markets at www.sprint.com/4G.