4G LTE Tri-Fi Hotspot Shares LTE, WiMAX And 3G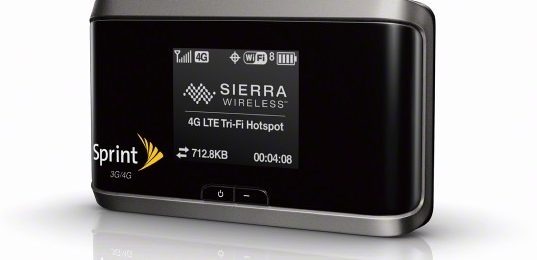 Sierra Wireless has revealed the first triple-mode LTE, WiMAX and 3G mobile hotspot, the 4G LTE Tri-Fi, set to hit the Now Network later this month. Promising up to eight hours of active battery life and sharing for up to eight devices over WiFi b/g/n connections, the 4G LTE Tri-Fi Hotspot also has a microSD card slot for working as a portable NAS using DLNA for easy access.
Seamless transition between 3G CDMA, WiMAX and LTE is promised, and there's integrated GPS for adding location data to LBS and apps. A 1.7-inch 160 x 128 LCD on the top panel shows battery life, details on how many devices are connected at any one time, and the status of the data link.
Sierra Wireless reckons the 4G LTE Tri-Fi is good for up to 150 feet WiFi range outdoors, or up to 115 feet indoors, and the hotspot will roll back to EVDO Rev.0 and 1xRTT data connections when you're at the fringes of coverage. The whole thing measures in at 3.84 x 2.25 x 0.95 inches and weighs 4.87oz with the standard 3,600 mAh battery.
Charging is via microUSB, and the hotspot will also operate as a tethered modem if you plug it in direct to your computer. The Tri-Fi hotspot will go on sale May 18, priced at $99.99 after a $50 mail-in-rebate and with a two-year service agreement. Plans, meanwhile, will kick off at $34.99 for 3GB of combined 3G/4G data, rising to $49.99 for 6GB of combined 3G/4G data or $79.99 for 12GB of 3G/4G data.