4-Bit Chronograph Watch talks UTC time in binary blocks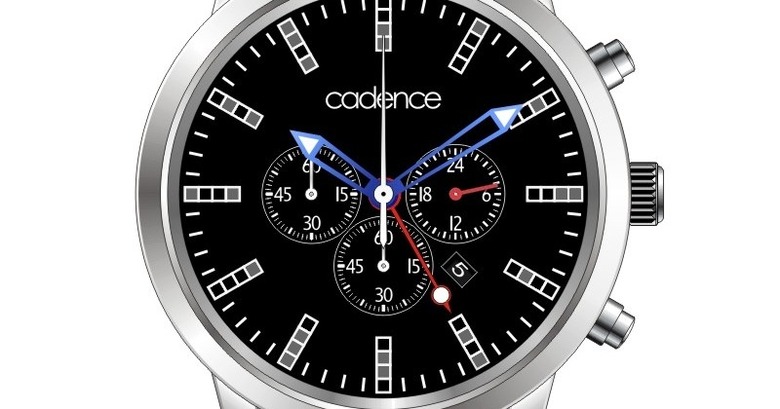 So, you like the idea of a Tokyoflash watch and some binary goodness to your timekeeping, but you either can't face decoding LEDs every time you want to know if you can stop work, or need something that looks a little more formal than the bridge of the original Star Ship Enterprise. Enter The Cadence Watch Company and its 4-Bit Chronograph Watch, which pairs analog hands with binary notation for a more subtle celebration of your geekiness.
Apparently one of the most common requests the company fielded was to add UTC time to their watch, and so the 4-Bit Chronograph shows coordinated universal time as well, handy if you're wanting to compare numbers with your server. The 42mm stainless steel case is waterproof to 5ATM and has a leather wrist-band and luminescent hands.
The glass is sapphire-coated quartz, which should help avoid scratches, too. Sales are expected to kick off in July, with the watch priced at $195.
Press Release:
Cadence Watch Company Unveils 4-Bit Chronograph Watch

Sophisticated watch that uses 4-bit binary code to indicate hours now includes a chronograph– improves your geek cred

Philadelphia, PA – May 26, 2011 – The Cadence Watch Company is excited to introduce the new 4-Bit Chronograph Watch. The subtle yet classy timepiece brings geeks a fashionable watch while adding the functionality of a chronograph and Universal Coordinated Time (UTC).

Instead of Arabic or Latin numerals, the numbers on this dial are in 4-bit binary – the system of 1's and 0's that all computers rely on. This watch is classy enough to wear on any occasion, while geeky enough to show your membership in the elite group of techies.

Other 4-Bit Chronograph Watch features and functions include:

Coordinated Universal Time (UTC) display – the standard time by which the world regulates clocks, time and computer servers

42mm stainless steel case – striking appearance, perfect for the boardroom or on the go

Luminescent watch hands – against the black face of the watch adds to the sophisticated look

Genuine leather wristband – with subtle saddle stitched two part leather strap and stainless steel buckle

Miyota quartz watch movement – makes for an extremely reliable timekeeper that never requires winding

Water resistant to 5ATM – convenient for everyday wearing

Sapphire coated quartz glass – helps prevent watch face from becoming scratched

"We are pleased to introduce a unique watch that is Geeky without being too noticeable, like something the head of IT would wear to a board meeting," says Vanja Buvac, president and CEO of Cadence Watch Company. "Our 4-bit watch was a big hit, but the most requested feature was UTC."

The 4-Bit Chronograph Watch retails at $195 and will be available for purchase in July at http://cadencewatch.com/4bit-chrono. Receive a 40% pre-order discount if you order before the watch becomes available. The original 4-Bit Watch is currently available for $90 at www.cadencewatch.com as well as ThinkGeek.com.

About Cadence Watch Company

The Cadence Watch Company designs, produces and distributes branded performance and lifestyle watches. Based in Philadelphia, the company started in 2001 developing their initial product, a patented stroke rate monitoring watch for rowing. Since then, the company has grown into designing creative and unique lifestyle watches. For more information, please visit www.cadencewatch.com.