4.3-Inch Samsung Stealth V SCH-I510 Froyo Smartphone Clears DLNA Testing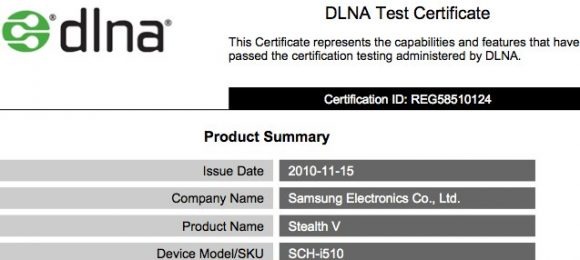 The DLNA has prematurely tipped [pdf link] an incoming Samsung Android smartphone, the Samsung Stealth V SCH-i510. Listed as an Android 2.2 Froyo device, the Stealth V has a 4.3-inch WVGA AMOLED display and an 8-megapixel camera, together with WiFi b/g/n and a microSD card slot.
Unfortunately there are no details beyond that, nor any photos of the handset. Verizon's version of the Samsung Galaxy S, the Verizon Fascinate, is model SCH-i500, so there's speculation that this Samsung Stealth V could be a successor to that device or a companion scaled to take on the HTC Desire HD.
[via Android Community and via GSMArena]