3G iPhone this month and Mac Tablet at WWDC 08?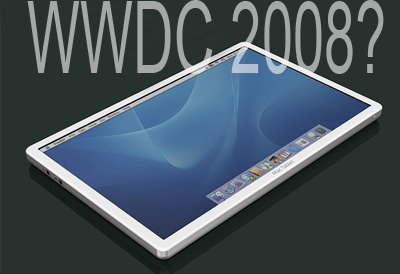 We've heard so many rumors about 3G iPhone in the past several weeks and spy shots of the device are still popping up here and there but still unverified whether those images are genuine. However, the dwindling down of the iPhone's availability in UK and US making it very hard not to jump to conclusion that the 3G iPhone is coming out. Apple stores and AT&T stores reported making the iPhone unavailable for orders.
Apple has the tendency to surprise people and making bold moves; and more rumors about new device are surfacing. If Apple is making the 3G iPhone available before WWDC 2008, will there be any new surprises for the WWDC? Many are speculating that Apple will announce a new device, the tablet Mac. The initial rumor is that Apple's new device will sport a 720×480 multi touch screen, and will be about 50% larger than the iPhone.
Is Mac tablet too far reach? Possibly not, but again it is just a rumor and we should take it with a grain of salt.
[via iPhone Buzz]