3DVIA unveils iPad 3D model viewer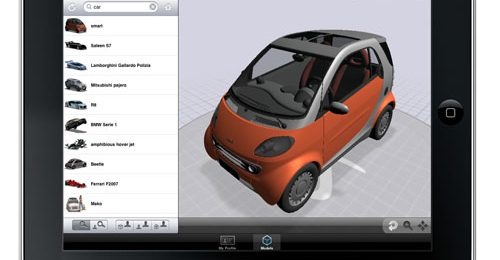 The number of iPads in use around the country is growing all the time and will only continue to increase, as Apple is able to make more of the tablets. A number of the iPad tablets are ending up in the hands of professional users that have an entirely different set of needs than the consumer.
Recently we have seen some interesting professional apps coming to the iPad and one of the latest of these apps is the 3DVIA 3D model viewer for the iPad. The app is called 3DVIA Mobile HD for iPad and allows the user to view and interact with 3D models of all manner of items right on the iPad.
The idea is that users of most 3D modeling applications can connect to the 3DVIA website and upload their digital 3D models. Then the iPad user with the app installed can access the site and view the models uploaded. This is a good way for the engineer that has to go into the field to get access to the 3D model when in the field. The app is compatible with .dae, .3ds, .obj, .iges, .step, .kmz, .3DXML and other formats. The app is available now for $1.99 for a limited time and the normal price is $4.99.