3D-printed splint keeps babies breathing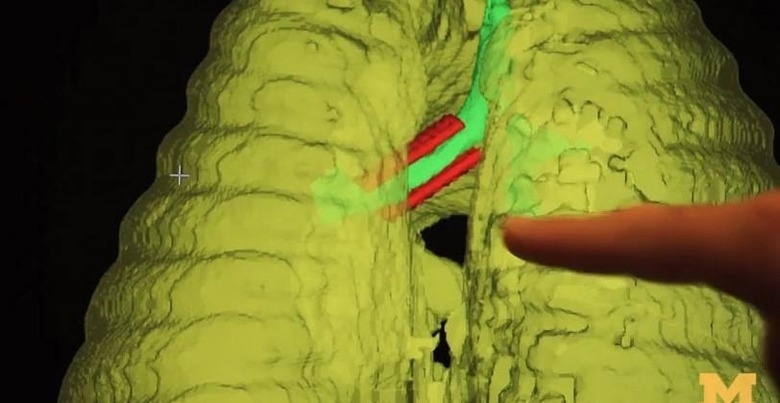 This isn't the first time we've seen printed bio-materials find a place in the medical sphere. Last month a bio-printer created an implantable nose made from 3D-printed cartilage. In this case, a team of researchers from the University of Michigan created tracheal splints from 3D-printed bio-material that can be inserted into a child's windpipe to treat tracheobronchomalacia, a condition that causes spontaneous airway collapse. Babies born with the condition are often given a terminal diagnosis and shortened lifespan.
CT scans of the infant's airway were used to design an exact 3D-replica of the baby's trachea. The splint was created from polycaprolactone which is a biodegradable plastic that will be reabsorbed by the body over three years. By that time, the child's windpipe should be strong enough to resist collapsing. These tiny, baby-sized tracheal splints were only a few inches long, and were precisely inserted into the infant's windpipe.
The procedure was first performed in 2012, and the research paper was just published in the journal, Science Translational Medicine. The sample size is small, but all three infants who underwent the procedure are leading healthy lives.
Lead researcher and associate pediatric otolaryngology professor Glen Green, M.D. states,
"Before this procedure, babies with severe tracheobronchomalacia had little chance of surviving...The device worked better than we could have ever imagined. We have been able to successfully replicate this procedure...for children facing this life-threatening condition that has no cure."
Watch one of the procedure's success stories here. You might want to have a pack of tissues nearby because even though there's a happy ending, it's a bit of an emotional video.
Source: Popular Science