32GB SDHC Cards From Toshiba Trump The Competition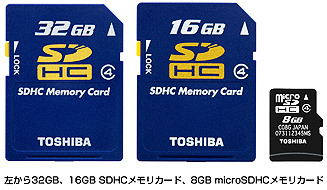 Do you take a lot of pictures on your camera? We're talking thousands of pictures between downloads. I'm guessing that you don't, but that's ok. I'm sure that you'll find plenty of other uses for these massive SD cards from Toshiba.
Toshiba just announced the launch of 16GB and 32GB "class 4" SDHC cards as well as an 8GB microSDHC card. You have to admit that Toshiba has really been stepping it up in the realm of storage. Yesterday they announced their 320GB 2.5" drives and 200GB 2.5" drives spinning at 7200RPM.
You're going to need to dig deep if you're going to afford these new cards. You're looking at paying around $700 for the 32GB, half that for the 16GB, and $175 for the 8GB microSDHC.
Toshiba goes big with High Capacity SD cards [via coolestgadgets]