32GB Nexus 7 purchased at Staples ahead of October 29 launch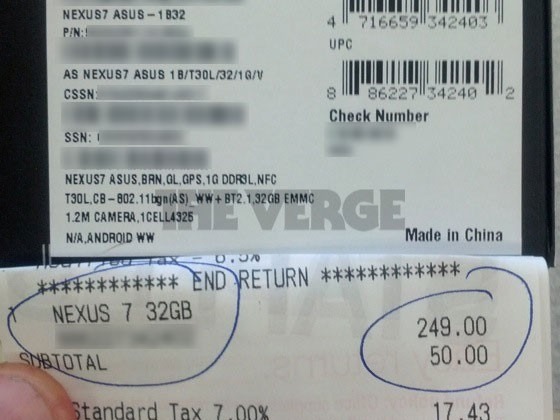 Evidence of Google's upcoming 32GB Nexus 7 tablet has been scattered all over the place, with a snapshot of a Sam's Club retail tag appearing earlier today. The leaked image shows an October 29th release date, as well as specs and a placeholder price. Now it seems someone was able to buy a 32GB Nexus 7 at his local Staples.
Over at The Verge, a reader sent in an image of the the 32GB Nexus 7 box, as well as a Staples receipt showing the product's name and $249.99 price tag. According to the tipster, he called his local Staples in Kissimmee, Florida, and asked if they had any 32GB Nexus 7 tablets in stock. The had three available, so he went on over and bought one, simple as that.
Earlier this week, Google sent out invitations to an Android event that is scheduled on October 29th, which, according to the leaked Sam's Club image, is when the 32GB Nexus 7 will be available for purchase. As we said earlier today, an internal Staples document discovered by Android Police shows that, after announcing the 32GB Nexus 7 on the 29th, it will phase out the 8GB model. Rumor has it the 16GB model will be priced at $199.99.
Of course, this isn't the first 32GB Nexus 7 to be shipped. Last week, a Japanese Google customer ordered the 16GB Nexus model, but was sent the 32GB model by mistake. If you're hoping to get your hands on the 32GB model, call up your local Staples and ask if they have any. According to The Verge's tipster, the 32GB Nexus 7 offers 28GB of available storage space, and runs Android 4.1.1.
[via The Verge]