$3,000 Tata Nano minicar destined for the US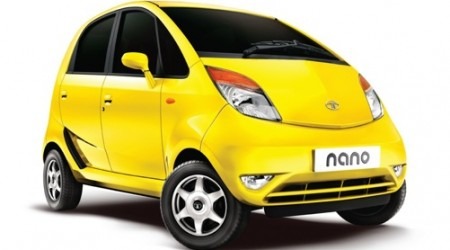 The $3,000 Tata Nano, a minicar that resembles the Smart Car, has been rolling around India for a few years, only occasionally bursting into flames for no apparent reason. It seems that the Indian automaker is moving into the US market, with plans to launch the redesigned Nano in the next three years. Don't get your hopes up for an ultra-cheap car, however; after being upgraded to meet US standards, the $3,000 price tag will be closer to $8,000 (which is still pretty cheap, actually).
Originally released as the cheapest car in the world with a price tag of $2,500, the Nano has been dogged by various issues, including lack of heating, no cup holders, smoke coming out of the steering column, a possibly faulty cooling system, and randomly catching on fire while being driven. As you can imagine, these issues resulted in a decline in sales. Not one to be put down, however, Tata is still forging ahead, with the United States and European markets in sight.
Because the US has stricter regulations regarding vehicles than India, the Nano will have to be redesigned to meet new standards. With the redesign comes a higher price tag, which current estimates say will be around $8,000. While that price jump eradicates the Nano's biggest appeal, it will still place the minicar in the position of cheapest vehicle in the US, with the next cheapest (Nissan Versa) coming in at $11,700.
Says Tata to Automotive News, "The Smart and the Fiat 500 have high sticker prices, and people buy them because they are small cars. But everyone knows you put a lot of money into it. We hope that the sub-$10,000 car has appeal." Aside from the price tag, the Nano's biggest potential appeal is no doubt its gas mileage, with gas prices in some parts of the US exceeding $4 a gallon. Presently, the Nano gets between 56 and 66mpg.
[via Huffington Post]