3 ISS astronauts return to Earth after 186 days in space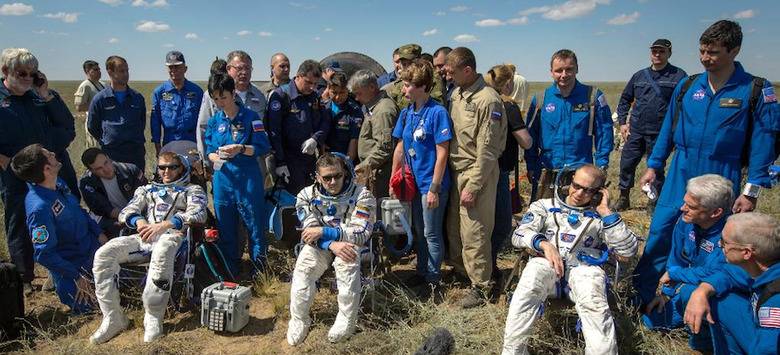 Most people would agree there's nothing like sleeping in your own bed after a decent amount of time away from home, but for these three astronauts, they're probably just happy to be back on Earth, regardless of where they sleep. Early Saturday morning saw the return of NASA's Commander Tim Kopra, the European Space Agency's Tim Peake, and Yuri Malenchenko of Russia's Roscomos after spending 186 consecutive days in space.
The three astronauts had been aboard the International Space Station (ISS) conducting research and experiments, including studies on the effects of microgravity on the human body. It took the trio roughly six hours from departing the space station in a Russian Soyuz spacecraft to reach Earth, landing in a remote area in Kazakhstan.
In order to complete the research on how their bodies adapted to so much time in space, the astronauts will now be subject to a number of medical and physical tests. Part of their work on the ISS also involved testing robotics and developing smaller exercise equipment for use on longer space trips.
Tim Peake was recognized as becoming the first British astronaut to be stationed aboard the ISS. Back in April he participated in the London Marathon, running all 42 kilometers on a treadmill while being monitored by a medical team.
Currently only three astronauts remain on the ISS: NASA's Jeff Williams and Russia's Alexey Ovchinin and Oleg Skripochka. They'll have the station all to themselves for the next three weeks, upon which new crew members are scheduled to arrive.
SOURCE: NASA