3-in-1 mouse, proof that convergence has its limits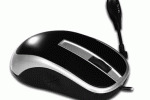 I am all for convergence, give me one device to take the place of several and I am a happy camper. I converged my printer and scanner years ago and more recently, most of us have converged our mobile phones, PMPs, and GPS devices into one smartphone.
There are some things that I am not ready to converge, no matter how cool it sounds you won't catch me using some of these new breed of converged devices like the 3 in 1 optical mouse. This thing is a mouse, a speaker and a mic all rolled into one, ugly package.
The mouse portion of the device has a resolution of 800 dpi and it connects to your PC via USB. The mic and speaker are compatible with MSN, ICQ, Skype, and other VoIP services. It is compatible with both Windows and Mac computers and measures 118mm L x 55mm W x 35mm H.