$28K Electric Quadrofoil will have you looking cool on the water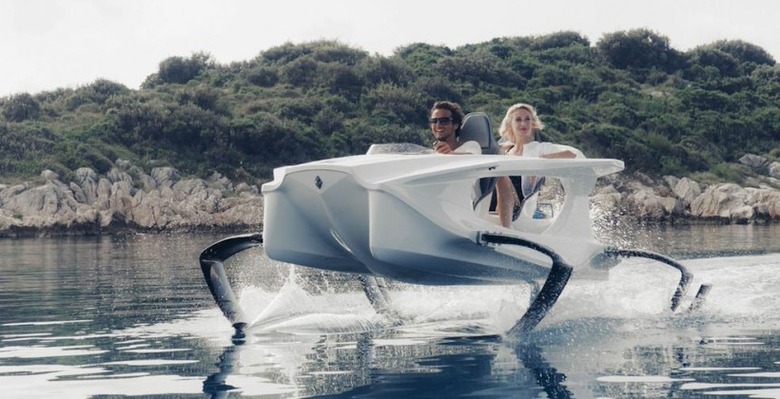 Forget the latest all-electric sports car, and don't bother with jet skis anymore, the coolest new ride is one that combines the two. Like the Quadrofoil, a Slovenian-made two-person electric watercraft that runs on leg-looking foils underneath, and features enough luxury details to almost justify the $28,000 price tag.
Now available for preorder after several years in development, the Quadrofoil has a top speed of about 25 mph, and range of roughly 54 nautical miles on a single charge, which itself take about 2 hours. Lift occurs after speed tops 7 mph, when the 220 pound, 9.8 foot long body begins to "float" above the water surface. The hollow hull is fiberglass, and said to be unsinkable, while the four hydrofoils, which basically function like airplane wings, are made of aluminum.
The $28,000 will be getting you the limited edition Q2S, which comes with two faux-leather seats, a touchscreen control panel, acceleration and brake controls mounted on the steering wheel, along with two life jackets and a paddle, just in case you try to push the battery a little too long. There is also a cheaper model, the Q2A, priced at $18,650, which has a slightly slower top speed and shorter battery range.
Both models claim zero emissions and an incredibly quiet ride, which will only add to the smooth floating sensation as you move about a tranquil lake. Should you want to take your Quadrofoil out in more adventurous waters, it is seafaring capable, but it's not recommended for use in waves larger than 1.6 feet, but the minimum water depth is only 3.3 feet, so rivers are ok too. The only thing missing is the pretty girl or handsome guy to share the ride with.
VIA Wired
SOURCE Quadrofoil