$25 Raspberry Pi computer runs Quake III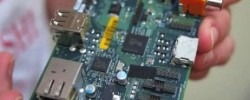 When I hear cheap computer I think $300 or so. When talking about the Raspberry Pi computer cheap means REALLY cheap at about $25. That $25 price is obviously the goal of the project that aims at delivering the really cheap computers to the emerging markets. The company producing the little computer has unveiled a prototype and offered up a shot of the machine along with a video of it running a game.
The little board has a 700MHz ARM processor and has 128MB of RAM in the device in the photos. The OS and software is run off a SD card on the board. The interesting part is that the tiny computer has the oomph to run video games. The video below shoes the Raspberry Pi running Quake III.
The video shows the game rendered in 1920 x 1080 resolution with 4x AA. The frame rate in the video is a bit jittery, but the company wanted to show that the computer can run at that frame rate. Honestly, I think you could play the game at the settings in the demo. If not, you could cut some options and certainly get a playable game on the tiny computer. The game is running on an open source version of the companies Debian build.
[via TechCrunch]