2020 Toyota Supra makes full debut in official video leak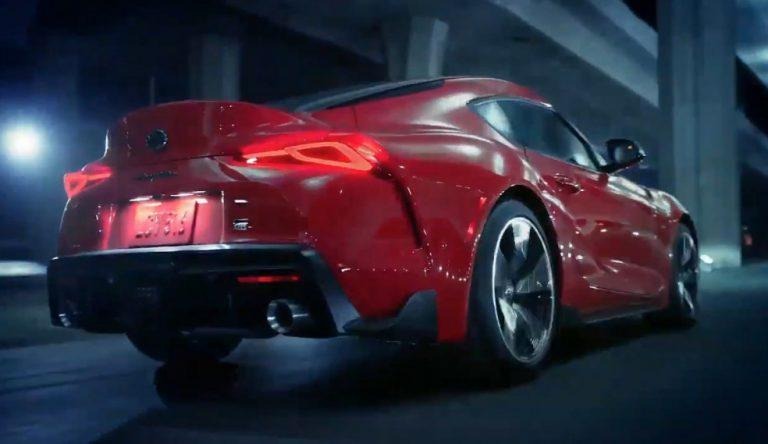 The long-awaited 2020 Toyota Supra will finally be unveiled at next week's Detroit Auto Show, and thanks to a handful of previous leaks and camouflaged spy shots we already had a pretty good idea of what the two-door coupe would look like. But today get a full-blown look at the car in video with no obstructions. It's another leak, of course, but this time the source is the carmaker itself, thanks to an accidental Twitter post by Toyota Mexico.
The tweet with the video was quickly deleted, but not before Supra enthusiasts could grab the clip and post it to YouTube and Facebook. The video is brief, and not hi-res in quality, but it shows the new Supra and its features clearly from numerous angles, with close-up shots of the front and rear.
Shown in red, the coupe is pleasantly curvy, especially at the rear, which quickly tapers off behind the passenger seats. The rear fenders easily blend into a ducktail spoiler and a set of skinny tail lights. With the passengers seats placed as far back as possible, it gives the Supra's hood long and flowing lines, and an overall aggressive, sporty stance.
At the very front are a pair of headlights that stretch towards the center of the car, where there's a small, minimal grille. In terms of its size and proportions, it's easy to see how the new Supra shares its platform with BMW's Z4, but it's also clearly distinct from the German coupe with its own shape and curves. This is especially true at the Supra door, which ends with what appears to be a skinny air intake just before the rear wheels.
The leaked video doesn't show us any interior shots, but we know that under the hood the Supra will have much more in common with the Z4, as the Toyota coupe will be powered by BMW's 3.0-liter turbocharged straight-six engine. Additional engine options will be available down the line, and while nothing has been confirmed yet, it's rumored this will include a hybrid version and four-cylinder turbo.
First orders for the new Supra are expected to start sometime this summer, with the car arriving as a 2020 model. We'll have to wait for any additional details to be shared at the 2019 Detroit Auto Show, which kicks off on January 14th.