2020 Toyota Prius Prime gains a 5th seat and more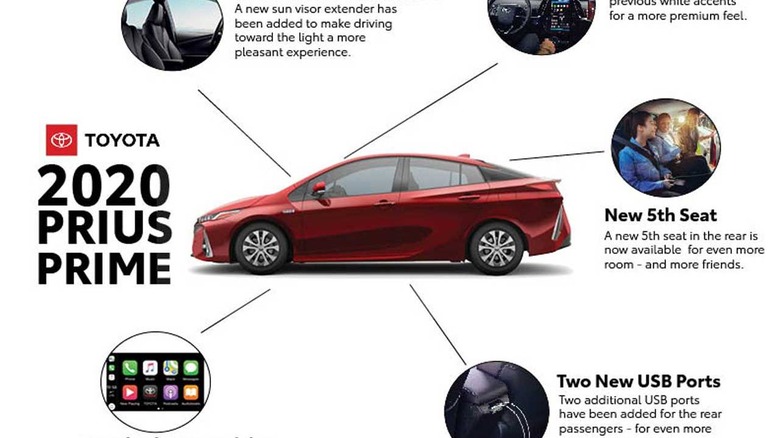 Toyota is talking up the 2020 Toyota Prius Prime and billing the hybrid as an answer to rising fuel prices. The new ride will hit dealers this summer, and the LE grade will start at $27,600, the mid-range XLE grade will start at $29,500, and the Limited grade will be $33,500.Toyota says that the Prime name in the model is fitting as this is the most technologically advanced Prius in the model's nearly two-decade history. The 2020 Prius Prime can run in either EV or hybrid driving modes and has several new upgrades for the 2020 model year.
One of the significant upgrades is the addition of a fifth seat in the back for more room and people-hauling capability. The car can now seat three people in the back. Toyota added standard Apple CarPlay, SiriusXM, and Amazon Alexa compatibility.
Toyota gave the 2020 Prius two more 2.1A USB ports for rear passengers to keep devices charged up and running. For more driver comfort, a new sun visor extender helps to keep the Sun out of your eyes. Buttons for controlling the seat heater have been relocated for ease of use.
Prius Prime is the most efficient Toyota hybrid so far. The vehicle has an EPA-estimated 54 mpg combined fuel rating and a 640-mile total driving range. The Prius can drive for 25-miles in EV mode using electricity alone. Toyota notes that the Prius Prime is HOV-approved as a single occupant green vehicle in California and New Jersey.