The 2020 Mercedes-Benz CLA Coupe is 4-door seduction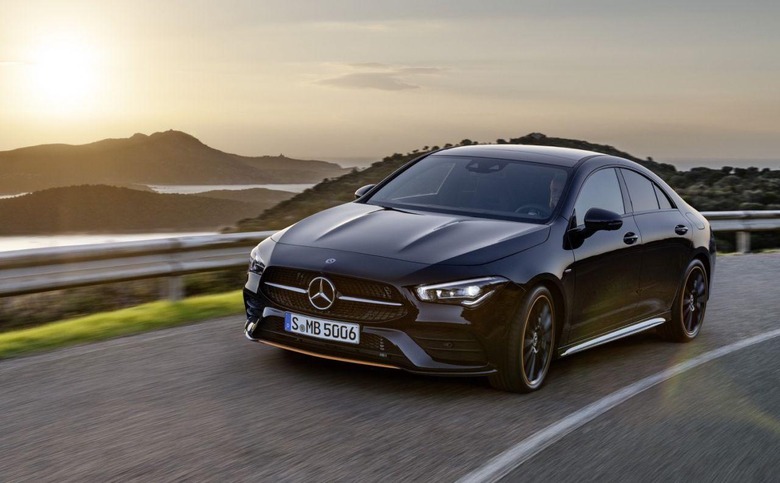 Mercedes-Benz is pulling out all the stops with its compact cars, and if the 2019 A-Class sedan impressed you then the all-new 2020 CLA Coupe could knock you off your feet. Revealed at CES 2019 this week, the new CLA Coupe is, like its predecessor, actually a four-door, though one with a swooping roofline reminiscent of Mercedes' two-door cars.
Whatever your thoughts on the name, you can't argue that it's a handsome car. The four-door coupe style gives Mercedes' designers a chance to do something more dramatic than with the A-Class sedan. As a result, the 2020 CLA isn't just a mini-C-Class but has the high waistline, lengthy hood, and muscular wheel arches you'd associate with performance cars.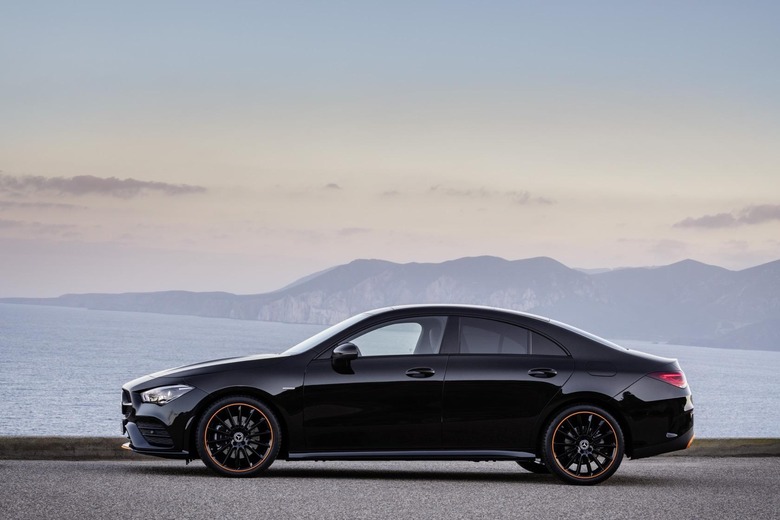 The distinctive forward-raked grille is carried over from the original car, paired with power domes that bulge out of the hood. Flat headlamps give some angular contrast, as does the diamond radiator grille with its sizable central star. At the back, Mercedes' designers have emphasized the width of the CLA Coupe with slender taillamps and by shifting the license plate to the lower bumper.
It's 1.9-inches longer than before, and 2.1-inches wider. Most of the extra length goes into the wheelbase, while inside headroom is increased front and rear. The wider track helps with more elbow and shoulder room, too.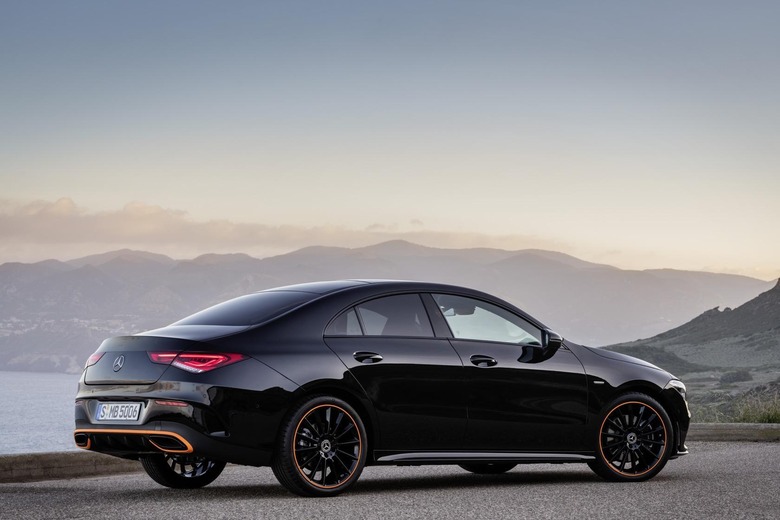 The dashboard is striking, with the traditional cockpit cowl ditched and free-standing displays used instead. The main structure is wing-shaped, flowing from one side of the cabin to the other, while a lower section is visually separated so that it looks to float in front of the instrument cluster. Mercedes cleverly uses ambient lighting to emphasize that detailing.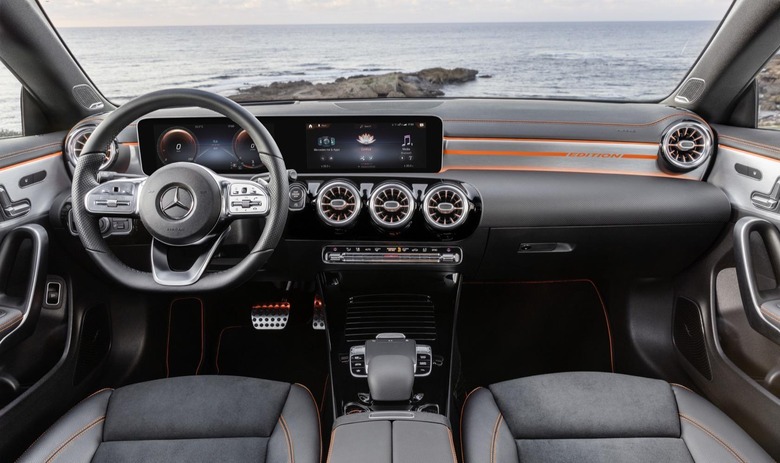 As with the A-Class, the devil is in the details. Turbine-look air vents, a new steering wheel, and unique door handle modules help distinguish the new CLA from not only its predecessor but other models in Mercedes' line-up. A 7-inch digital instrument cluster is paired with a 7-inch touchscreen multimedia display, while there's also a new steering wheel with touch control buttons and a new touchpad in the center console.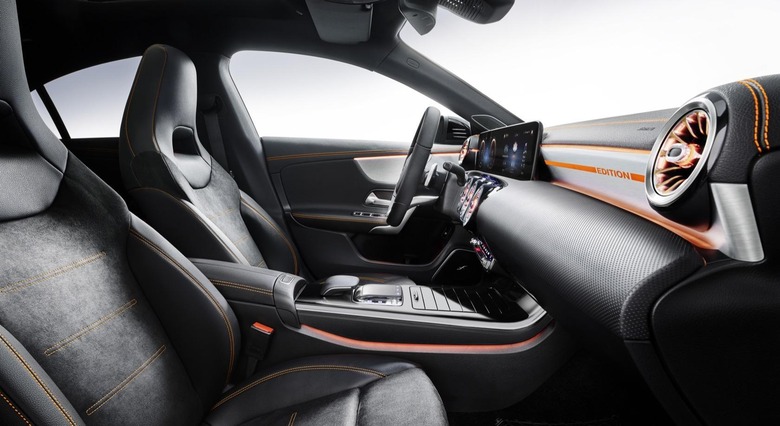 Old or new, the CLA has always looked like it was a performer. This time around, there's even more focus on delivering on that promise. The track is wider, front and rear, while the center of gravity has been lowered. A decoupled multi-link rear axle helps cut noise and vibration, while there's Direct-Steer as standard. A larger-diameter stabilizer bar cuts body roll, while active adaptive damping suspension is optional.
Under the hood, both the 2020 CLA 250 and 2020 CLA 250 4MATIC will get a new, 2.0-liter inline-4 turbocharged gas engine. That's good for 221 horsepower – up 13 hp compared to the old CLA – and 258 lb-ft of torque. It'll be paired with a 7G-DCT dual-clutch transmission. 4MATIC models will have all-wheel drive.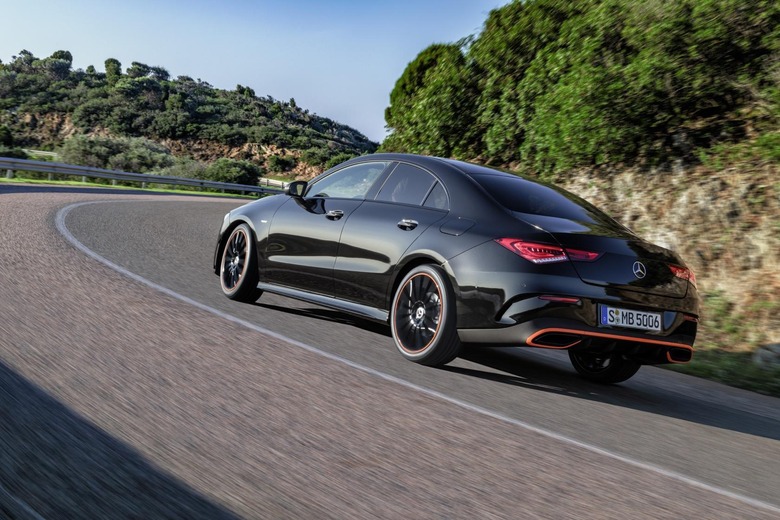 16-inch wheels are standard, and options range all the way up to 19-inches. Mercedes has tuned the ESP, too, for a focus on handling in the corners at speed. Meanwhile active aerodynamics use features like a two-piece shutter system behind the grille, combined with wheel-arch spoilers and other passive aero aids. Mercedes is offering special aero wheels, too.
As with the 2019 A-Class, part of the 2020 CLA's charm is how it brings features and technologies more typically associated with Mercedes' more expensive models, like the S-Class, to a more affordable price point. Active Distance Assist DISTRONIC adaptive cruise control, for instance, is an option, and can tap into navigation data to proactively adjust the car's speed when corners and turning circles approach. New camera and radar systems can monitor more than 1,600 feet in front of the CLA, and there's now Active Lane Change Assist.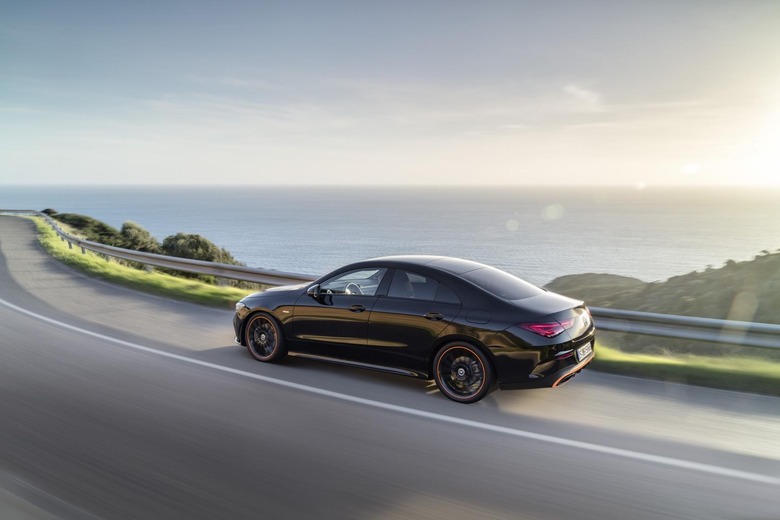 Active Brake Assist is standard, as is Active Lane Keeping Assist. PRE-SAFE PLUS can spot an incoming rear collision, and prepare the car for the best possible results, and there's Active Emergency Stop Assist, too. Optional Multibeam LED headlamps – each consisting of 18 individually controlled LEDs – both better mimic daylight and can adjust the projection of light to suit the traffic around.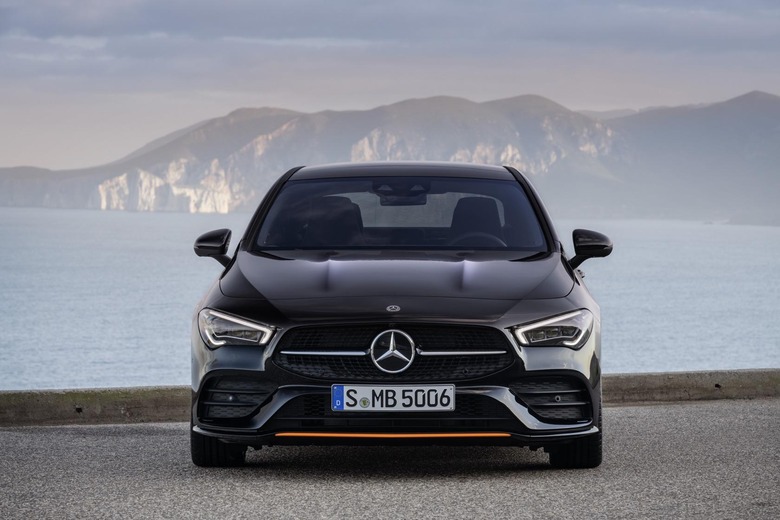 The tech continues inside. The Mercedes-Benz User Experience, or MBUX, was revealed at CES 2018 last year, and has since made its market debut on the A-Class. For the new CLA, it's getting a feature upgrade. The "Hey Mercedes" assistant – the automaker's version of Siri or Alexa – can now handle a greater number of queries and instructions, the automaker promises, as well as only listen to the person who gave the trigger phrase even if there's background conversation.
Interior Assist uses gesture recognition to access and control features like seat massage, the interface automatically loading when a hand approaches. It can differentiate between the driver and the front passenger, too. A new personal favorites function can trigger a certain command – such as "navigate me home" – with the system again able to tell who is making that gesture and pick out the right favorite setting.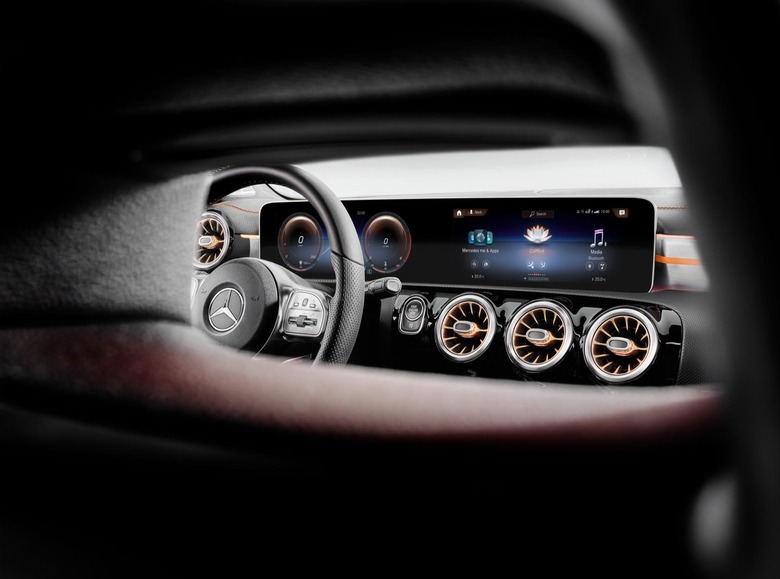 Other gesture features aim to save us from finding buttons and switches. Extending a hand to the rear-view mirror, for instance, turns the cabin lights on in the dark. Reach over from the driver's seat to an unoccupied front passenger seat, and the 2020 CLA will automatically turn on illumination for that seat to help you find whatever you're reaching for.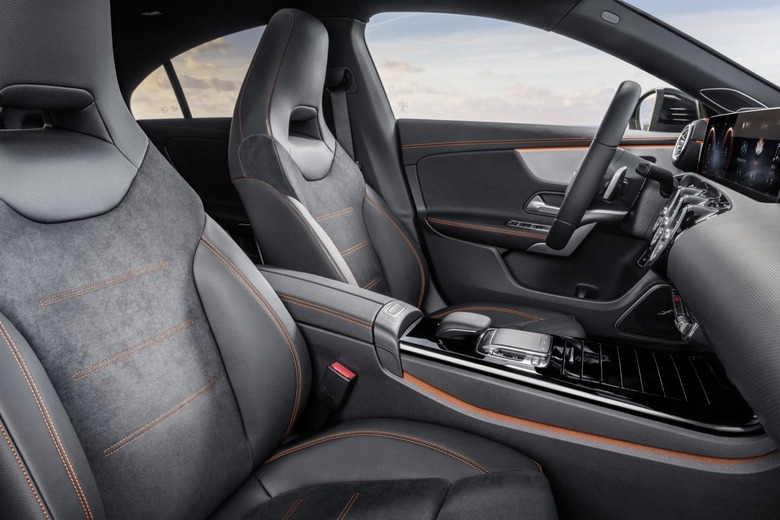 Mercedes is even hoping the CLA will help you sleep better. Thanks to a partnership with Garmin, there's a new Mercedes-Benz vivoactive 3 Smartwatch that can automatically share your sleep, stress, and exercise data with the CLA, and pick out an Energizing Comfort preset of HVAC, massage, lighting, and music to suit. Your pulse rate is shown in the car's media display, too.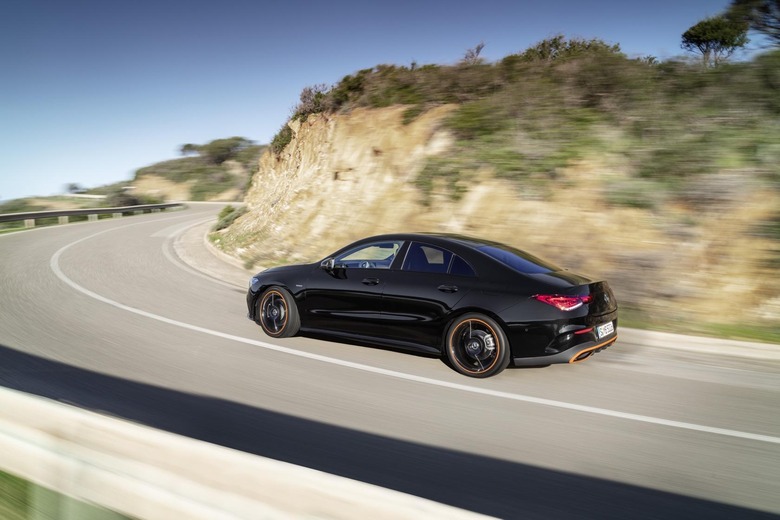 Mercedes needs to get all this right, because the CLA has turned into a mightily important car for the automaker. Like the A-Class it's a gateway into the brand: Mercedes claims that, at its peak, more than two-thirds of CLA buyers were conquests from competitors. Once they're in the family, they typically stick with it, too. In Europe, more than three-quarters of CLA owners go on to pick another Mercedes after that.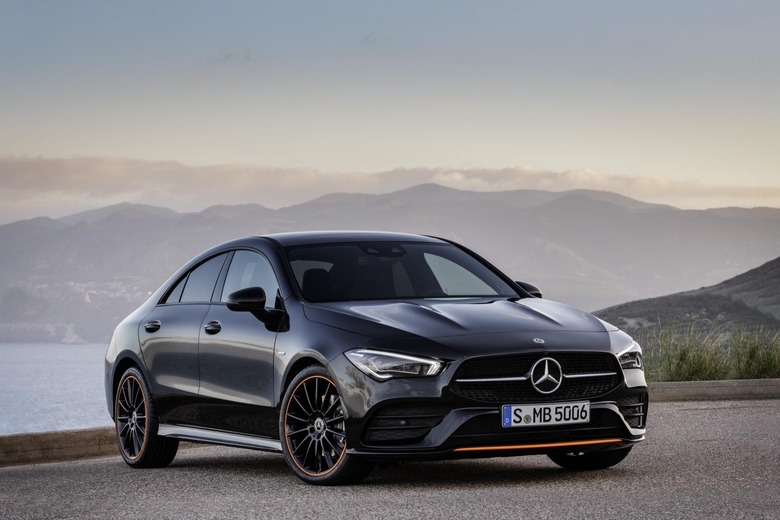 That success has been demonstrated with strong sales, too. Around 750,000 of the original CLA have been sold worldwide, even though the CLA Shooting Brake sadly never made it to US shores.
If there's one downside about the second-generation model, it's that the 2020 CLA Edition 1 – a unique version with special exterior and interior features – won't be offered in the US. While Europe will get the new CLA from May of this year, US drivers will have to wait until late 2019 before it arrives in dealerships. Pricing will be confirmed closer to that point.