2020 Lexus RC F Track Edition gives luxury coupe real bite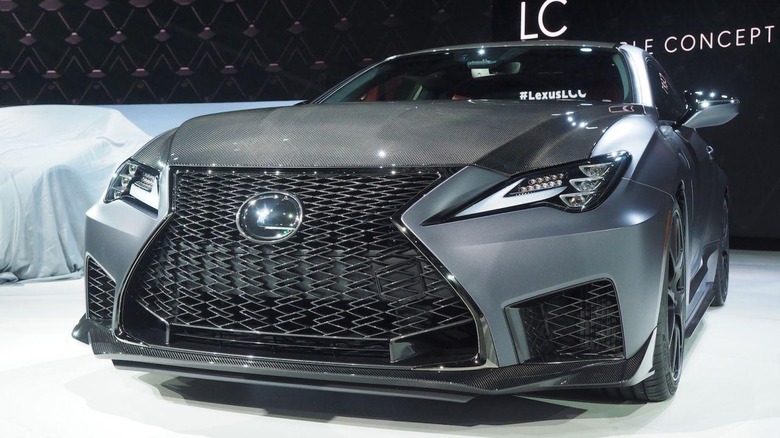 There are changes afoot for the 2020 Lexus RC F, with the automaker's handsome luxury GT not only honing its performance but gaining a 2020 RC F Track Edition sibling, too. Making their debut at the Detroit Auto Show 2019 this week, the pair of cars give Lexus' F brand a little extra for the new model year.
In the case of the 2020 RC F, Lexus' engineers have made improvements across the board. The naturally-aspirated 5.0-liter V8 is still present and correct, but now has 472 horsepower – up 5hp – and 395 lb-ft of torque – up 6 lb-ft – versus the old car.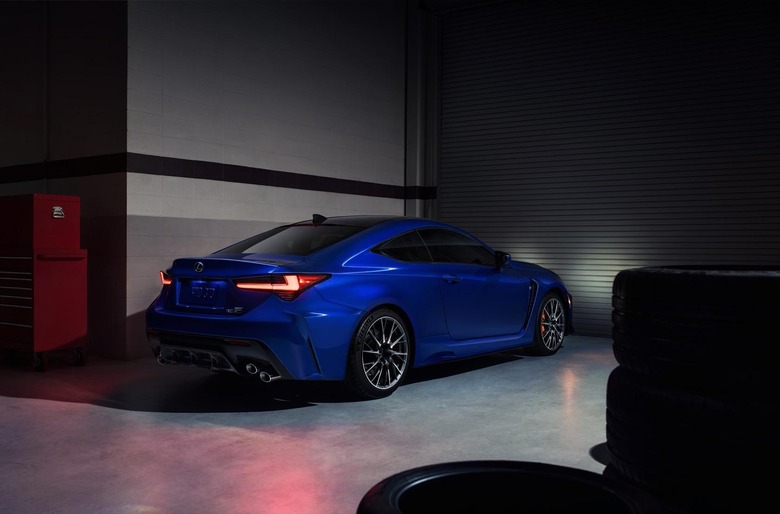 The eight-speed automatic transmission is carried over, but promises to be more aggressive from a standing start courtesy of a higher final drive ratio of 3.13 versus 2.93. Electronic launch control is now standard, too, triggered with a special button. With it, Lexus says to expect a 0-60 mph time of 4.2 seconds.
While power may be up, weight is down. Hollow half shafts at the rear, along with a pared-down front intake manifold and smaller air conditioning compressor keep the heft down. New aluminum toe control brackets and upper suspension support brackets have been introduced, too. They work along with stiffer bushings for the rear suspension arms and steering rack mounts, while the engine mounts are more rigid, too.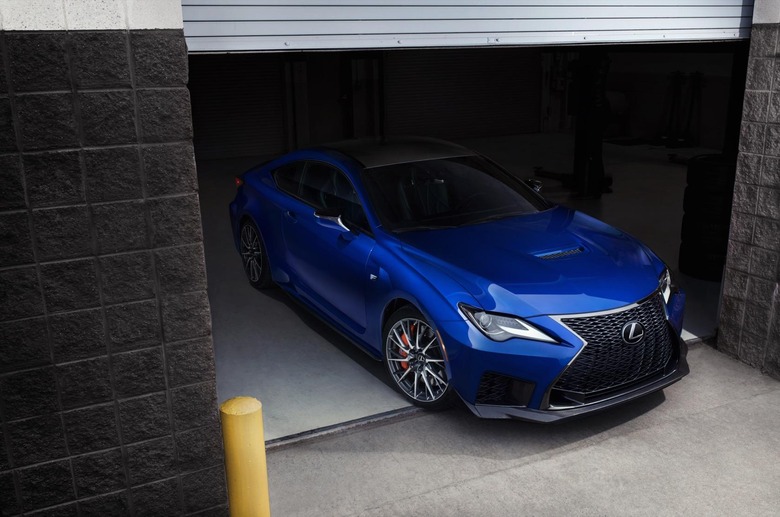 Lexus worked with Michelin for a special set of Pilot Sport 4S tires, with a unique profile, tread pattern, and rubber compound. They promise less understeer along with more lateral grip, not to mention greater durability.
From the outside, you can tell it's the 2020 model year by the new headlights. These have stacked LEDs and integrated daytime running lights. A new lower lip opening across the bottom of the spindle grille has been added, while at the rear there's a reshaped bumper and new taillights.
2020 Lexus RC F Track Edition
If all that isn't enough, then Lexus has an even hotter version of its coupe. The RC F Track Edition will be offered as a limited edition, developed in collaboration with the Lexus Super GT and IMSA race teams. The result, the automaker claims, is a car that's both potent but luxurious, too.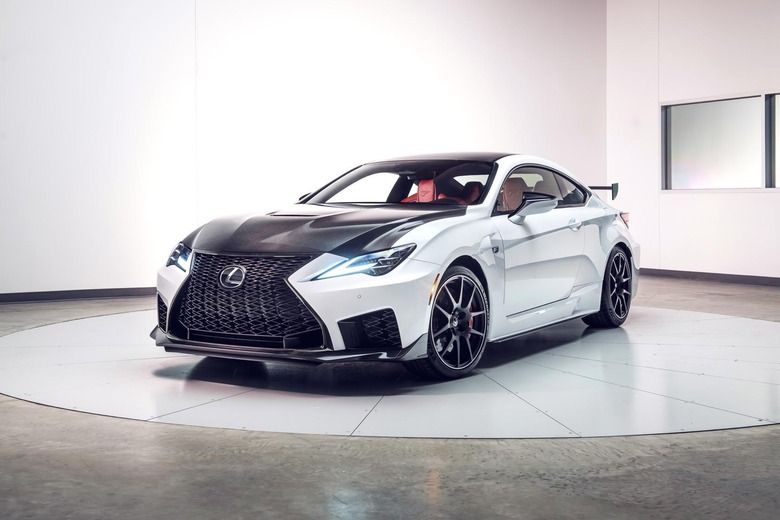 First there's the aerodynamics. A new carbon fiber lower spoiler increases downforce, while the fixed rear wing is also made of the lightweight material. It's lighter than the active spoiler the RC F gets, while also cutting drag and boosting downforce by up to 58 pounds over the standard car.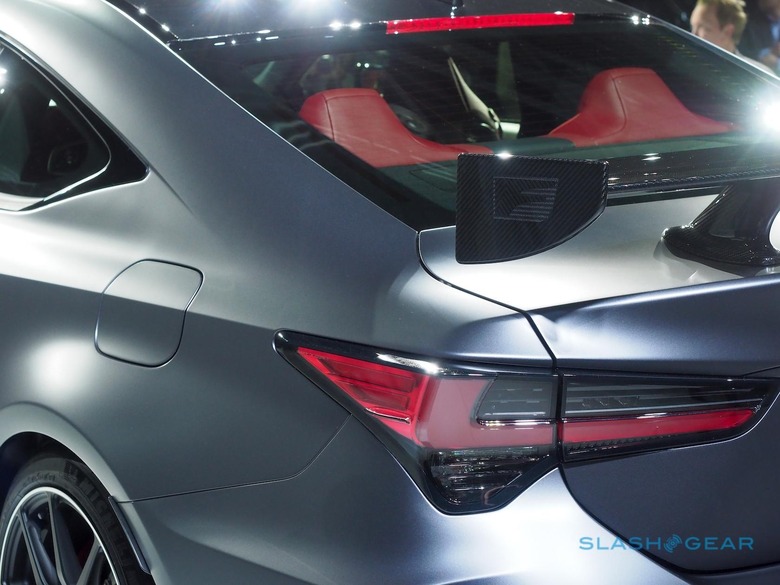 Lightweighting in general has been a key area of focus, and Lexus estimates the RC F Track Edition is weighs 176 pounds less than the regular RC F. Brembo carbon ceramic brake rotors have been used, to focus in particular on cutting unsprung weight; they're also better at dealing with the heat from aggressive driving. 19-inch BBS forged alloy wheels – borrowing design cues from the RC F GT3 car – also save on weight.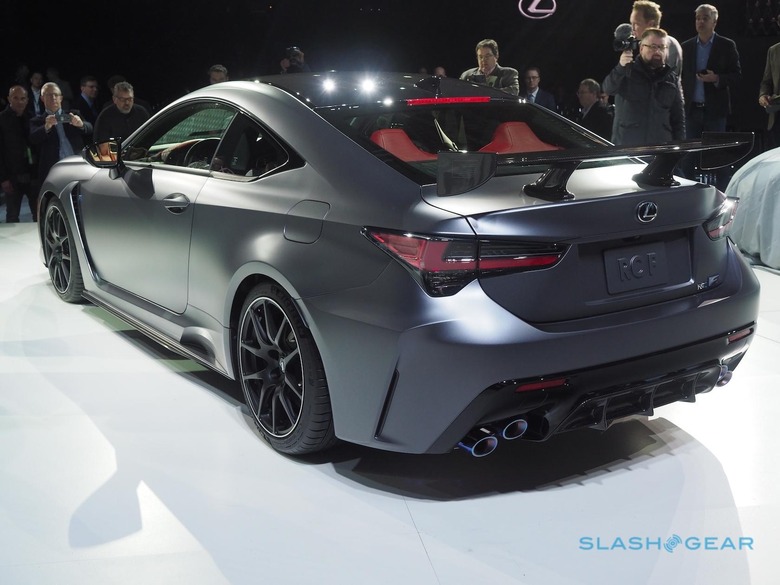 A carbon fiber roof and hood help there, too, as does a carbon fiber partition behind the rear seats, and carbon bumper reinforcement. Lexus says it reused the LFA production line for many of those pieces' fabrication. The muffler and tail pipes are titanium.
The same 5.0-liter V8 with 472 horsepower is under the hood, but the weight loss means an even better power-to-weight ratio. 0-60 mph comes in 3.96 seconds.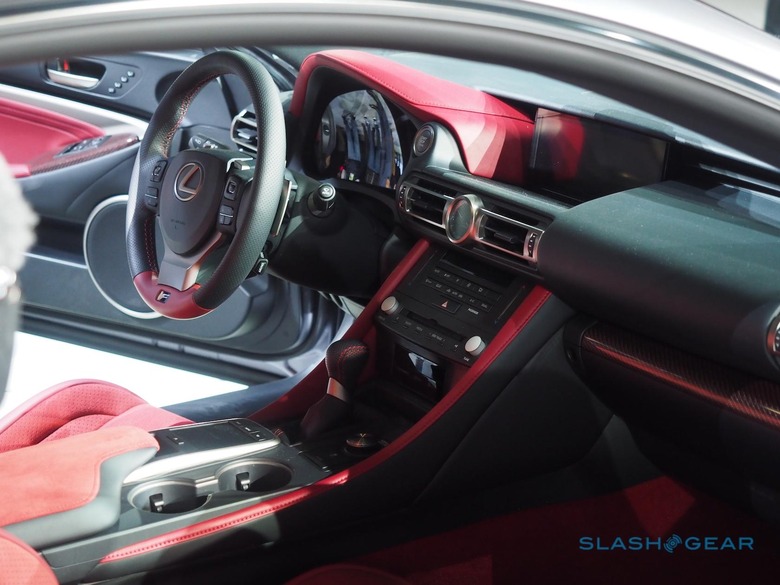 Inside, the red leather interior is standard. The seats get Alcantara accents, while the doors and dashboard get red carbon trim. Lexus will only offer two exterior colors: Ultra White and Matte Nebula Gray.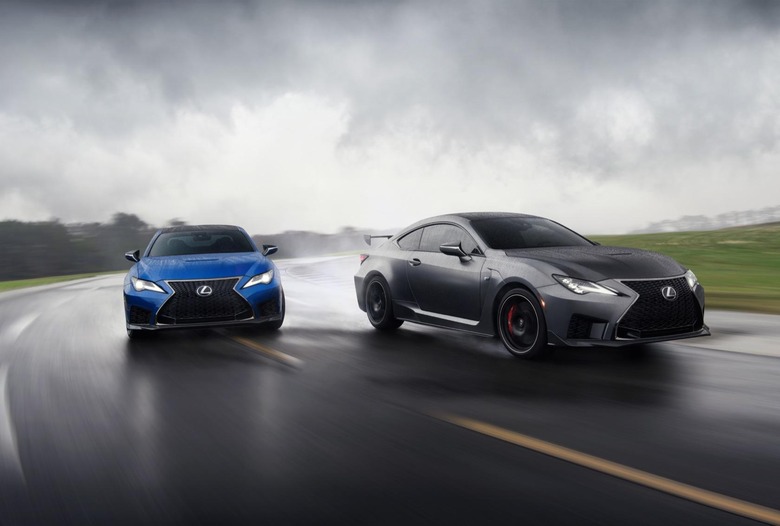 Production of both the 2020 RC F and the 2020 RC F Track Edition is set to kick off in Q2 2019. Pricing for each car has not been confirmed, nor just how many of the "limited edition" Track cars it plans to produce.