2020 Lexus LS 500 Inspiration Series lands this fall in Deep Garnet paint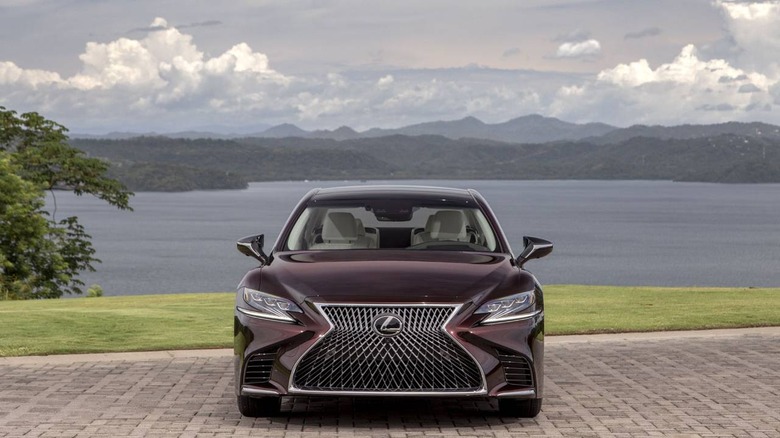 Lexus has announced a new car that will land this fall called the 2020 Lexus LS 500 Inspiration Series. The car marks the first use of a maroon paint color on the LS 500 called Deep Garnet. Inspiration models come with standard 20-inch wheels in "Black Vapor Chrome" finish.
Inside the car comes with a standard White and Black interior with Kiriko Glass trim. The 2020 LS 500 Inspiration is the fourth Inspraiton vehicle from Lexus and is the first sedan to get the treatment. Lexus says that the special, limited-production Deep Garnet color is a metallic share of red that "shimmers in direct sun" while having a "deep, lustrous, tone" in the shade.
The interior is particularly attractive with white leather trim used on the seats, center console, and door panels. The leather is semi-aniline and uses a dyeing process that gives it a bright white color. The white is a stark contrast to the black dashboard, steering wheel, and carpet.
The door panels have Kiriko glass trim that was previously only offered on the Executive Package. The design of the glass panel is meant to reflect the white door trim and the Mark Levinson speaker grills. Lexus says that the glass bridges the light and dark elements.
The car also has blue LED dash lights and Lexus puddle lamps at each door. These lamps throw the word "Lexus" on the ground when the doors open. The 2020 LS 500 Inspiration Series uses a 3.5L V6 engine that makes 416hp and 442 lb-ft of torque. The RWD version reaches 60 mph in 4.6 seconds; an AWD version is offered. Lexus will make only 300 LS 500 Inspiration Series units that will go on sale this fall with pricing announced closer to launch.