2020 Land Rover Defender is an all-new icon: US price and specs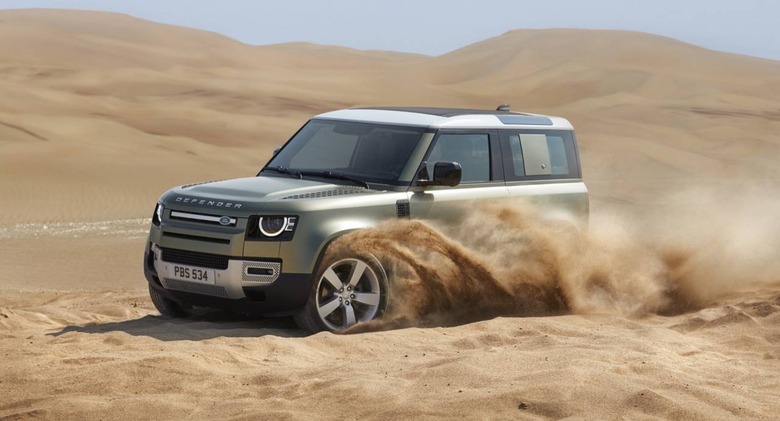 Some cars are just plain iconic, and so expectations for the 2020 Land Rover Defender are understandably high. Making its long-anticipated debut at the Frankfurt Motor Show 2019 today, the all-new SUV will come in 2020 Defender 90 three-door and 2020 Defender 110 five-door versions, with an optional mild-hybrid gas engine and plenty of off-roading ability.
It's certainly distinctive. Land Rover's designers have given the new 2020 Defender a futuristic-retro look, likely to prove controversial with enthusiasts, though the slab-sided aesthetic and externally-mounted spare wheel can't really be mistaken for anything other than this SUV classic. Underneath is Land Rover's new D7x platform, a lightweight aluminum monocoque.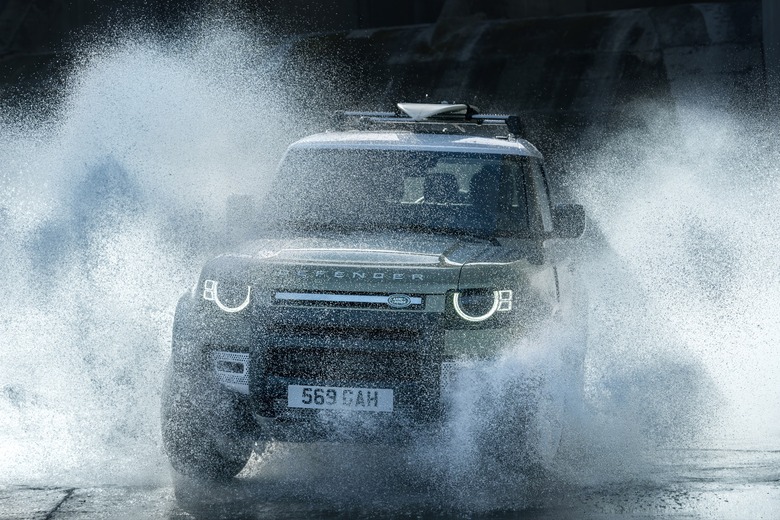 2020 Defender 90 and 110
Do you want three doors or five? Land Rover will be eventually offering both a Defender 90 and a Defender 110, though the short-wheelbase former will trail the latter in US dealerships. The Defender 110 will come in Defender, S, SE, HSE, X and First Edition versions.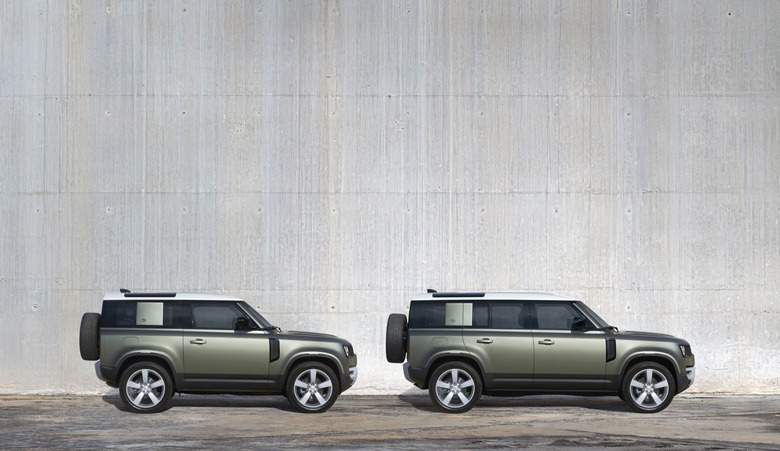 It'll be offered in 5/6, or 5+2 seating form, the former having an optional jump seat and the latter a third row of two smaller seats. In 5/6 seating configuration, you're looking at 34.6 cubic feet of trunk space; with the 5+2 third row up, that drops to 10.7 cubic feet. Put the seats down for maximum capacity, and the 5/6 version has 78.8 cubic feet while the 5+2 version has 69 cubic feet.
As for the Defender 90, that will come in 5/6 seat form with the jump seat fitted as standard. It has 15.6 cubic feet of cargo space, expanding to 58.3 cubic feet with the second row of seats down. Land Rover says its launch will "swiftly follow" the regular wheelbase model.
2020 Defender design
Short overhangs, crisp lines, and plenty of attitude. Land Rover has pulled no punches with the new Defender, but there's more to the new SUV than meets the eye. For a start, it's the first of the automaker's cars to be offered with an optional factory-fitted Satin Protective Film, a PU-based wrap that's designed to be easier to repair than regular paint should it get too scratched.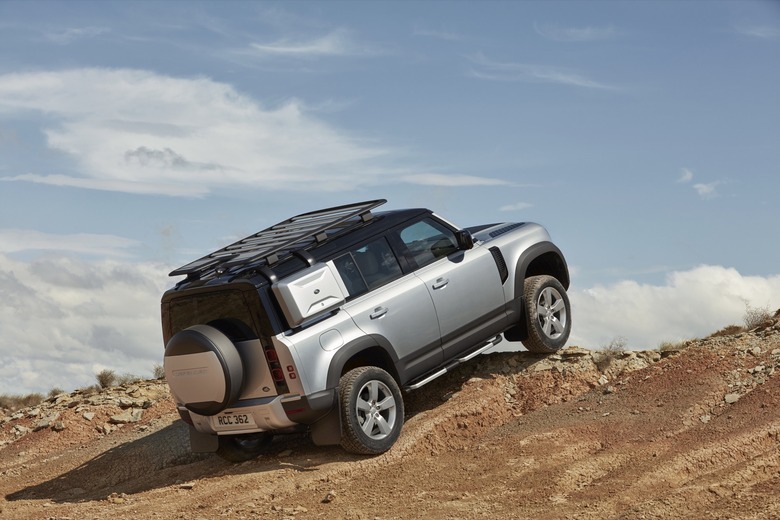 Exterior colors will include Fuji White, Eiger Grey, Santorini Black, Indus Silver, Tasman Blue, Pangea Green, and Gondwana Stone. There'll be 12 wheel designs, from 18-inch pressed steel rims to 22-inch alloys. A retractable full-length fabric sunroof will be available from launch on the Defender 90, and added as an option on the Defender 110 from the MY21, while floating pillars will be standard on the 110 and optional on the 90.
Land Rover will have a wide range of accessories, but also offer four accessory packs – Explorer, Adventure, Country, and Urban – that each check off a matching selection of options. The Explorer pack, for example, will have a roof rack, mud flaps, and a raised air intake; the Adventure pack gets a 1.7 gallon portable rinse system, an air compressor on the trunk, and a gear carrier on the sides.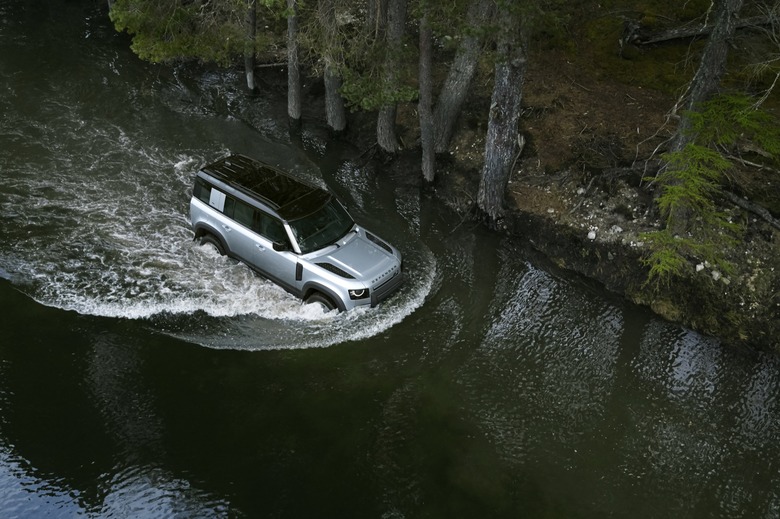 The Country pack, meanwhile, has beefier wheel arch protection, a rear scuff plate, and an interior rinse system, among other changes, while finally the Urban pack gets slicker alloy wheels and more brightwork on the outside. As standard, the new Defender has a rubber floor with flush-fitting sills, so that it can be easily cleaned.
2020 Defender engines
There'll be two drivetrains initially, the P300 and P400. One is a mild-hybrid, and both versions will get paired with permanent all-wheel drive.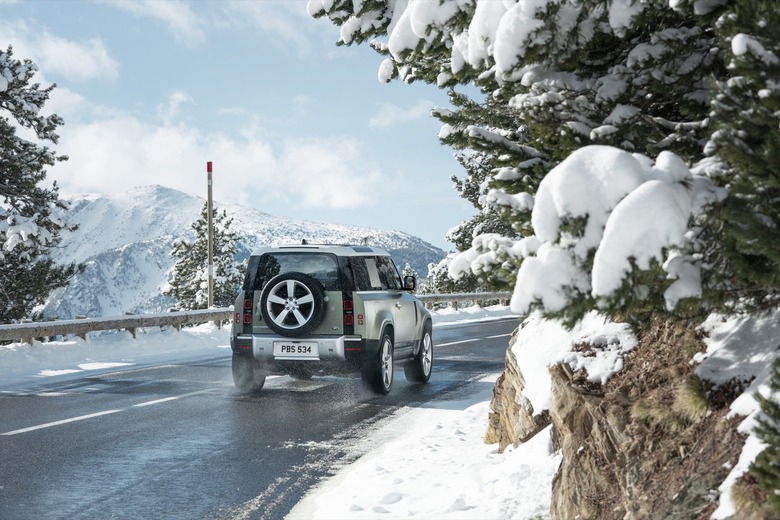 The entry-level 2020 Defender will get a 2.0-liter turbocharged inline-4 gas engine, with 296 horsepower and 295 lb-ft of torque. It'll use an 8-speed ZF automatic, and do 0-60 mph in 7.7 seconds. Top speed is 119 mph, and it's rated to tow 8,201 pounds. Fuel economy from the 23.8 gallon tank is yet to be confirmed. The turbo four will be offered on the Defender and Defender S trims in five-door form.
As for the mild-hybrid, that gives the 2020 Defender SE, HSE, X, and First Edition – as well as the 2020 Defender 90 First Edition – a 3.0-liter turbocharged inline-6 with electric boost. It gets 395 horsepower and 406 lb-ft of torque, and the same 8-speed automatic. Land Rover says the Defender 110 should do 0-60 mph in 5.8 seconds and a top speed of 129 mph; the Defender 90 knocks a tenth of a second off the 0-60 time. Towing ratings are the same, while the Defender 90 gets a 23.4 gallon tank and the Defender 110 has 23.8 gallons.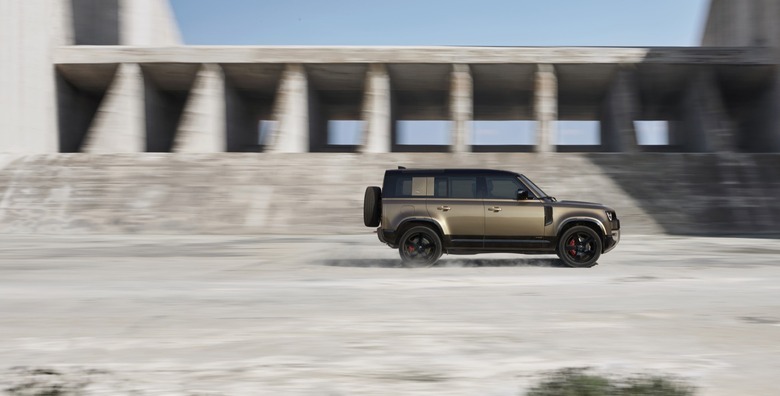 The hybrid uses a belt-integrated starter generator, which charges a 48V battery mounted at the rear. It contributes up to 105 lb-ft of the overall torque, both for driving and for smoothly restarting the gas engine after the start/stop system has kicked in; that can happen when the Defender drops below 1.9 mph. An eSupercharger is used to increase boost pressure, meanwhile, for more low-end torque from the gas engine.
2020 Defender all-wheel drive
Anything deemed worthy of the Defender badge needs to have some off-road credibility, and so Land Rover is using a combination of hardware and electronics to make sure this new SUV lives up to expectations. It gets the latest version of the Terrain Response 2 system, which adds a Wade Program along with the ability to customize the off-road settings.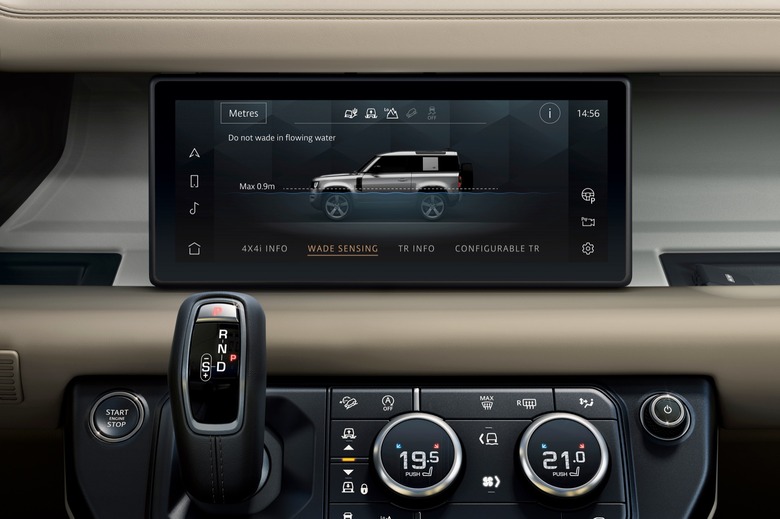 There are Normal, Wade, Rock Crawl, Mud and Ruts, Grass/Gravel/Snow, and Sand modes; the new Wade program cranks up the air suspension height, shuts off the HVAC vents, and automatically cleans and dries the brake discs and pads. Configurable Terrain Response, meanwhile, offers more adjustments for experts as well as clearer guidance for more novice drivers.
All the electronics in the world aren't much use if the core talents of the SUV aren't up to scratch, of course. Land Rover has engineered the 2020 Defender 110 with a 30.1-degree approach angle and a 37.7-degree departure angle; those numbers rise to 38-degrees and 40-degrees respectively in off-road height. The ramp breaker angle is 22-degrees or 28-degrees in off-road mode, while wading depth is 35.4-inches in off-road mode.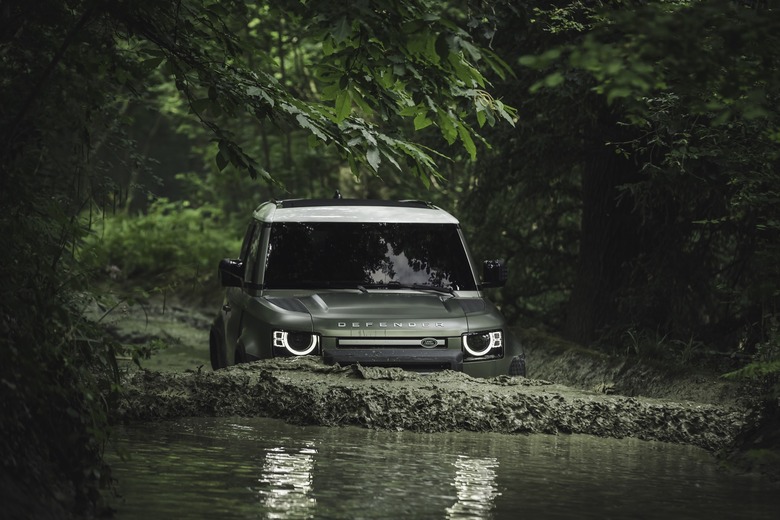 Ground clearance ranges from 8.6-inches to 11.5-inches, and the 2020 Defender 110 can handle a maximum 45-degree ascent/descent gradient, and a maximum 45-degree side slope traverse gradient. In comparison, the 2020 Defender 90 keeps just about all the same specifications, but bumps the ramp breaker angle to 24.2-degrees (or 31-degrees in off-road mode). All versions use electric power steering, with a 37.1 foot curb-to-curb turning ratio for the Defender 90 or 42.1 foot for the Defender 110.
2020 Defender cabin and technology
Land Rover's cabin for the new SUV is a mixture of familiar tech from its Range Rover line, combined with styling elements of classic Defenders. There's a die-cast magnesium alloy beam spanning it, with integrated grab handles, and many of the structural features are visible through the trim.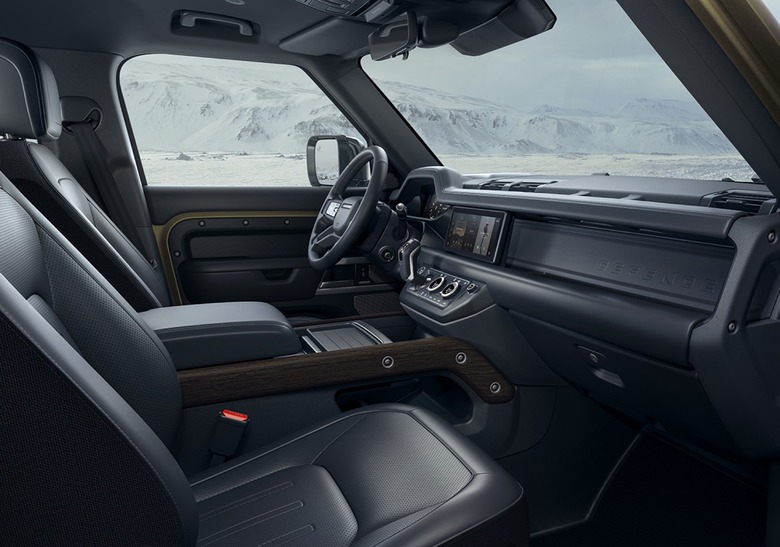 Fabric and leather surfaces are available, depending on model, along with a choice of wood veneers and powder-coated metal.
The new PIVI Pro infotainment system uses Snapdragon processors and supports OTA software updates; there's an optional Online Pack which includes unlimited data for music streaming, weather updates, and calendar sync. WiFi hotspot functionality is optional. It's all controlled through a 10-inch central touchscreen, with Apple CarPlay and Android Auto as standard; PIVI Pro can connect via Bluetooth to two devices simultaneously.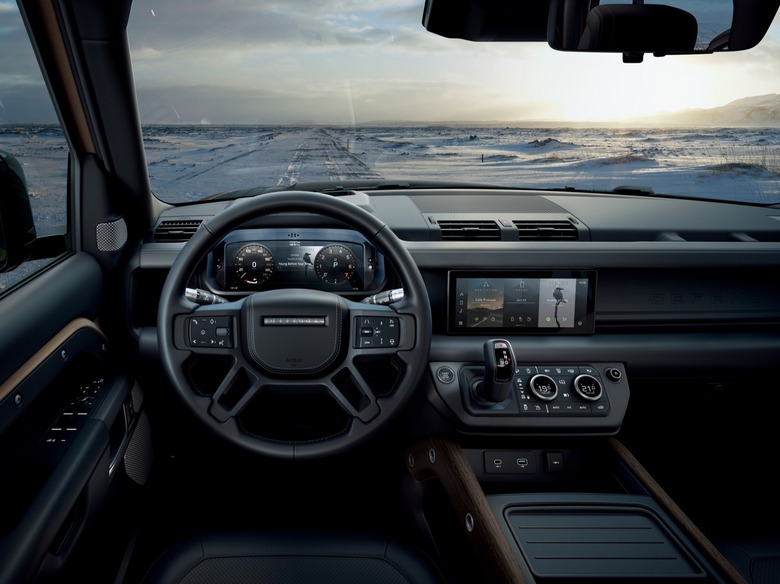 The standard 180W, six-speaker audio system can be upgraded to either a 400W 10-speaker or 700W 14-speaker Meridian system. There are two 12V outlets and two USB in the front, as well as for the second row, while those Defenders with third row seats get a USB and a 12V. The trunk has another 12V outlet and, optionally, a 120V outlet.
The driver gets a 12.3-inch display for the gages, with 3D mapping and customizable layouts. A second-gen full-color HUD is optional, as is ClearSight Ground View "transparent hood" technology for a view right in front of the SUV. Any Defender with the jump seat gets a ClearSight Rear View mirror as standard, which can beam a view from a rear-mounted camera to a display in the mirror housing.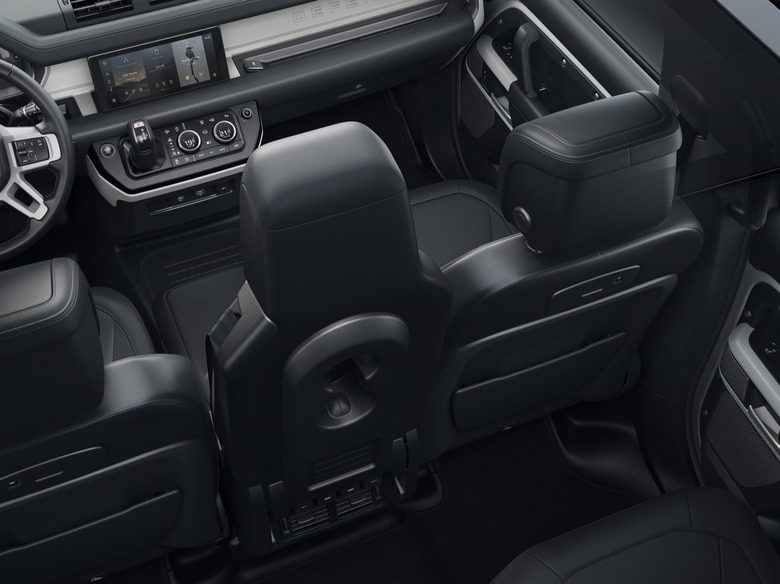 Blind spot assistance is standard, while adaptive cruise and rear pre-collision monitor are optional as part of a Driver Assist Pack. Emergency Braking, Lane Keep Assist, Traffic Sign Recognition, Cruise Control and Speed Limiter functions, Driver Condition Monitor, and front and rear Parking Aids are also available.
2020 Defender US pricing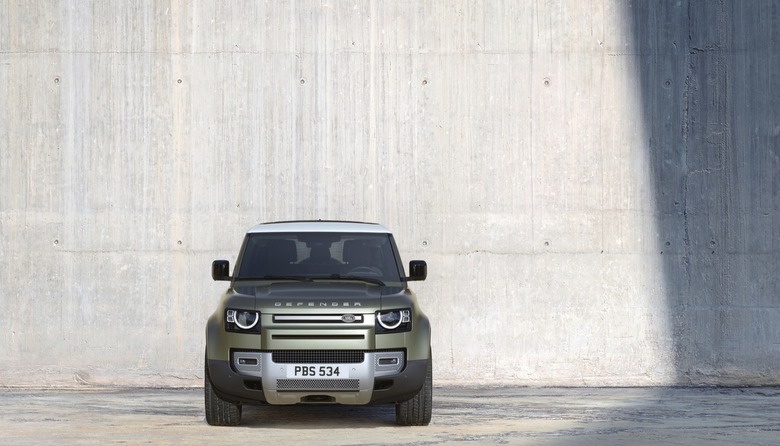 In the US, the 2020 Defender 110 will start at $49,900 for the Defender P300, rising to $53,350 for the Defender S P300. The 2020 Defender SE P400 will be from $62,250, while the HSE trim starting at $68,350 and the First Edition from $68,650. The top-spec 2020 Defender X P400 will be from $80,000.
All pricing excludes a $1,025 destination fee. US pricing for the 2020 Defender 90 is yet to be confirmed. The 2020 Defender 110 will go on sale in the US in Spring 2020.