2020 Honda Clarity updates include improved cold weather start-up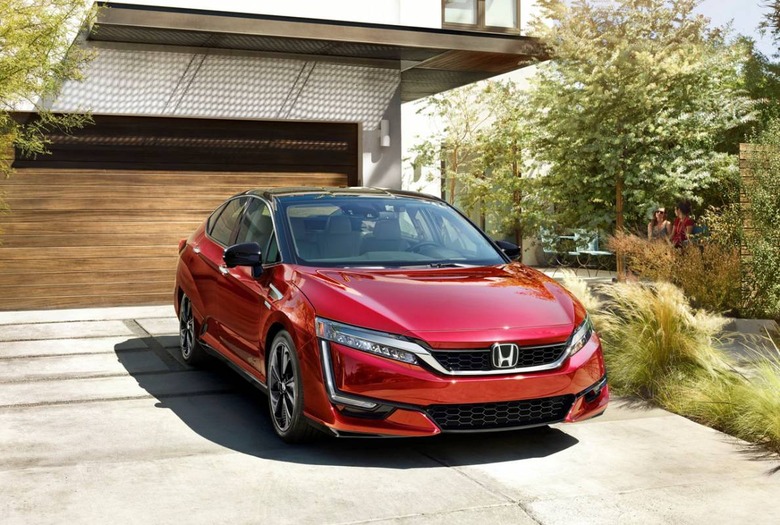 Honda has announced updates for the 2020 Honda Clarity Fuel Cell vehicle. The updated vehicle hits dealerships in California today and has new heated outside mirrors, an improved Audible Vehicle Alert System for pedestrian awareness at low speeds, and improved cold weather start-up capability. The 2020 Clarity Fuel Cell will be a lease vehicle at a price of $379 monthly with up to $15,000 in hydrogen fuel, among other benefits.
The EPA estimated range of the Clarity is 360 miles on a full tank of hydrogen along with quick refueling at more than 40 hydrogen stations. The vehicle also qualifies for a $4,500 California state rebate and single-occupant HOV lane access.
The car can be had in a new color called Crimson Pearl, and the platinum white models come standard with a brown interior. Only one trim is offered on the Clarity Fuel Cell vehicle, and it has room for five inside. Features include Apple CarPlay, Android Auto, and Honda Sensing. The EPA gave the vehicle a 68 MPGe rating. Honda notes that is the highest rating for any light-duty fuel cell vehicle sold in America.
The vehicle can refuel in three to five minutes using a 70 MPa refueling station. The Clarity can be leased through a network of 12 approved Honda dealerships in California markets with six of those in Southern California. The lease spans 36 months, and $2,878 is due at signing. The lease rate is $379 monthly and incudes 20,000 miles per year.
The lease also includes 21 days of access to a luxury vehicle from Avis while in California, 24/7 roadside assistance, and eligibility for the California Clean Air Vehicle Stickers.