2020 Ford Escape crossover gets huge redesign and tech boost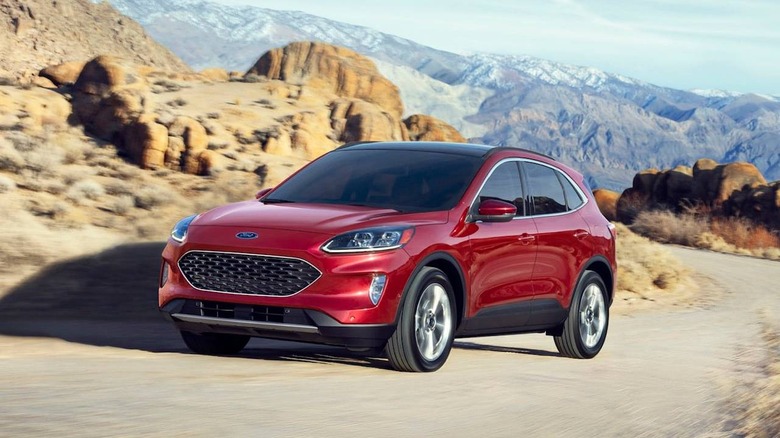 Ford has revealed the 2020 Escape, the fourth-generation of its compact crossover, and it's all-change from the chunky old model. While in fact wider and longer than the outgoing car, the 2020 Escape actually looks smaller than it. That's in part down to the lower height, but also comes courtesy of a softening in Ford's aesthetic.
The old Escape looked like a mini SUV, with an aggressive grille and lamp design, upright posture, and relatively sharp lines. This 2020 model, however, softens the whole design. The lowered roofline is more curved, for instance, tapering to the rear hatch.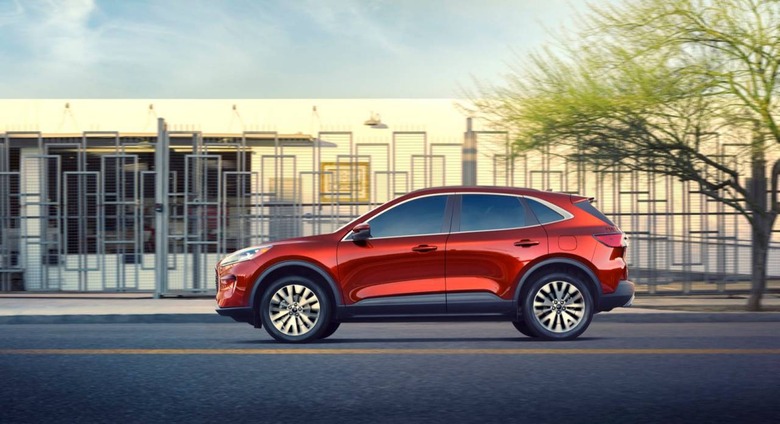 At the sides, the concave doors combined with the body-colored lower trim – in contrast to the old car's black plastic lower cladding – leave the 2020 Escape looking lower, more like a hatchback than a crossover. The front, meanwhile, sees the headlamps lifted up on the fenders, larger and more rounded. Overall, it's a more youthful, playful looking car.
It should drive more eagerly, too. For a start, it's 200 pounds lighter than the old Escape, while the lowered ride height should also lower the center of gravity and have an impact on cornering. Ford's standard engine will be a 1.5-liter turbocharged three-cylinder, good for 180 horsepower and 177 lb-ft of torque. While three cylinders may not sound like many to begin with, Ford's cunning engine is actually able to deactivate one of them, the 2020 Escape running on just two to maximize efficiency when cruising.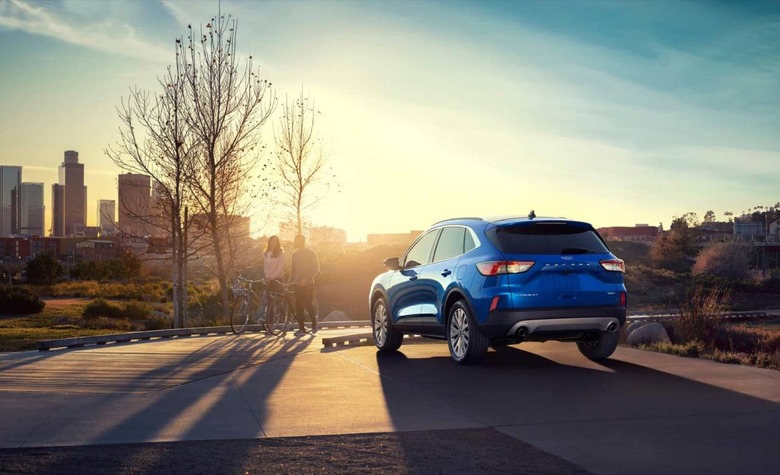 For those who want more power, there's a 2.0-liter turbocharged four-cylinder engine. That's expected to muster 250 horsepower and 275 lb-ft of torque. Either way, you get an eight-speed automatic transmission as standard.
The third powertrain is a hybrid. That pairs a 2.5-liter four-cylinder Atkinson cycle gas engine with an electric system, for a total of 198 horsepower. It uses a CVT rather than the regular eight-speed auto. Finally, Ford will have a 209 horsepower plug-in hybrid, which is rated to do 30 miles on a charge.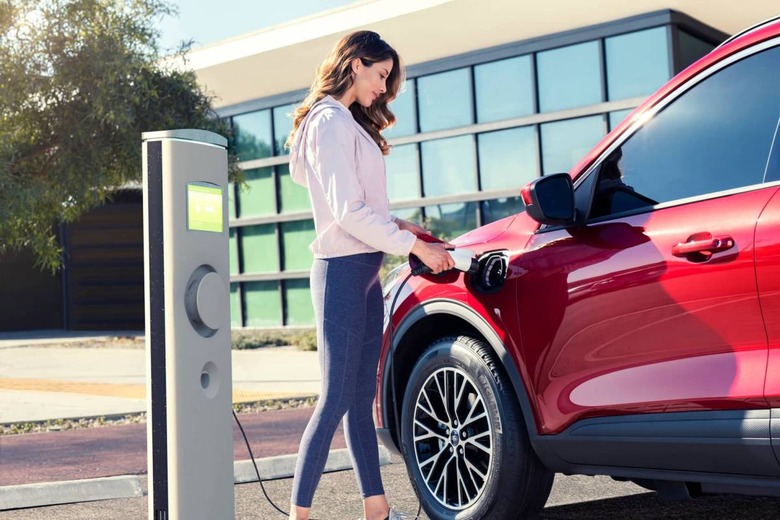 That might not sound like much EV range, but Ford points out that – for the segment – it's actually the best in class. For all of the 2020 Escape variants, front-wheel drive is the default. Ford is offering all-wheel drive as an option on all but the plug-in hybrid, however, and there are Normal, Eco, Sport, Slippery, Snow, and Sand drive modes.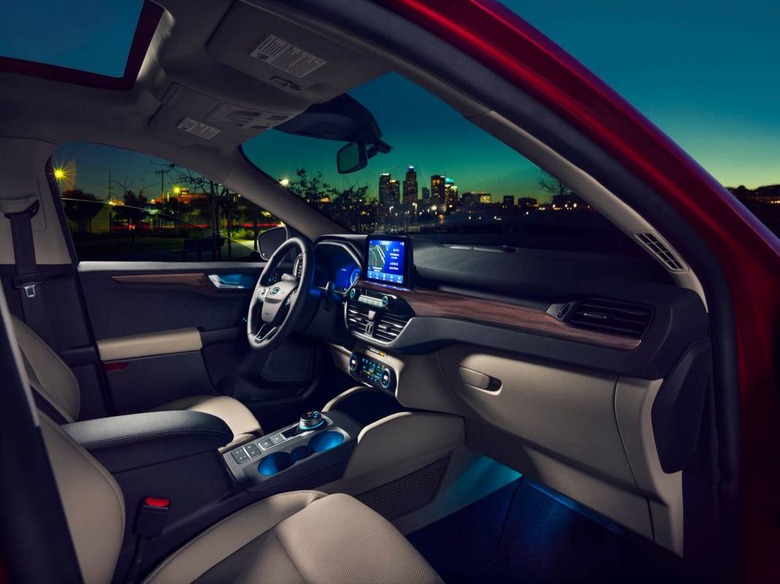 Inside, the larger width and length add up to more headroom, shoulder room, and hip space for both the front and second rows. The second row slides in the non-hybrid models; maximum cargo space is 37.5 cubic feet as a result. There's an increase in tech, too, with an 8-inch infotainment screen protruding from the top of the dashboard on all models bar the entry-level 2020 Escape S.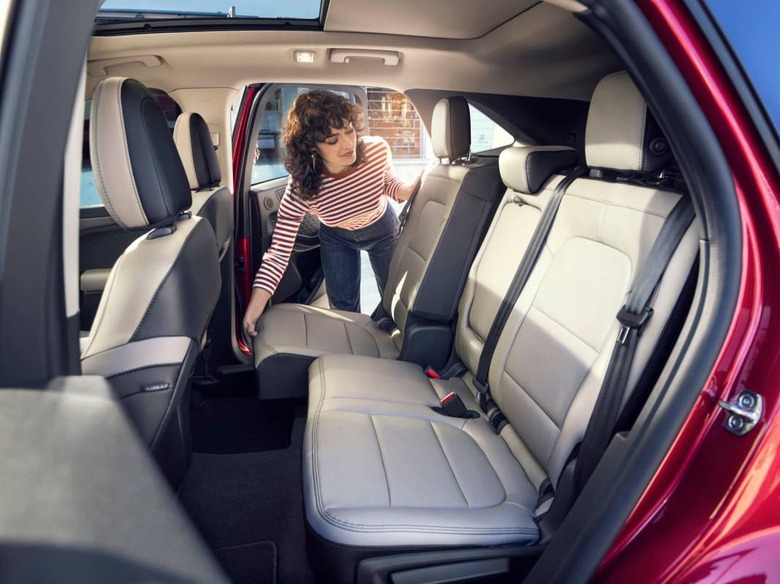 Cabin options include a 12.3-inch digital instrumentation cluster, running Sync 3 with Apple CarPlay and Android Auto, along with a head-up display. Safety tech includes Evasive Steering Assist, which can help turn the car out of the way should an accident be in the path ahead. There'll also be the other Co-Pilot360 active safety systems we've seen on other recent Ford cars, with blind-spot monitoring, lane-keep assistance, autonomous emergency braking, and forward collision warnings.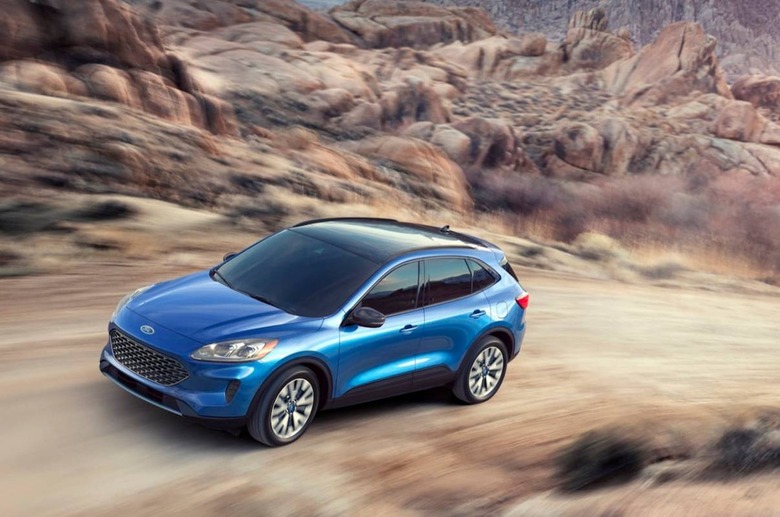 According to Ford, the 2020 Escape will begin to appear in dealerships this fall, in gas and hybrid form. The Escape plug-in. Hybrid will arrive in the spring of 2020, meanwhile. Pricing will be confirmed closer to release.