2020 Dodge Charger SRT Hellcat Widebody Daytona Edition limited to 501 units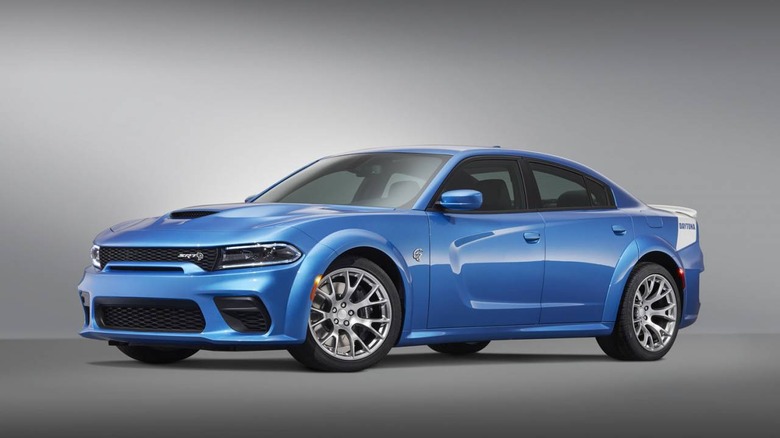 Dodge has announced a new limited-edition model for the 2020 Charger SRT Hellcat Widebody that celebrates the 50th anniversary of the launch of the 1969 Dodge Charger Daytona. The monster muscle car is a limited edition with only 501 2020 Dodge Charger SRT Hellcat Widebody Daytona 50th Anniversary Edition cars to be made.
The 501 unit limited run mirrors the number of 1969 Charger Daytona cars that were made. Each of the new Daytona cars will use the 6.2L HEMI Hellcat V8 engine making 717 hp and 650 lb-ft of torque. That is a bump in horsepower by ten.
As a nod to the 1969 model, each of the 501 units will have a "Daytona" rear decklid with graphics and a rear quarter decal that lines up with the decklid. Dodge will offer the car in four exterior colors, including one color exclusive to the model. The exclusive color is B5 blue, which has been a normal production color in the past.
Other color options include Pitch Black, Triple Nickel, and White Knuckle. Each of the cars will have a dash plaque with its production number out of the 501 unit run. Dodge fans will get their first opportunity to see the special car in person at the Woodward Dream Cruise this weekend at the Modern Street HEMI Shootout lot at 50881 Woodward Ave.
Dodge created the 1969 Charger Daytona with a huge rear wing and a special nose to dominate NASCAR racing in the '60s. The Daytona prototype was the first car to break 200 mph average lap speed and set a record that stood for 17 years. The reason Dodge made only 501 of the cars in 1969 is because that was the minimum number required to qualify the vehicle for use on the NASCAR circuit.