2020 Corvette VIN 0001 raises $3 million for charity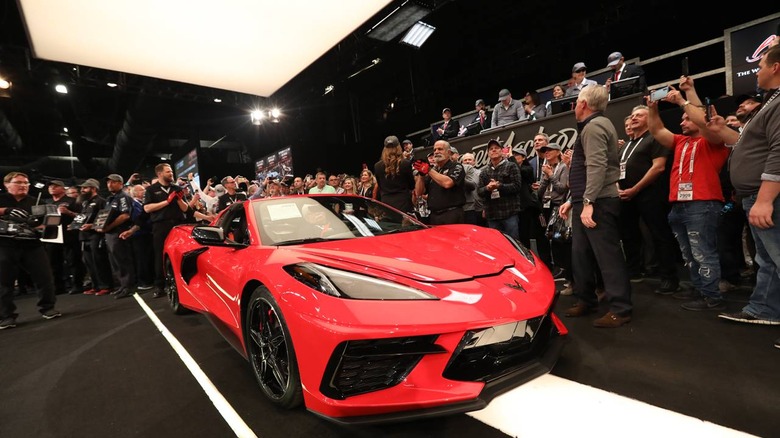 Chevrolet took the very first 2020 Corvette Stingray and auctioned it off for charity. The charity that benefited from the auction was the Detroit Children's Fund. The ride was auctioned off at the annual Barrett-Jackson Auction in Scottsdale. VIN #0001 was a black on black 3LT with the Z51 performance package and was auctioned off weeks before the cars begin shipping to dealers.When the car sold, it went for $3 million. The winning bidder was Rick Hendrick, founder, and CEO of Hendrick Companies. Hendrick routinely purchases these charity auction cars and has quite the collection of VIN one cars to his name.
All proceeds from the auction went to the Detroit Children's Fund. The money will be used to fund comprehensive school interventions that result in academic success for kids. The interventions help schools to grow, help underperforming schools to improve, and new schools to thrive.
The money can also be used to recruit, develop, and retain leadership and teacher talent. Chevrolet has raised lots of interest in the new mid-engine Corvette Stingray. The car is surprisingly affordable, considering the performance it offers. There will be a hotter version of the new Vette coming in the future.
Rick Hendrick says that he is the "number one Corvette junkie in the world." Hendrick also noted that Chevy always picks charities that are "so good and help so many people." Chevrolet is set to start Corvette coupe production at the GM Bowling Green Assembly Plant in Kentucky in early February. Customer deliveries are set to begin right before the end of February. The Corvette seen in the images Chevy provided isn't the car that Hendrick bought in the auction.