2020 Audi RS6 Avant First Drive Review: A wagon welcome in America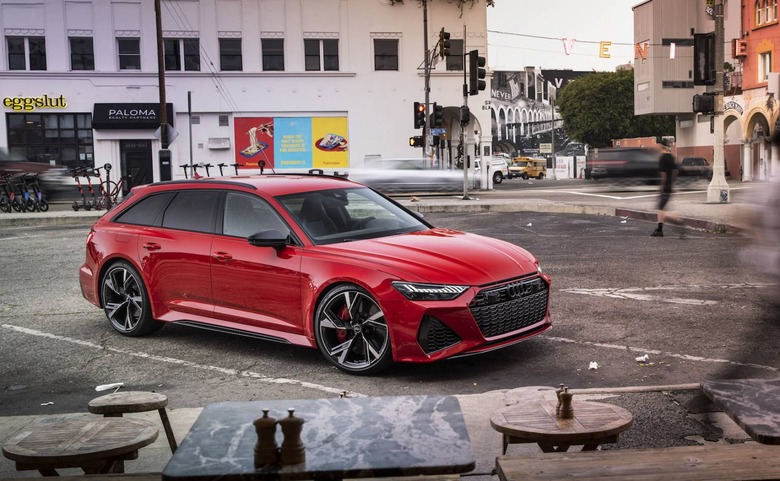 Station wagons aren't meant to be cool these days, but nobody passed Audi Sport the memo. Then again, the 2020 Audi RS6 Avant is about as far away from the old family woodie as you can get: the German automaker may insist on branding its wagons "Avant" but that's only the smallest of the differences between the new RS6 Avant and the unfashionable cars of old. Audi fans in North America have long watched their European counterparts enjoying several generations of a model the automaker insisted just wouldn't sell on US shores. Now, though, Audi has relented.
It picked the perfect time for it, too. No, this isn't the first Audi station wagon, nor the first to bear the RS logo, but it's an unmistakable step up from what we've seen before. That's something I got the full body sensorial experience of, after riding shotgun with Victor Underberg, head of technical development at Audi Sport.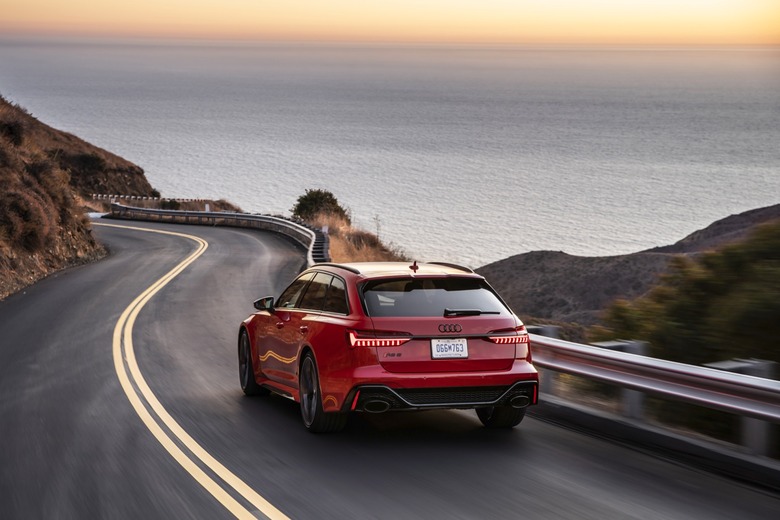 "All these small drifts are really controllable in the RS6 Avant," said Underberg as we attacked a curvy road on the mountainside. Clearly Underberg knows the car well, but even so it was impressive to see just how little effort seemed to be required to keep the 16+ foot wagon on the road. All I can say is, I've made it through forty-six years without lighting up a single cigarette. After the first driving stint through those deeply twisty and turning roads, I was tempted to do so.
The Audi RS6 Avant is indeed that fantastic to drive and the image of a station wagon be damned. "The level of power in the RS6 Avant is what will please most buyers," Underberg suggests. "But you also get a really comfortable car and you have lots of space. Most of all, it's quiet, we talk easily here even at a brisk pace."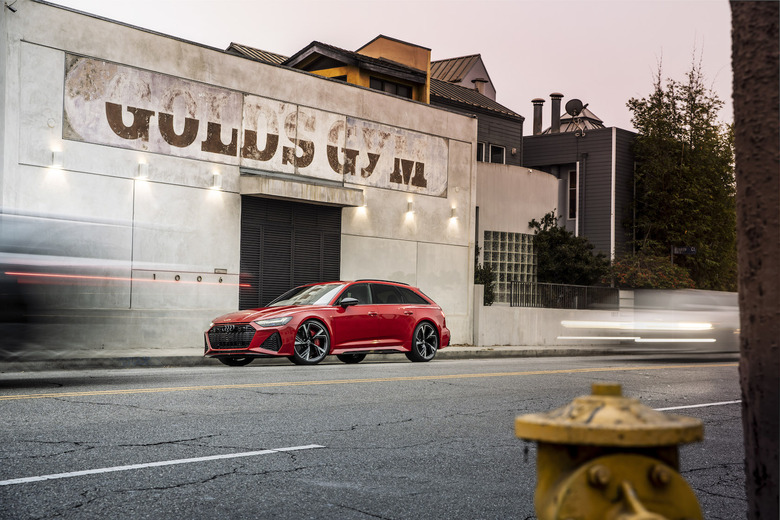 You don't have to go excavating through the spec sheet to see what makes the 2020 RS6 Avant the most exciting station wagon to arrive in the US. That's a magnificent 4.0-liter twin-turbocharged V8 engine that not only sounds the business, but delivers power to suit.
With 591 horsepower and 590 pound-feet of torque, I repeatedly felt how a rather large and luxurious station wagon was able to pin me in my seat as it rushed to 60 mph in roughly 3.6 seconds. Needless to say, you have to feel it for yourself. I've been given free reign in thrashing performance cars on both the street and track, but the RS6 Avant is truly special.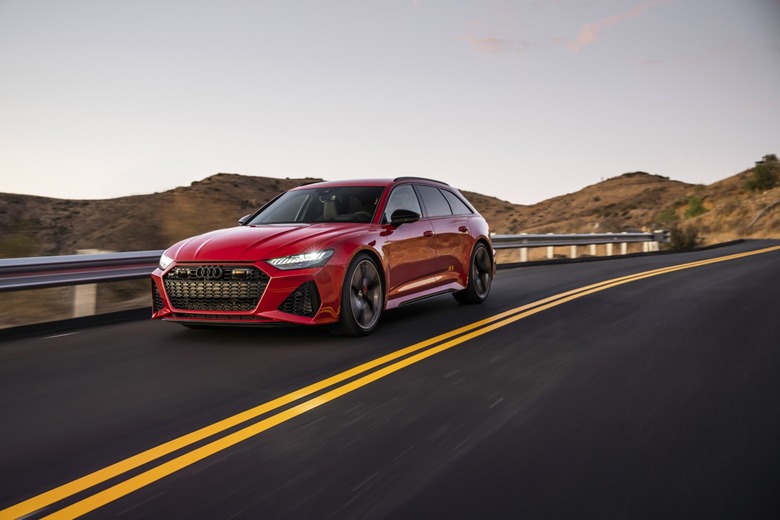 It's the way it rotates into a corner, coupled with the immediate power delivery that really tingles the spine. The standard eight-speed Tiptronic gearbox is smooth, unobtrusive, and aggressive enough to give the RS6 Avant the driving feel of a proper sports car. Of course, it also has something to do with Audi's Drive Select dynamic handling system which influences engine and transmission response, along with the standard Quattro permanent all-wheel-drive system.
Equipped with a mechanical center differential, the AWD system feeds power to the front and rear axle at a ratio of 40:60 to give the vehicle a rear-biased driving feel. As the system detects slip, though, it can redirect up to 70-percent of torque to the front and up to 85-percent to the rear, part of the reason why the Audi RS6 Avant handles like a much smaller car.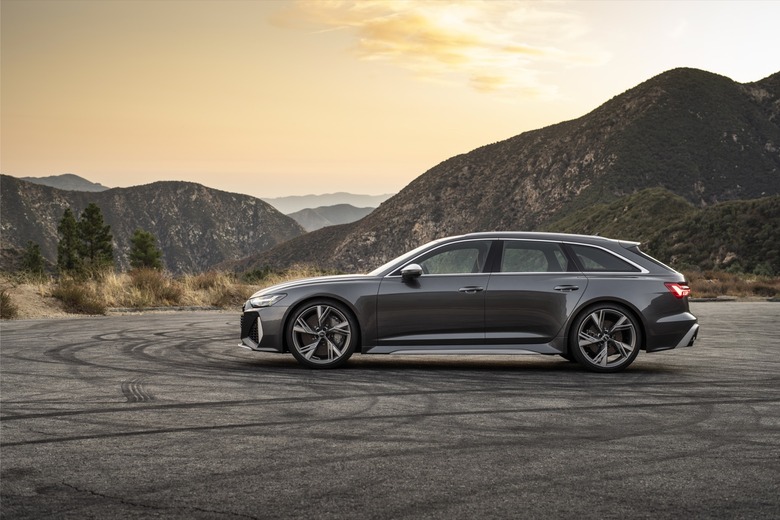 Indeed it does feel like a much more compact performance car than it actually is, dare I say akin to an RS3? Yes, it feels as nimble, so it's darn close. However, the RS6 Avant is on a different level than the RS3 or even the RS5. Maybe it has something to do with the larger and wider Singleframe grille, or the flared wheel arches which extend 1.6-inches on each side at the front and rear. Maybe it's the newly-sculpted power dome hood, and those striking lateral air inlets on each side of the front bumper. Whatever it might be, there's a sense of purity and purpose to the RS6 Avant's design language.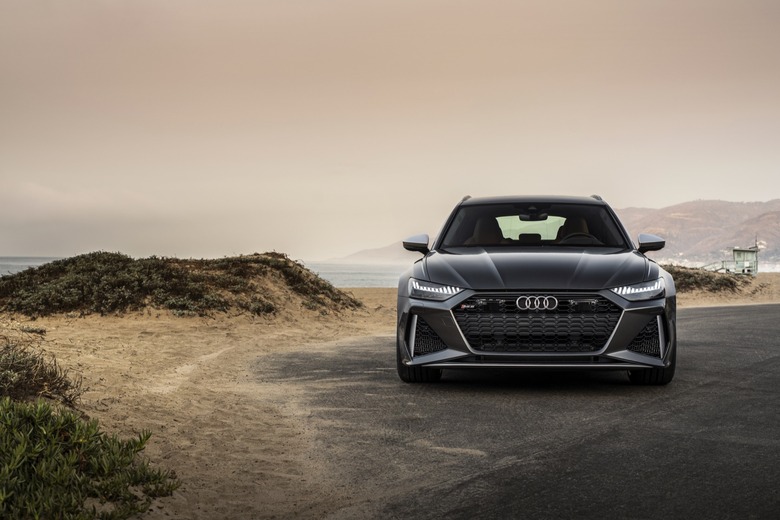 With an elongated front section and a long straight roof, the styling connotes sporty performance and a roomy interior. Speaking of the interior, there's nothing more joyous than being 6'2" and yet still being able to seat yourself in the driver's seat and then – without adjusting its position – comfortable stretch out in the back, too. The rising shoulder line hints at the performance hiding underneath, where all the critical components are working together to produce one hell of a ride.
As for handling, the 2020 Audi RS6 Avant will be offered with two suspension options. As standard you get an RS adaptive air suspension system, consisting of a new air spring module with a 50-percent higher spring rate, which allows the vehicle to reach a top speed of 190 mph with the right package checked off. It also has automatic level control, that either raises or further lowers the vehicle depending on the selected driving mode.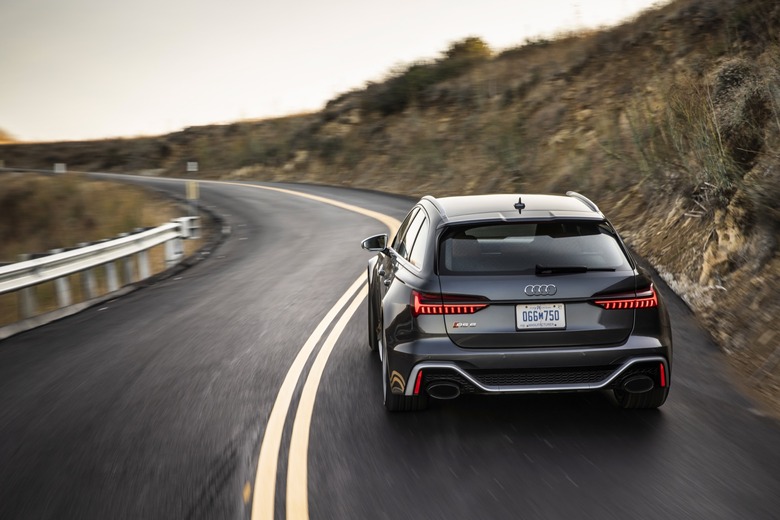 On the other hand, the sportier option is the RS sport suspension with Dynamic Ride Control dampers. Consisting of steel springs and three-way adjustable dampers, it gives the RS6 Avant the precision of a racing car when attacking tight bends. I've driven both, and while the RS sport suspension is a dream, I have to say I prefer the standard air suspension mostly for its adjustable nature.
Back to back on the same exact roads, where curves are tight and blind turns are bumpy with off-camber surfaces and gradient changes all around, I compared both suspension systems head to head. The steel suspension has a stiffer ride, certainly, but not to a point where it's uncomfortable.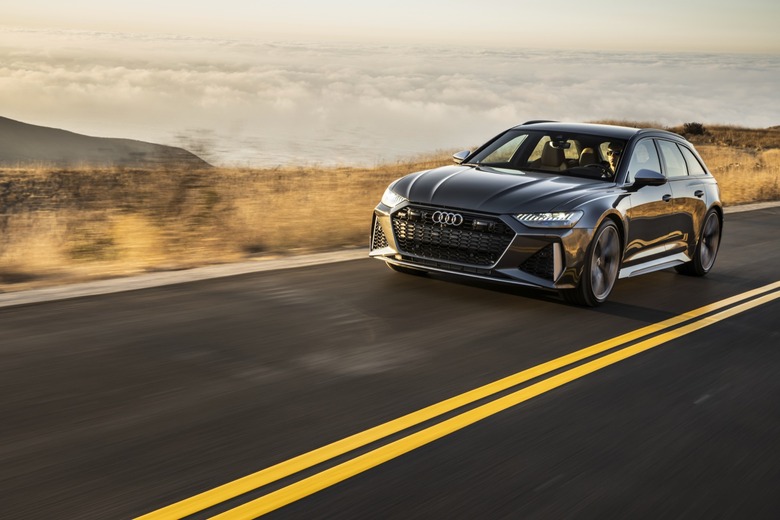 But as a performance car for everyday driving on the street, the air suspension is the way to go. "You can relax in comfort mode when driving with the family, but you can go sporty when you're alone to better enjoy the drive," agrees Underberg. However, my ideal setup would also include the optional dynamic rear-wheel steering system, which turns the rear wheels in the opposite direction at slow speeds to reduce the turning circle and deliver better maneuverability around town. At 60 mph and above, however, the system turns the rear wheels in the same direction as the front wheels for better stability and response as you dart across lanes.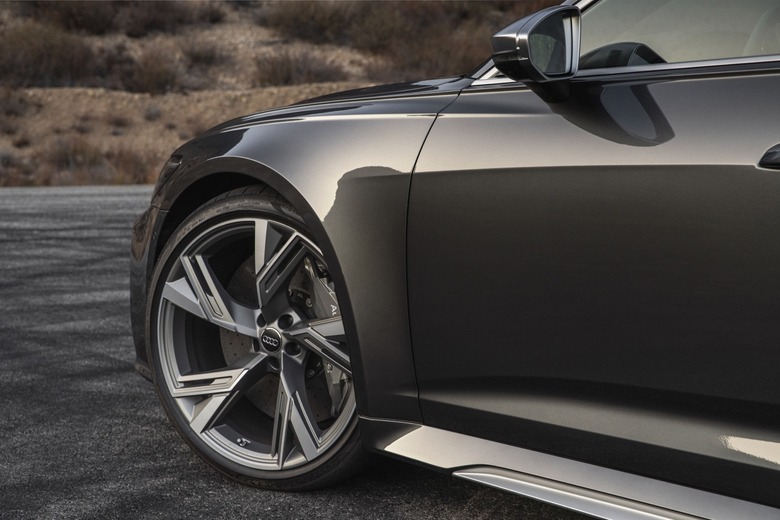 Massive 16.5-inch front brakes with a ten-piston fixed caliper design, along with 14.6-inch discs at the rear, are standard. You can also have the optional ceramic brakes, with larger 17.3-inch discs at the front; they go best with the steel suspension for mild track duty. And yes, I know it sounds foolish to consider racing a station wagon on a proper racetrack, but you can do it with dignity in an RS6 Avant, of that I've no doubt.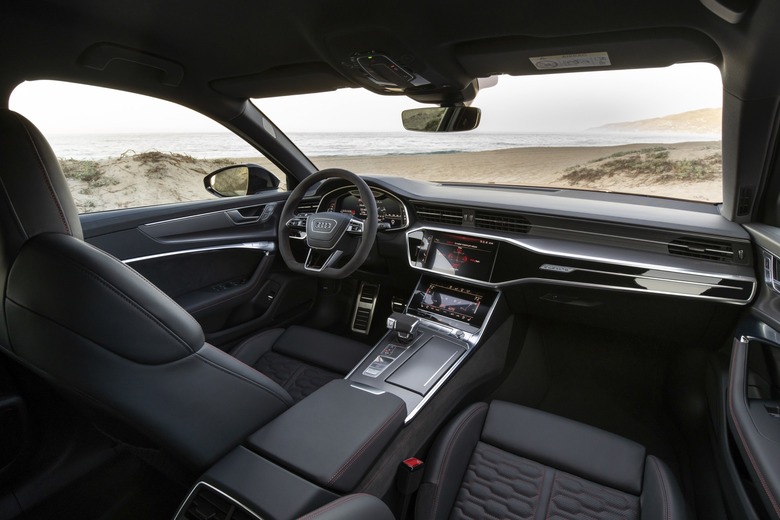 Inside, it's a combination of the comfortable and user-friendly cabin we've come to expect from Audi, with some endearing RS enhancements. RS sports seats wrapped in genuine black pearl Nappa leather and Alcantara are standard, while perforated Valcona leather seats are an option. Since we're talking about a station wagon, you'll also be pleased to hear that you get between 20 and 60 cubic feet of cargo space, depending on whether the rear seat is up or down, which is more than what most crossovers have to offer.
The MMI touch response system features two touchscreens with haptic and acoustic feedback. For all intents and purposes, the RS6 Avant is a proper luxury car. But, with a V8 engine and a slew of go-fast components, it's also a German muscle car at the same time. Unlike conventional muscle cars, the RS6 Avant utilizes a 48-volt mild-hybrid assist system to help you save up to 0.8-liters of fuel per 62 miles of driving. It's not an MHEV system that produces added torque, like Mercedes-Benz's EQ Boost, but it does help save a little fuel in stop and go traffic along with the engine's cylinder-on-demand system. It's about as close as the 2020 RS6 Avant gets to having a conscience.
Audi Sport has been gradually growing its range of potent four-doors, and at some point someone is probably going to ask whether the RS6 Avant or the RS7 is the model to get. Now, that's a tough choice to make if you're looking to spend upwards of $110,000 on a high-performance German car. Truth be told, both cars are mechanically the same. You get the same engine, drivetrain, and even that 48-volt MHEV system.
Honestly, the 2020 RS7 Sportback tugs at my heart the hardest, and you can blame the tapering coupe-like roofline for that. But I'm a family man, and the RS6 Avant makes a lot of sense in the real world. You can put it this way: If I were to choose between a fast SUV and the RS6 Avant for a cross-country jaunt with the wife and kids in tow, I'd choose the RS6 Avant every time.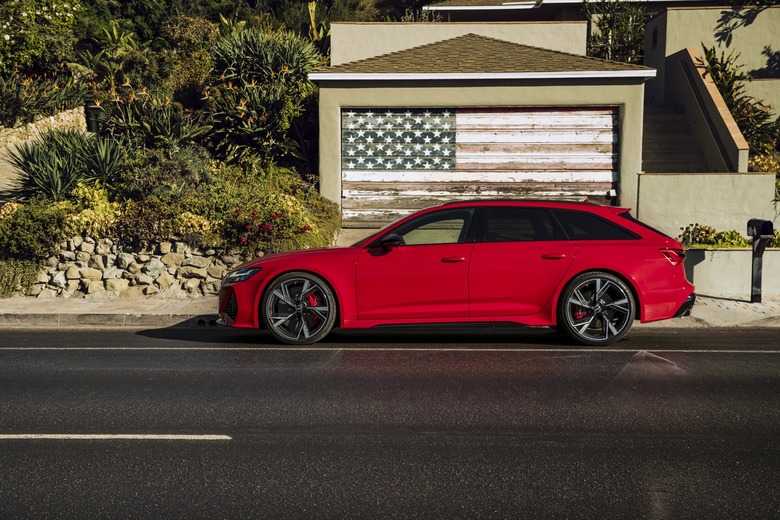 It's a practical car that also makes driving at 9/10ths unexpectedly practical, too. And by that, I mean intentionally provoking slides at 5 degrees of slip angle, and coaxing the tires to deliver maximum friction. I'm not really that good of a driver, but Audi's Underberg is, and the RS6 Avant is capable of reliably doing that over and over again.
It all sounds excessive, I know. But the RS6 Avant can handle it like a nobody's business. You can't do that all the time in a fast SUV – or perhaps you can, in the Audi RS Q8; stay tuned for our report on that later in December – no matter if you have close to a thousand horsepower under the hood.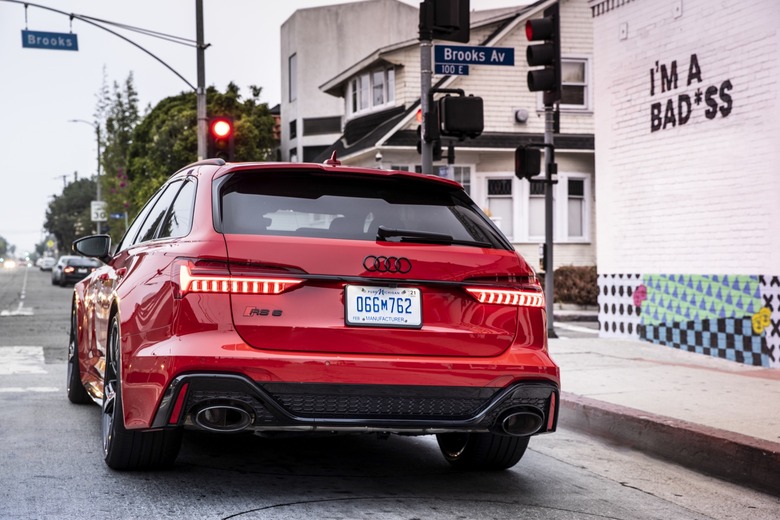 You could argue that the 2020 RS6 Avant is a niche within a niche: a rarified sports car in a body style only enthusiasts are buying. You'd not be wrong, but I think that only underscores its charm, rather than detracting from it; if anything can win America back over to wagons, this could be the car to do it. Now I know what we've been missing all along, and we've been missing out on a lot.