2019 Toyota Avalon: 5 things you should know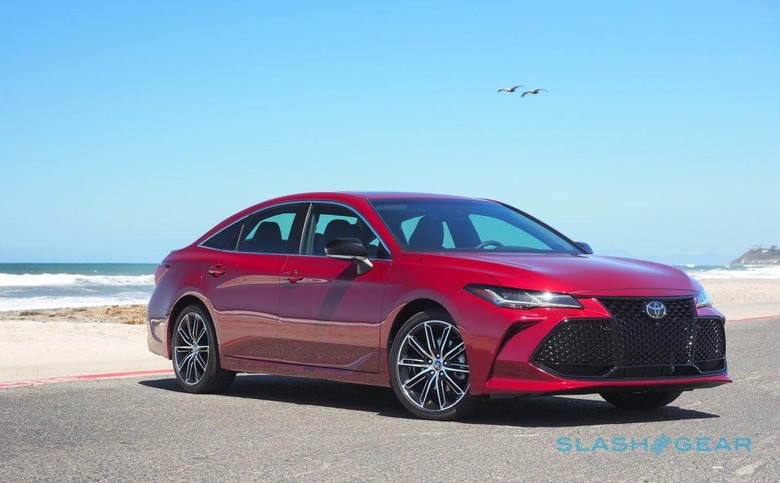 Toyota is betting big on the 2019 Avalon, debuting controversial new styling, lashings of cabin tech, a frugal hybrid, and safety features you might otherwise expect to pay a considerable premium for. It's a big improvement, but then again it needs to be. Read on for five things about the 2019 Toyota Avalon that you really need to know.
The 2019 Avalon is a car of two halves
It's fair to say that, across all its previous four generations, the Avalon hasn't exactly been a design icon. That's even more odd when you consider the concept car that introduced the name back in 1991. For the 2019 Avalon, Toyota is trying something new.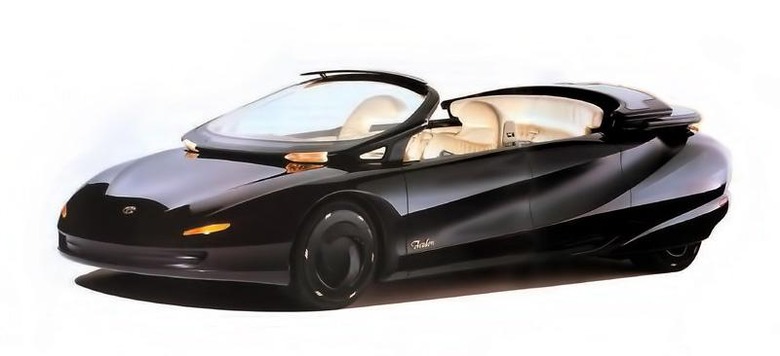 Rather than one, there are two distinct styles. For the Avalon traditionalists, there's a more straightforward aesthetic with plenty of exterior chrome on the oversized grille. However, to coax a new, younger audience behind the wheel, there's also a Sport line too. That blacks out the grille – with matching side mirror caps and other trim – and throws on quad tailpipes and other bodywork.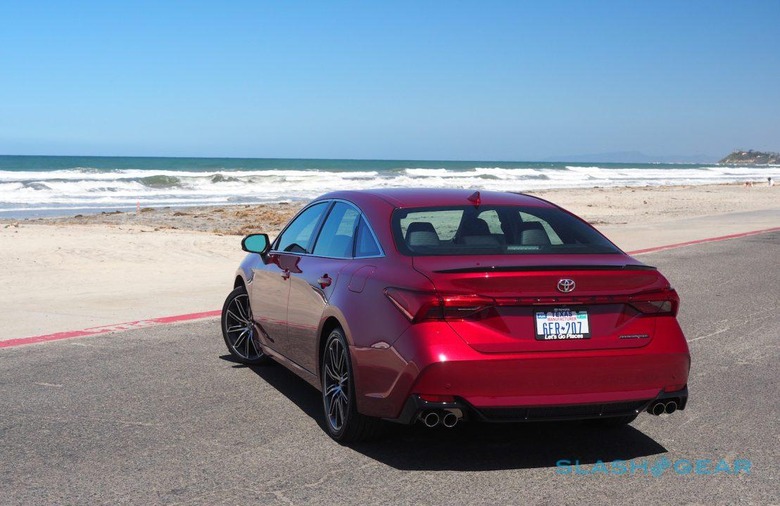 Not every trim will be available with both styles, however, and neither will both of the engines. If you want the 2019 Avalon Hybrid, for example, you can't have it with the Sport styling.
Toyota has gone deep on cabin tech
Toyota has finally got the memo that its infotainment system needed work, and the 2019 Avalon is one of the first cars in the automaker's line-up to debut its latest iteration. Entune 3.0 gets a 9-inch touchscreen to play with, plus a 7-inch MID driver information display. If you don't want Toyota's own software – which is improved over the old version, but still can be fussy – there's now Apple CarPlay.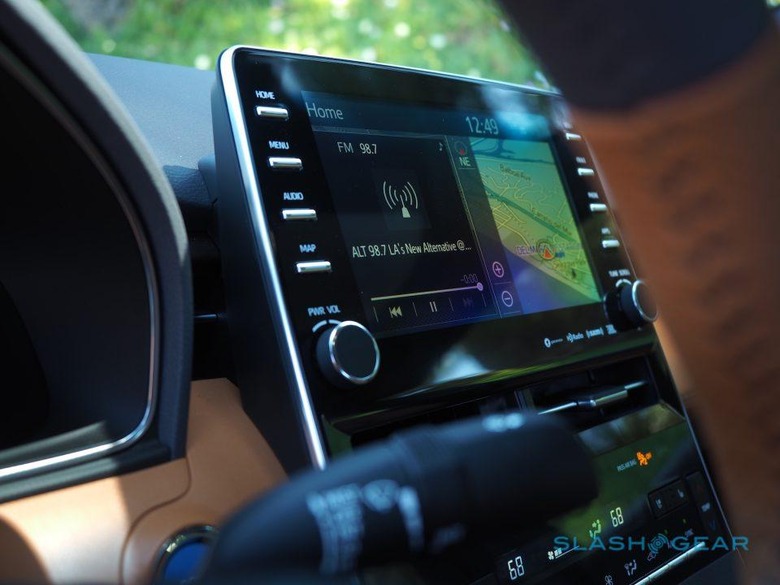 Amazon's Alexa is supported too, both for home-to-vehicle and in-vehicle. So, you can ask your Amazon Echo to unlock and remotely start the Avalon, or ask Alexa in the dashboard to remotely turn on your lights at home. A Qi wireless charger is included on all but the XLE trim, and the Limited and Touring trims get a 10-inch head-up display. All five of the USB ports deliver 2.1A, and there's brake hold as standard, dual-zone climate control, and smartphone/smartwatch integration.
Still, there are a few lingering frustrations. Android Auto remains conspicuous by its absence, which will annoy anybody using Google's OS.
The price is definitely right
Honestly, Toyota may have shot itself in the foot with the 2019 Avalon's pricing. After all, it's not hard to imagine potential buyers cross-shopping it with the Lexus ES. While the latter arguably has greater badge cachet, those sticking to a budget will find plenty to appeal.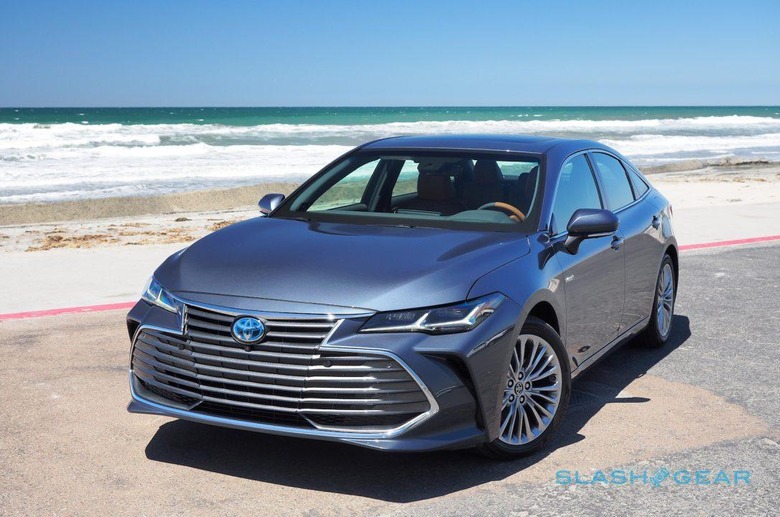 The 2019 Avalon V6 kicks off at $35,500 for the XLE, plus $895 destination. The XSE V6 is from $38,00, the Limited V6 from $41,800, and the Touring V6 from $42,200. The hybrid, meanwhile, starts at $36,500 for the 2019 Avalon XLE HV, then $39,000 for the XSE HV, and finally $42,800 for the Limited HV.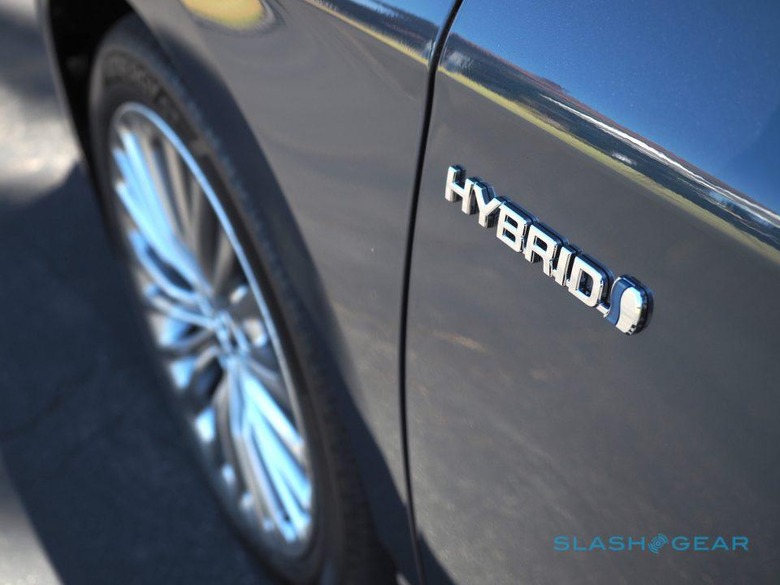 It means that, though the 2019 Avalon XSE may be $100 more than the old 2018 Avalon Touring, you're also getting around $1,500 worth of extras for that. The step from the 2018 Limited trim to the 2019 Limited trim is a $500 increase, but for $1,700 more in options. Features like blind-spot monitoring are included as standard, too. If you want that on the 2018 Lexus ES, in contrast, you're looking at paying more than $48k because of how the options are packaged.
Safety is a real focus
Toyota Safety Sense-P, or TSS-P, is standard across the 2019 Avalon range. That includes a pre-collision system with pedestrian detection, lane departure alerts with steering assistance, automatic high beams, and full-speed adaptive cruise control. There's also the blind-spot monitoring.
Spend a little more, and you can have a bird's eye view camera, which gives a top-down perspective of the car that's useful for parking. Intelligent parking sensors are also available, together with rear cross-traffic automatic braking. That will stop you from reversing your shiny new Avalon into another car in the parking lot.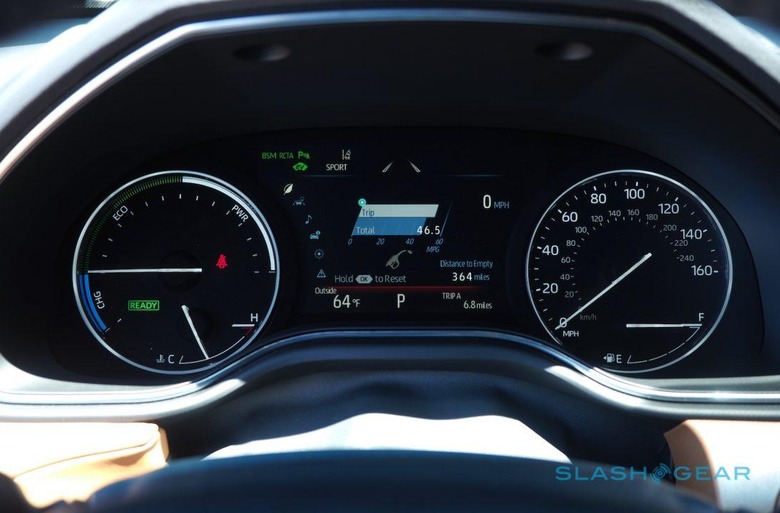 Ten airbags are included, and Toyota's TNGA K platform for sedans promises to be safer in general than the old Avalon's architecture. Meanwhile, features like the standard LED lamps are more effective than their predecessors, and you can have adaptive LED cornering lamps which deliver up to 60-percent more width coverage in foreground illumination when you turn the wheel or put on the indicator. They also light up if you put the transmission into reverse.
Toyota's challenge is still considerable
Toyota has a big ambition with the 2019 Avalon: lowering the average age of its buyers. Right now, the typical Avalon customer is 64 years old. Toyota doesn't have a set target in mind for where it would like to shift that to, but it's very clear that a younger audience is required.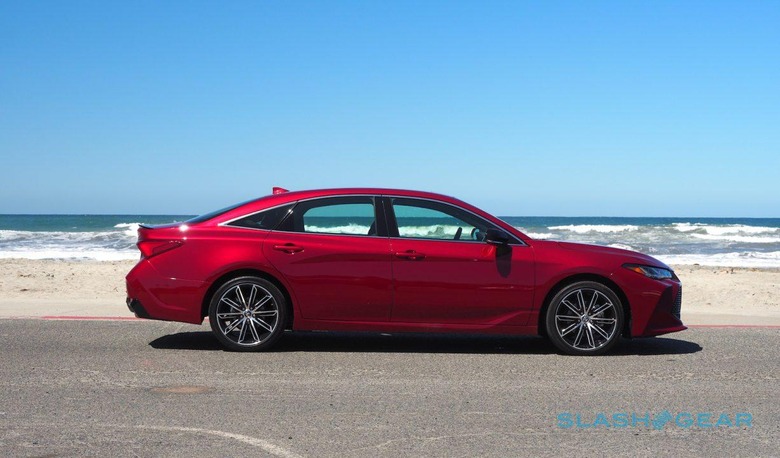 That's easier said than done, of course. For a start, the auto market has been shifting away from sedans and to crossovers and SUVs. "We're still very, very bullish on cars," Ed Laukes, Toyota Division Marketing group vice president at Toyota North America insists, but it's not clear if vehicle buyers are so convinced.
It means that the Avalon isn't just going up against rival midsize premium sedans like Nissan's Maxima, but all of the appealing midsize SUVs and crossovers that have done such a good job convincing drivers that they need an elevated driving position and a hatchback to be practical. So far this year, Toyota has sold around 10.5k of the 2018 Avalon – up on last year's sales, certainly, but still a ninth of the number of RAV4 sold in the same period, and a fifth of the Highlander SUVs. Expect to hear plenty about how the 2019 Avalon Hybrid hits hard with its economy figures as Toyota doubles-down on why it still believes sedans have a spot in the line-up.