2019 Ram 1500 spied mostly uncovered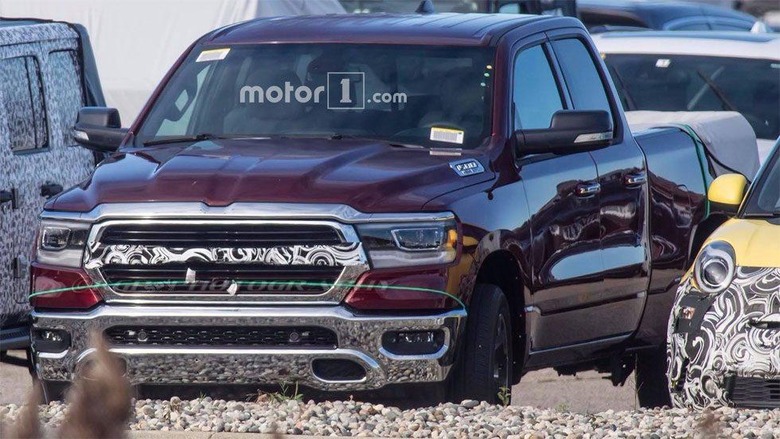 Early next year Ram will roll out a refreshed version of its popular 1500 truck and recently the prototype of that truck was spied wearing very little camo. The only thing that Ram has taken pains to cover up on the truck was the center of the grille. That grille center appears to be fatter on each end than it is in the middle and overall the truck looks very cool.
The nameplate with the truck model and the engine designation is on the side of the hood where you might normally see a hood vent. Typically we expect to see this model designation on the front fender of the truck. While the portion of the grill is covered, most of the front is sans camo giving us a good look at the new truck.
The headlights are changed from the previous model but have that signature Ram look to them. The front has lots more chrome overall. It's not clear at this time if this particular truck is an uplevel version, but we assume it is. Base versions might have more black plastic than chrome. We will have to wait until the truck debuts for more detail on that.
The back end of the truck has some significant redesigns going on with revised brake lights and a new tailgate with a chrome handle and more chrome on the bumper. Again it's unclear of those chrome touches are limited to higher-end models or for all 2019 Ram 1500 trucks.
The 2019 Ram 1500 will get an aluminum hood and tailgate with a steel frame carrying over. The 1500 is expected to get official at the 2018 Detroit Auto Show and then go on sale later in 2018.
SOURCE: Motor1