2019 Mercedes-AMG C63 S first drive: 503hp of raw emotion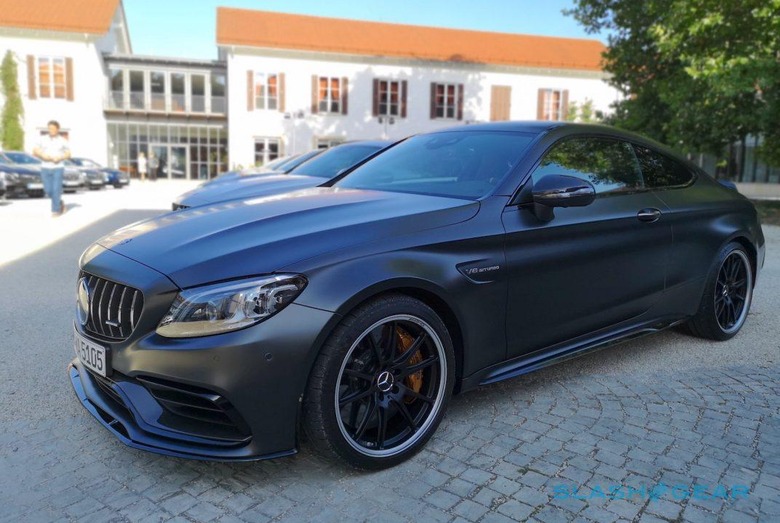 You never forget your first AMG. Even just hearing the 4.0-liter twin-turbo V8 engine firing up for the first time, under the bulging hood of what was in 2015 the all-new Mercedes-AMG C63 S, I was instantly in love. That's why I'm totally fine with Mercedes-AMG keeping the same engine in this model year 2019 AMG C63 S mid-cycle refresh, though that's not to say Mercedes' fearsome tuners have slept on the rest of the car.
To prove it, Mercedes brought us to an all-you-can-drive track session at Bilster Berg, a killer track so fiendish it could have easily been designed by Satan himself. It's not a course for the faint-hearted: nearly every one of the 9 right-hand and 10-left-hand turns do a convincing impression of corners out to murder you. Each and every inch of the 2.6-mile-long rollercoaster – and I mean that near-literally – is a challenge, not least the wild changes in elevation: 26-percent over the course of the track, with a maximum slope of 21-percent. It's one of the most challenging I've ever tackled, demands respect, and most importantly it takes a big toll on the car you're driving.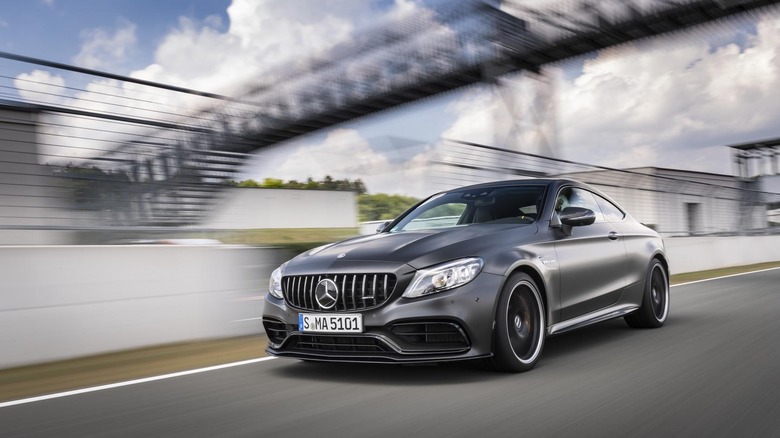 Mercedes-AMG is known for delivering some cars that demand respect, too. The most extreme version of the C-Class family is still available as a sedan, coupe, or convertible, and in in C63 and C63 S. The standard AMG C63's AMG 4.0-liter V8 bi-turbo power plant churns out 469 horsepower and 479 pound-feet of torque from 1,750 rpm to 4,500 rpm. Power is routed to the rear wheels via the AMG SPEEDSHIFT MCT 9-speed automatic transmission, for a 0 to 60 mph sprint of 3.9 seconds.
Since you're already in the AMG territory, it might be worth your while to opt-in for a no-compromise C-Class; the AMG C63 S which, in my opinion, is absolutely the way to go. Power comes courtesy of a retuned version of the C63's 4.0-liter bi-turbo V8, good for 503 horsepower and 516 pound-feet of torque from 2,000 to 4,500 rpm. The engine is bolted to an AMG SPEEDSHIFT MCT 9-speed automatic transmission to route all that power to the rear wheels.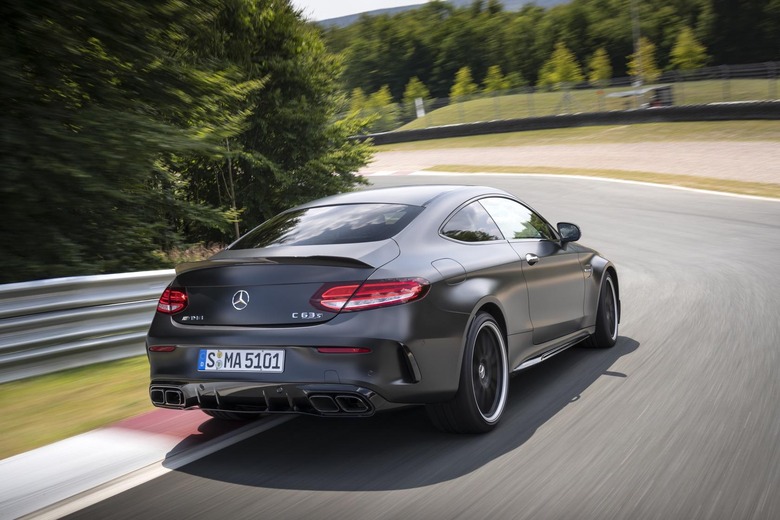 The result is blistering speed, with 0 to 60 mph arriving in only 3.8-seconds and giving the BMW M3 with Competition Package a serious run for its money. Standard features for the 2019 Mercedes-AMG C63 and C63 S are an AMG-specific Panamericana grille design, reworked taillights, extended AMG Dynamics driving modes, new chrome quad tailpipes, and a more aggressive diffuser. The C63 S also gets dynamic engine mounts as standard. Optional features for the AMG C63 are AMG performance seats, AMG ceramic composite front brakes, and the AMG Performance Exhaust System with selectable exhaust flaps.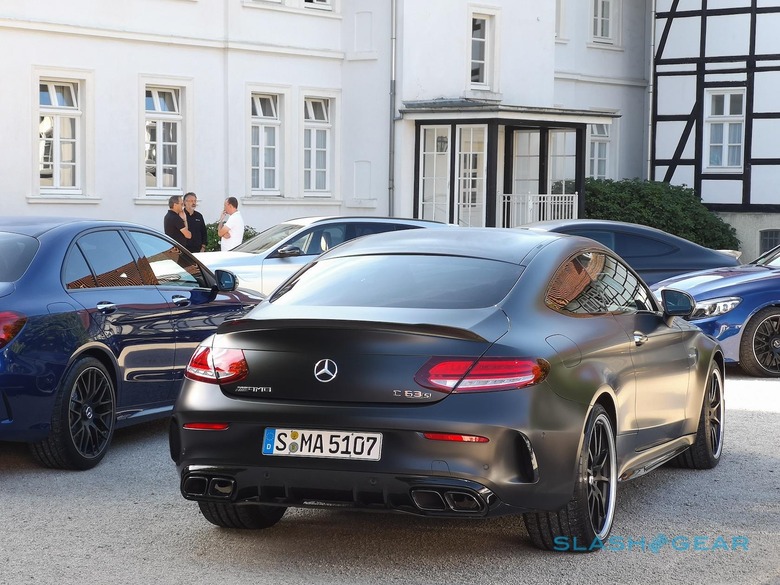 "The AMG C-Class is our best-selling model series and therefore a key cornerstone of our company's success of recent years," Tobias Moers, CEO of Mercedes-AMG GmbH, explains of the thinking behind the refresh. "We have therefore increasingly expanded our C-Class offer: customers can now choose between twelve models from the C-Class family globally. As part of the latest facelift, we have upgraded all variants of the model series even more substantially. This relates to the 43-series models and especially, of course, to the AMG C63. The perfected driving dynamics and expressive design underscore the powerful, muscular character of the rear-wheel drive icon."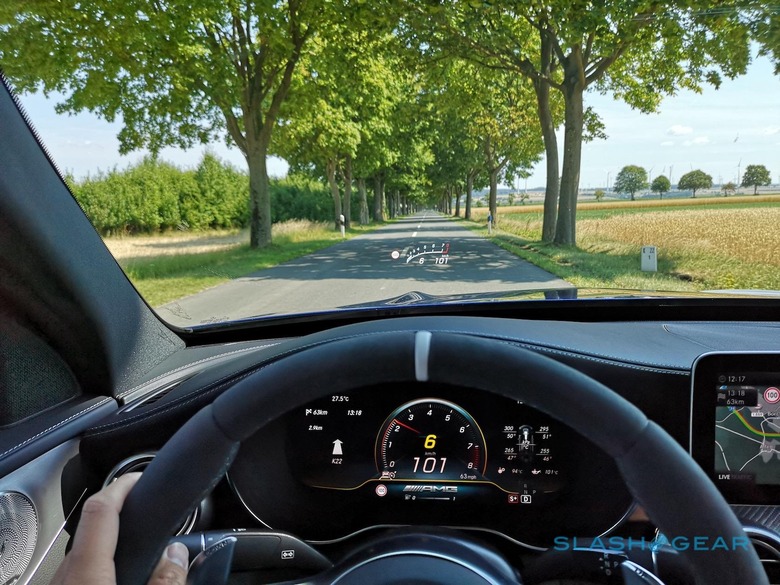 Icons can't just go fast, they need to ride well too. The 2019 Mercedes-AMG C63 and C63 S pack a retuned version of the AMG Ride Control system, which utilizes steel springs with adaptive dampers and an electronically controlled rear-axle limited-slip differential. Then the AMG GT R kindly donates its nine-stage traction control. If the C63 S was already a beastly car to begin with, by allowing owners to set the level of traction control on the fly – on or off the track – that's potentially a big advantage over the competition.
First, you turn the traction control completely off. In the C63 S, the click dials hanging down like an awkward pair of fangs transform into a toggle for the traction control. Levels at 1, 2, and 3 keep the traction system fairly involved, while notching over to 4, 5, or 6 starts to let you have some real fun. For pro-drivers – or foolish drivers, take your pick – levels 7, 8, and 9 await, with the potential for maximum fun or maximum repair bills.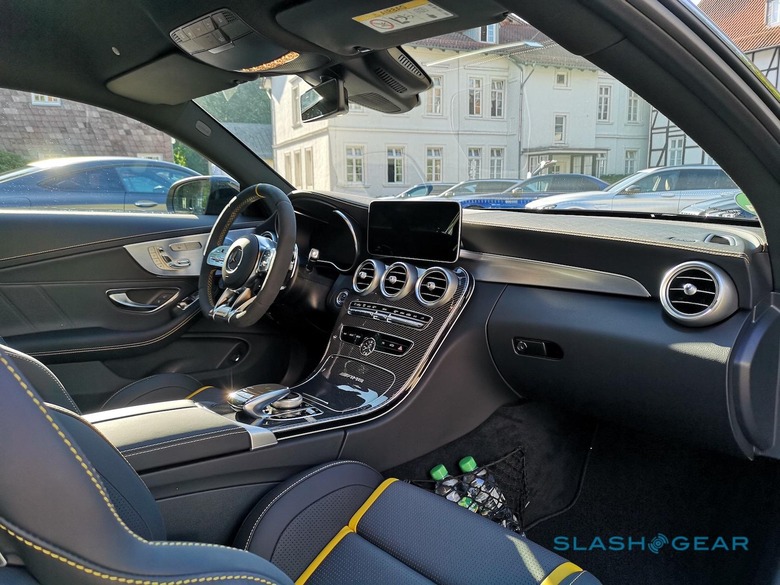 After my first stint on the track, I immediately jumped into the AMG GT R with the drive instructor. There's no way in hell I'm taking another lap on this course without seeing how it's meant to be done. It paid off, too: there's nothing like seeing a new track through a professional's eyes. It helped highlight some of the areas where the C63 S' core talents really deliver. The last turn, for example, is an uphill, late-apex left hander that delivers you back to the front straight. I'm pretty sure this deceptive corner has claimed many unexpecting victims, forgetting to scrub off a ton of speed, but in the Mercedes-AMG it was an opportunity to actually test out the traction control levels and see how they allow you to throw the rear end around.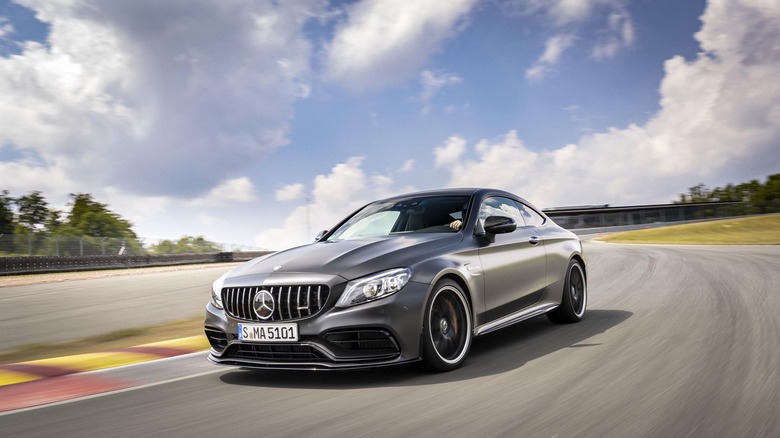 I'm no fool, I started at level 1 and worked my way up, finding the back of the car really starts to kick out from stage 5 and beyond. It's definitely addictive, but screwing up meant disaster so, after getting a "feel" for the feature as it's intended, I didn't want to push my luck. At lower levels the C63 S will step in to save you; past 6 or 7, you're on your own.
That's a problem, because getting yourself into a controlled tail-induced drift in the C63 S is far too seductive to be avoided. AMG has definitely hit a home run, delivering greater driving enjoyment over the old car. The new suspension can automatically adjust its damping force at each wheel to improve handling, cornering, and ride comfort, depending on the selected suspension setting and road surface. A switch on the center console toggles between Comfort, Sport, and Sport+, and which transforms the ride from supple to potentially back-breaking in a heartbeat.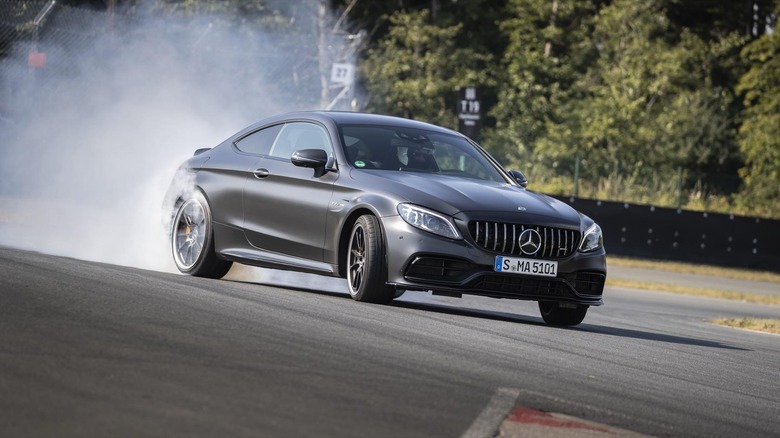 All of the revamped 2019 Mercedes AMG C63 models are also getting the latest-generation AMG steering wheel, with a heavily contoured rim and galvanized shift paddles. The wheel also comes with built-in Touch Control Buttons, that can be used to control the functions of the instrument cluster and the multimedia system. You can do this by horizontally or vertically swiping your finger across each pad. By default, the DISTRONIC adaptive cruise control is adjusted with the control panel on the left, while the touch-sensitive buttons on the right handle the voice control, volume, telephone functions, and multimedia.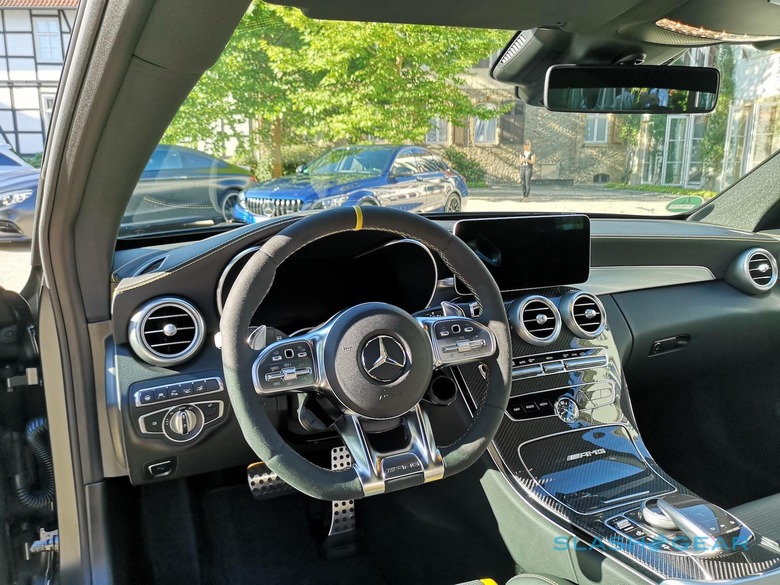 Fans of the previous-gem Mercedes-AMG C63 and C63 S will be familiar with the standard 7-speed transmission. This time around, the engineers saw fit to upgrade from the old 7-speed to a new AMG SPEEDSHIFT MCT 9-speed automatic, which promises quicker and sharper gear changes across all driving modes.
Similarly new for the C63 is an electronic differential, which was previous reserved for the C63 S. Under a mountain of submenus you can customize to your heart's desire, with four different characters of torque-vectoring and differential behavior. AMG Dynamics, meanwhile, additionally allows you to set four extra levels for the car's overall assistance: Basic, Advance, Pro, and Master. It's a little confusing, I admit, but in the long run the granular settings allow for fine-tuning the car just the way you want it.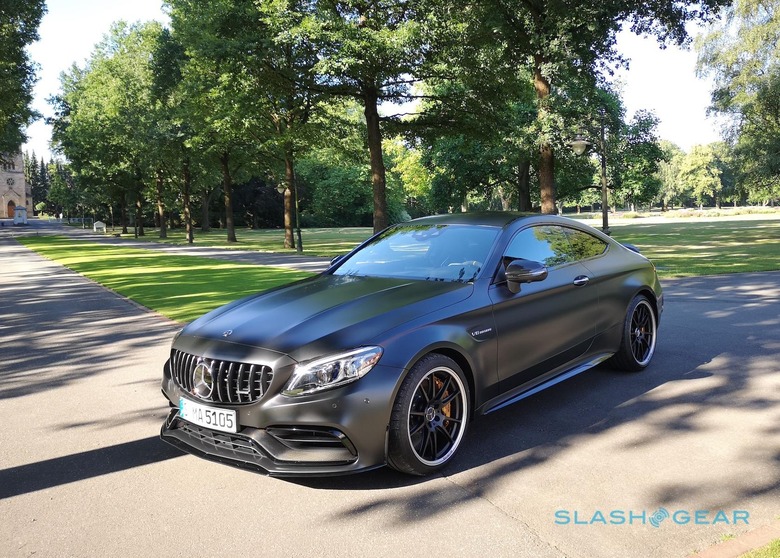 There's a lot to love about the new transmission. For a start, there's a full manual mode that will hold gears and not upshift, even if you push the tachometer needle past the redline. A wet start-off clutch has been used, instead of the now-archaic torque converter, to save weight and further enhance the throttle response. It also supports multiple downshifts and has a double-declutching function in the Sport and Sport+ driving modes, so you can convince yourself you're pretty much Lewis Hamilton only maybe a little better. Honestly, it's so good, I pretty much left it alone to work its magic, allowing me to focus on the driving dynamics on the road and track.
Also standard on the 2019 AMG C63 and C63 S now is an electronically-controlled rear axle limited-slip differential. It promises improved traction and more engaging driving dynamics by reducing slip on the inside wheel as you attack a corner, and notably it does so without using the brakes. The result is rocketing out of turns faster than the Road Runner, but also faster acceleration from a standing start. This time around, I'm told, it's designed to be more sensitive, and react faster, to wheel slip.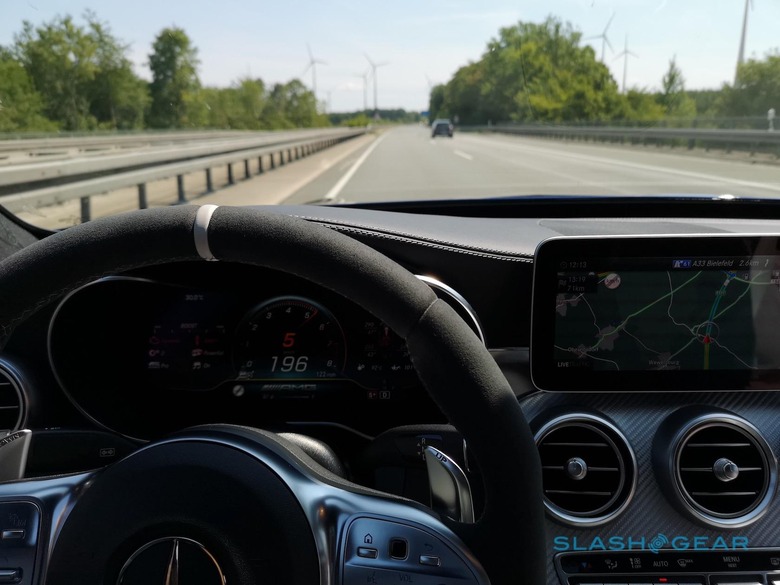 Inside, I'm delighted to see the updated 12.3-inch digital instrument cluster with reconfigurable display replacing the dated analog gages found in the outgoing car. While I do prefer Audi's virtual cockpit, Mercedes-AMG hasn't stinted on custom features for these more sporting cars. The AMG Track Pace performance app, for instance, is a useful addition that many rivals can't match. As for the 10.25-inch infotainment display propped high in the center stack, that still runs the old version of Mercedes-Benz's COMAND system. For those looking for MBUX, the newest iteration, you'll need to wait a few years for the all-new C63 S.
If there's a cabin downside, it's the rear seat space. An adult will fit, but they're probably not going to be too happy about extended trips back there. Happily there's the 2019 Mercedes-AMG C63 S sedan to address that, and after driving it back to back with the coupe I have to say I'm in love. It's a no compromise sporting 4-door with room for the kids, though a different rear axle from the two door means it's not quite as wide back there. On the track, if you're not too worried about crashing, you may feel a slight difference in performance and handling as you push things toward the limit.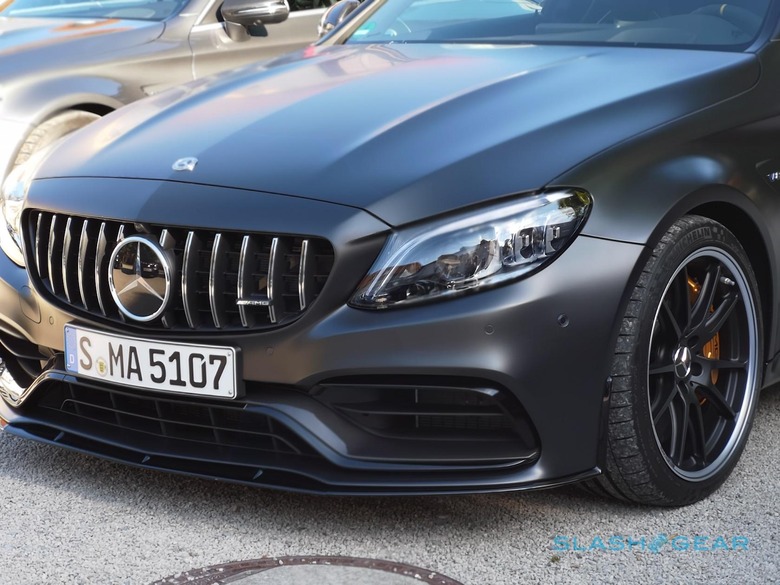 Even several sensible steps back from that limit, though, the 2019 Mercedes-AMG C63 and C63 S are stunningly good fun. With more horsepower and torque in the C63 S compared to the Audi RS5 and BMW M4, not to mention a more raw, enthusiastic driving experience from behind the wheel, AMG's latest isn't just fast but engaging across all the senses. Given it's expected to arrive at under $70k for the 2019 C63 coupe or sedan, and a few thousand more for the S trim when they all arrive in US dealerships early next year, that strikes me as positively a bargain.