2019 Jeep Cherokee's new schnoz is uncovered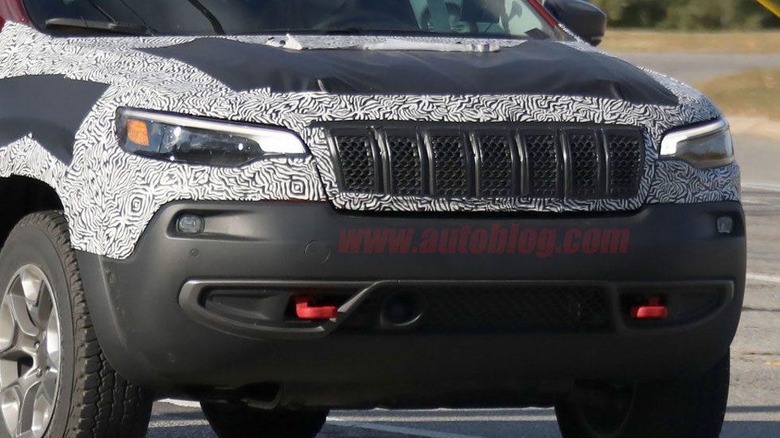 The new Jeep Cherokee was a bit controversial when it launched because fans were hoping for a unibody rig that was more capable off-road rather than the more road oriented Cherokee that landed. Lots of folks also didn't care for the pointed nose of the car. These negatives in the eyes of buyers have led to a refresh for the Cherokee.
Spy shots have turned up that show the 2019 Cherokee in testing and these shots give us the best look at the front of the redesigned car yet. The new nose fits the Cherokee right into the style of other Jeep models giving it a look very much like that of the Grand Cherokee and the new Compass.
The new nose will be joined by a redesigned rear-end. That new rear moves the license plate up onto the tailgate and has a look that is described as more muscular than the current model. The tail lights are thought to get changed as well.
As the camo starts to be removed on test units, we aren't far from the unveil. Jeep is expected to reveal the revised 2019 Cherokee at the Detroit motor show in January. Perhaps the changes will make the Cherokee more popular with buyers.
The revised Jeep model that all the fans were waiting on was the 2018 Wrangler JL. This is the most iconic Jeep model and could never more to the softer unibody design other Jeeps use. The 2018 Wrangler debuted at the LA Auto Show this month. Check out our first look at the 2018 Wrangler for more details.
SOURCE: Autoblog