2019 Jaguar F-PACE SUV gets tech upgrade as 550hp SVR arrives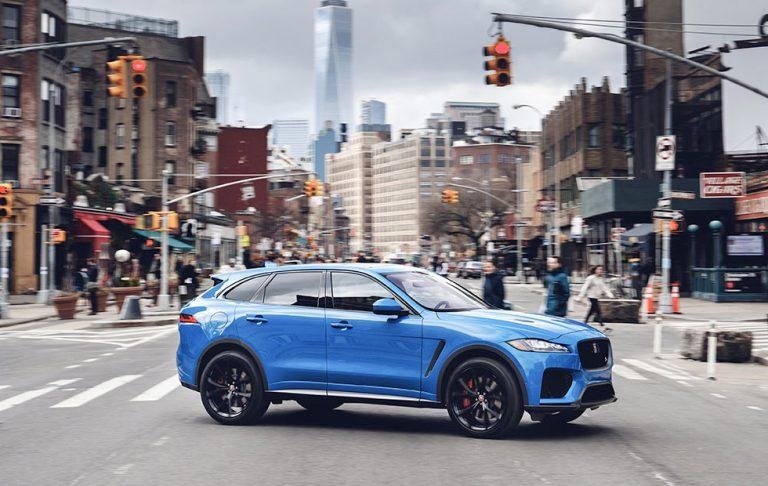 Jaguar has revamped its SUV, with the 2019 F-PACE gaining lashings of new tech across the range, all the way up to the 550 horsepower F-PACE SVR flagship. The best-selling truck has proved a favorite among the automaker's line-up, paving the way in the process to the smaller E-PACE which launched last year, and the all-electric I-PACE which went on sale this year.
That meant it was a good time to refresh the original, again borrowing styling, tech, and spec cues from both Jaguar's other SUVs and the coupes it's arguably best known for. The LED rear lamps, for example, dip liberally into F-TYPE design language; up to 22-inch wheels are available, maximizing the visual stance of the car. At the front, adaptive full-LED headlamps are optional.
As before, Jaguar has used aluminum monocoques, magnesium, and composites extensively, keeping weight down and strength up. The SUV uses the company's Lightweight Aluminum Architecture, third in the range to do so, and with the highest percentage of the metal to-date, Together with self-piercing rivets, structural adhesive, and spot-welds, Jaguar says, torsional stiffness matches that of the XF sports sedan.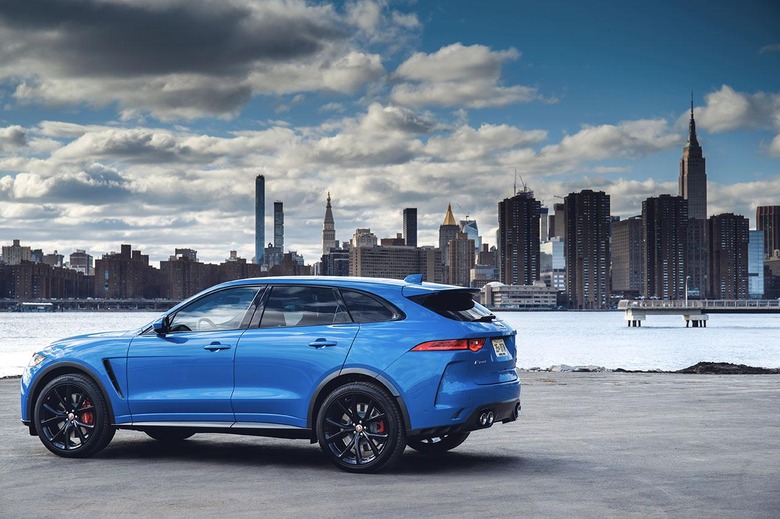 That should come into its own with the new 2019 F-PACE SVR. First announced back in late March 2018, it packs a 5.0-liter supercharged V8 engine good for 550 horsepower, along with a host of tweaks from Jaguar's SVO – or Special Vehicle Operations – team of tuners. 0-60 mph arrives in 4.1 seconds, and the top speed is 176 mph. An aerodynamic package adds unique body trim, and there's an SVR-tuned chassis with upgraded shocks.
Most drivers, though, will probably go for the more conservative engines. That includes a 2.0-liter Ingenium four-cylinder gas engine, with 247 horsepower and 269 lb-ft of torque, which does 0-60 mph in 6.6 seconds. An upgraded version squeezes 296 hp and 295 lb-ft from those two liters, trimming the dash to 60 mph to 5.8 seconds. A 180hp 2.0-liter diesel option, meanwhile, has 318 lb-ft. of torque.
Alternatively, there's a 380 horsepower 3.0-liter supercharged V6, snatched from under the hood of the F-TYPE. It does 0-60 mph in 5.1 seconds and is limited to 155 mph. Jaguar pairs it – and the SVR's V8 – with an eight-speed ZF automatic transmission. The four-cylinder cars get a lighter, more compact version.
All-wheel drive (AWD) defaults to rear-wheel drive in normal use, for maximum economy. Jaguar's system can switch from 100-percent rear bias to 50:50 in 165 milliseconds, though, when conditions demand it. With the Adaptive Dynamics option, and Adaptive Surface Response (AdSR), the usual Rain/Ice/Snow mode is replaced with three modes for low-friction ice and snow, wet tarmac and gravel, and finally high-drag conditions like deep snow, which are switched between automatically.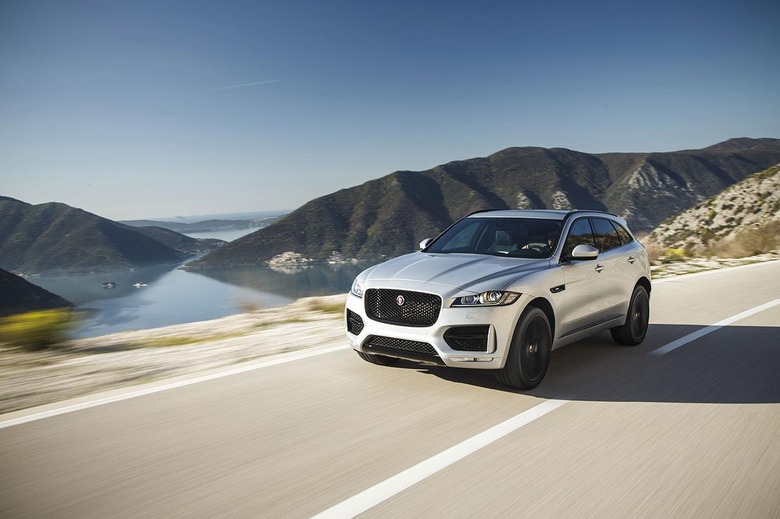 Inside, new slimline sports seats are optional to add legroom for rear seat passengers, with suedecloth headlinings and illuminated treadplates also available. Jaguar's InControl Touch Pro infotainment system – with its 10-inch touchscreen – is now standard across all F-PACE trims, while lane-keep assistance, emergency braking, a rear camera, and front/rear parking aids are all standard. Adaptive cruise control with steering assistance, along with blind spot assistance, are optional.
Pricing for the 2019 F-PACE kicks off at $44,600 for the F-PACE 25t with the 247hp 2.0L; Premium, Prestige, and R-Sport trims come in at $47,000, $51,600, and $55,900 respectively. The F-PACE 20d Premium, with the 2.0L diesel, starts at $48,500, rising to $53,100 for the Prestige and $57,400 for the R-Sport.
The 2019 F-PACE 30t Premium begins at $50,000 for its 296hp 2.0L engine, with the Prestige nudging that up to $54,600, the R-Sport to $58,900, and the 30t Portfolio to $63,000. The F-PACE S with the 3.0-liter supercharged V6 is $61,500, while finally the 2019 F-PACE SVR is $79,990.