Clearly nobody told Hyundai that the Detroit Auto Show 2018 was being dominated by trucks and slick luxury sedans: the South Korean company instead brought the brand new 2019 Veloster and its crazy Veloster N. The regular Veloster is now available with both a regular and a turbocharged engine for those looking for more power. As for the Veloster N, that's Hyundai's attempt to out-play VW's Golf GTI.
Whichever of the three you opt for, the oddball two-plus-one asymmetrical door configuration is carried over from the previous-generation Veloster. On one side, you get a front and a rear door. On the other, a front door alone.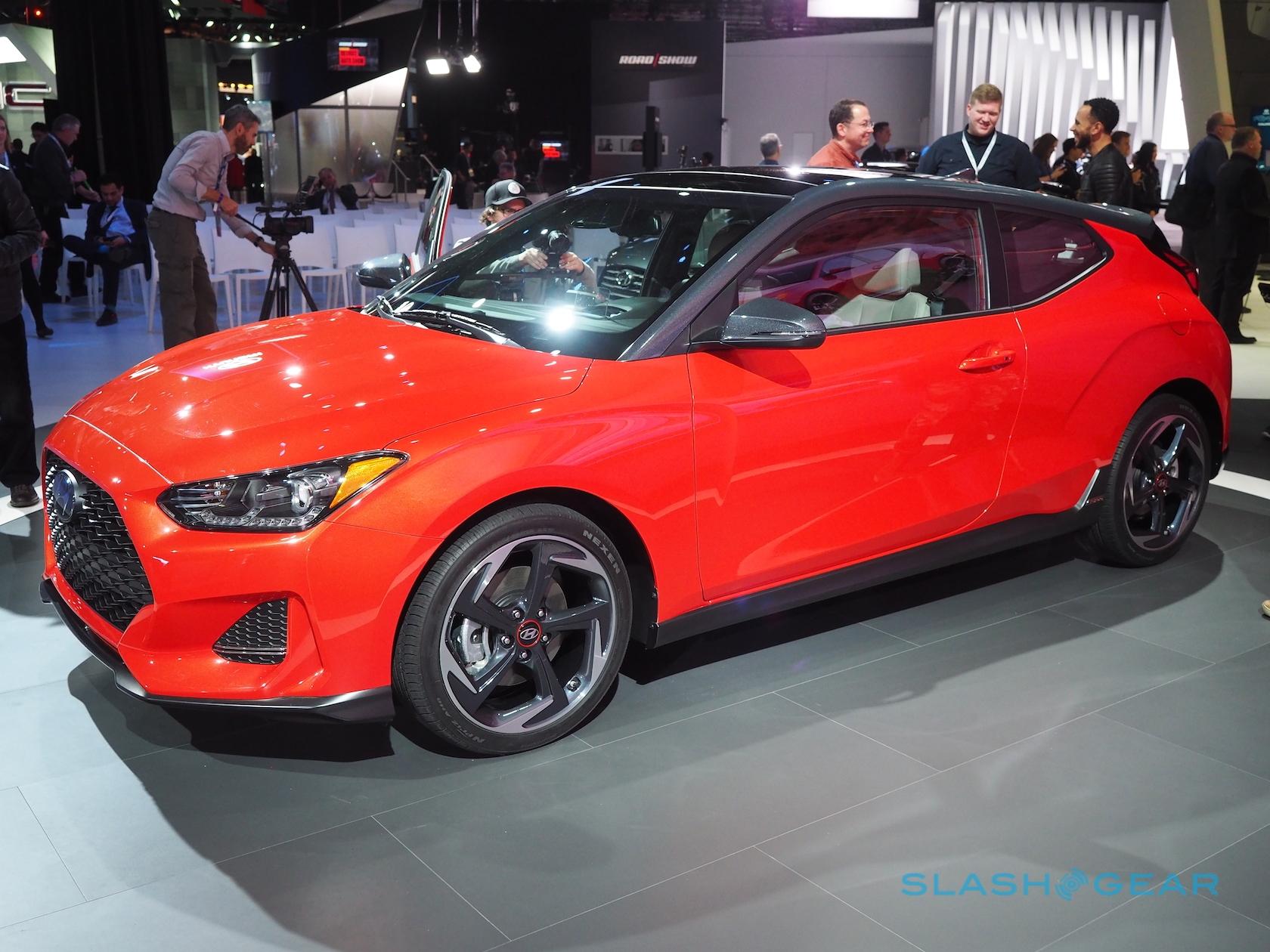 Hyundai's argument remains that by putting two doors on the passenger side it makes loading passengers in and out more convenient. It also gives the Veloster its coupe-esque styling. At the front, that styling has been tautened up with a new, three-dimensional cascade grille, now flanked by both functional air curtain vents and available LED headlamps and daytime running lights.
The fenders and wheel arches have swollen compared to the old car, and the cowl point and A-pillar have been pushed back. Hyundai has lowered the roofline, too, while the fender line is also tweaked there's an integrated diffuser in the rear. LED taillamps are an option, as is a darkened roof.
The regular Veloster 2.0 gets a 2.0-liter 4-cylinder engine, with 147 HP at 6,200 rpm and 132 lb-ft. of torque at 4,500 rpm. It's paired with either a six speed manual or a six speed automatic, and has three drive modes: normal, sport, and smart (which works as an auto mode). However, now there's also a turbocharged engine option.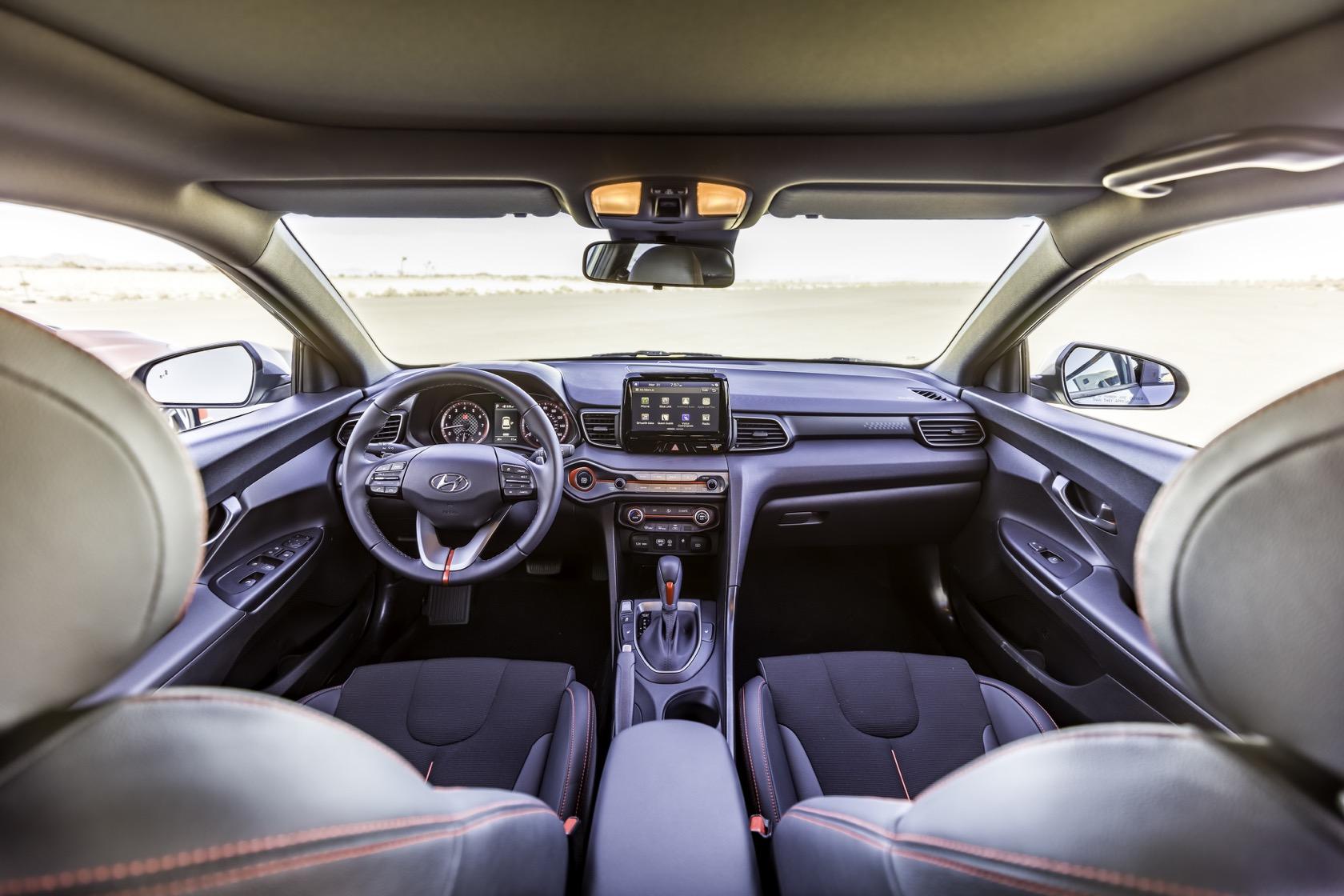 That's the 2019 Veloster Turbo, which produces 201 HP at 6,000 rpm from its 1.6-liter 4-cylinder. Torque is 195 lb-ft. from 1,500-4,500 rpm; an over-boost function bumps that up to 202 lb-ft. for brief periods. It comes with either a six speed manual or a seven speed dual-clutch transmission, both developed in-house by Hyundai . The latter gets paddle-shifters, while both versions have Active Sound Design enhancement and three drive modes.
Torque Vectoring Control is standard on both, coupling the ESC and powertrain control systems to brake the inside front wheel during aggressive turns. That means power is pushed to the outside instead, increasing grip. The Veloster Turbo pairs that with a quicker ratio on the steering rack, and revised steering calibration.
Truly eager drivers, however, will probably want to look to the 2019 Hyundai Veloster N. First of the automaker's new N model performance series, it throws in a 2.0-liter turbocharged 4-cylinder engine with 275 horsepower and 260 lb-ft. of torque between 1,450-4,700 rpm. The target is clearly VW's Golf which, if you've not been keeping abreast of hot-hatches, in 2018 form has 220 horsepower and 258 lb-ft. of torque.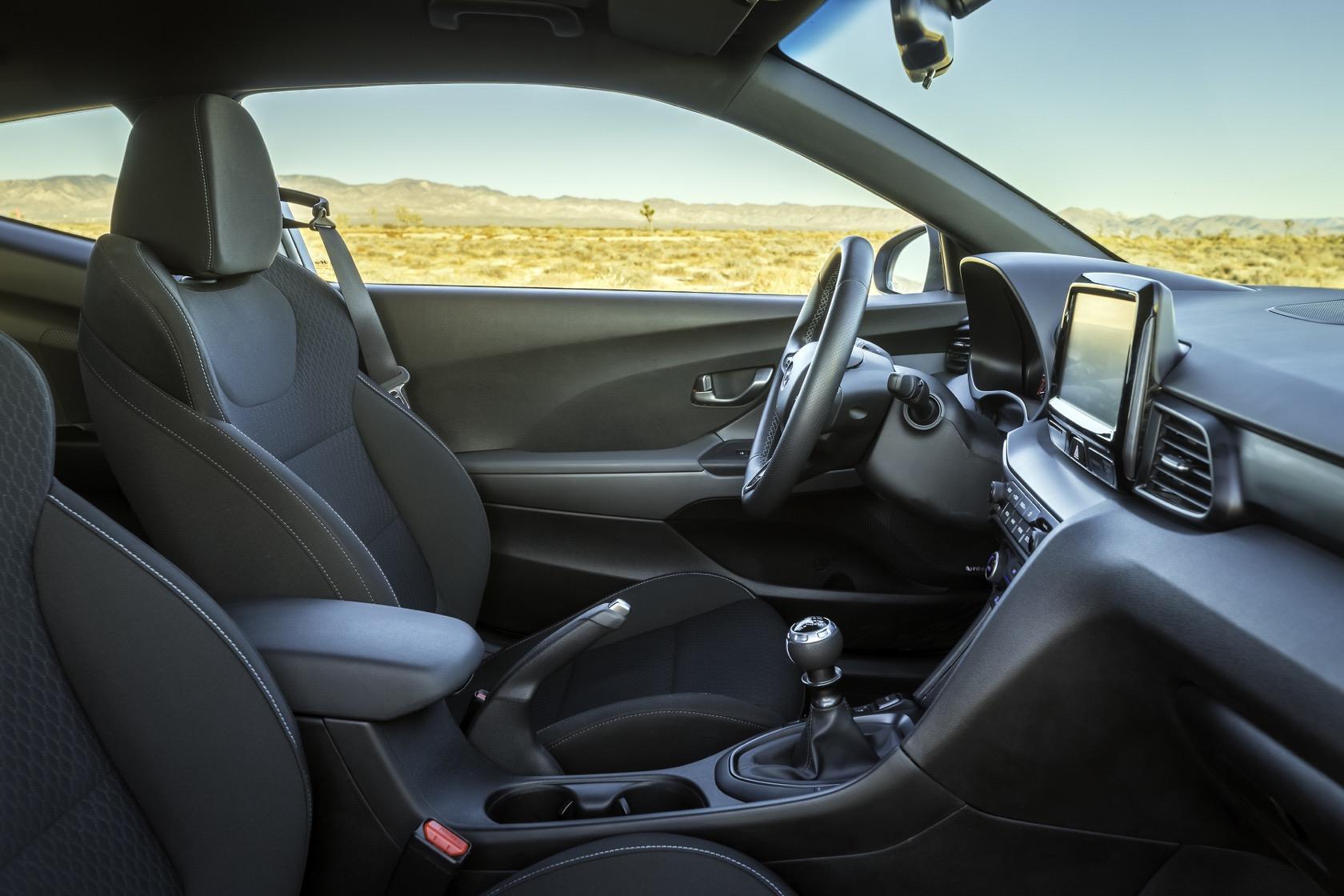 The Hyundai gets a short-throw, close-ratio six speed manual transmission with downshift rev-matching, and a sport exhaust system which allows for some over-run crackle during upshifts and downshifts. An N Power Sense Axle design promises more linear torque build-up, more precise steering, and quicker response; the motor-driven power steering system is rack-mounted, and there's a rear strut brace to reinforce the rear multi-link suspension mounting points.
The Veloster N throws in a new, track-centric N mode, which adjusts the suspension among other things, and there's also the N Corner-Carving Limited-slip Differential. Electronically-controlled, it promises better launch performance, a cut in acceleration slip understeer, and higher maximum cornering speeds. Alternatively, there are normal, sport, eco, and N custom modes.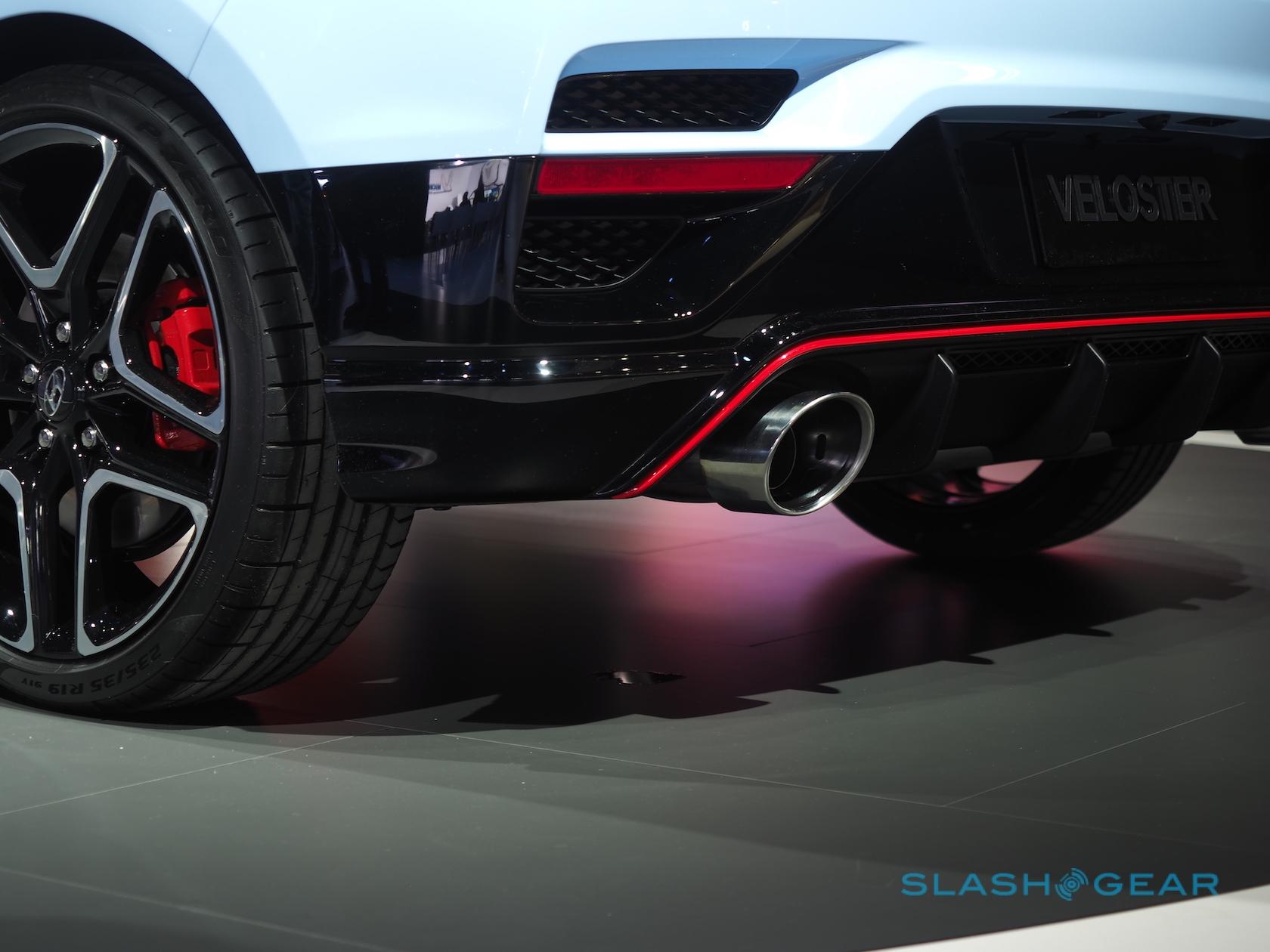 As for bringing you to a halt, the Veloster N comes with 13-inch rotors up front and 11.8-inch rotors at the rear. Optionally, you can upgrade those to 13.6-inch performance rotors are on the front, and 12.4-inch rotors on the rear. The 18-inch wheels get 225/40R18 Michelin Pilot SuperSport summer tires, while the 19-inch upgrade get exclusive-compound 235/35R19 Pirelli P-Zero summer tires.
To distinguish it from the regular Veloster on the road, the Veloster N packs an N-design fascia and grille, dedicated brake-cooling air ducts, rocker side sills, and a large rear spoiler. There's also a different design for the integrated diffuser, and bigger-diameter dual tailpipes.
Inside, the regular car has Android Auto and Apple CarPlay as standard on a 7-inch touchscreen, or an 8-inch touchscreen upgrade with HD radio, eight speaker audio with a subwoofer, and smartphone integration. A heads-up display is available, showing things like speed, navigation directions, lane departure warnings, engine RPM, and transmission gear. Qi wireless charging is an option, plus navigation and SiriusXM.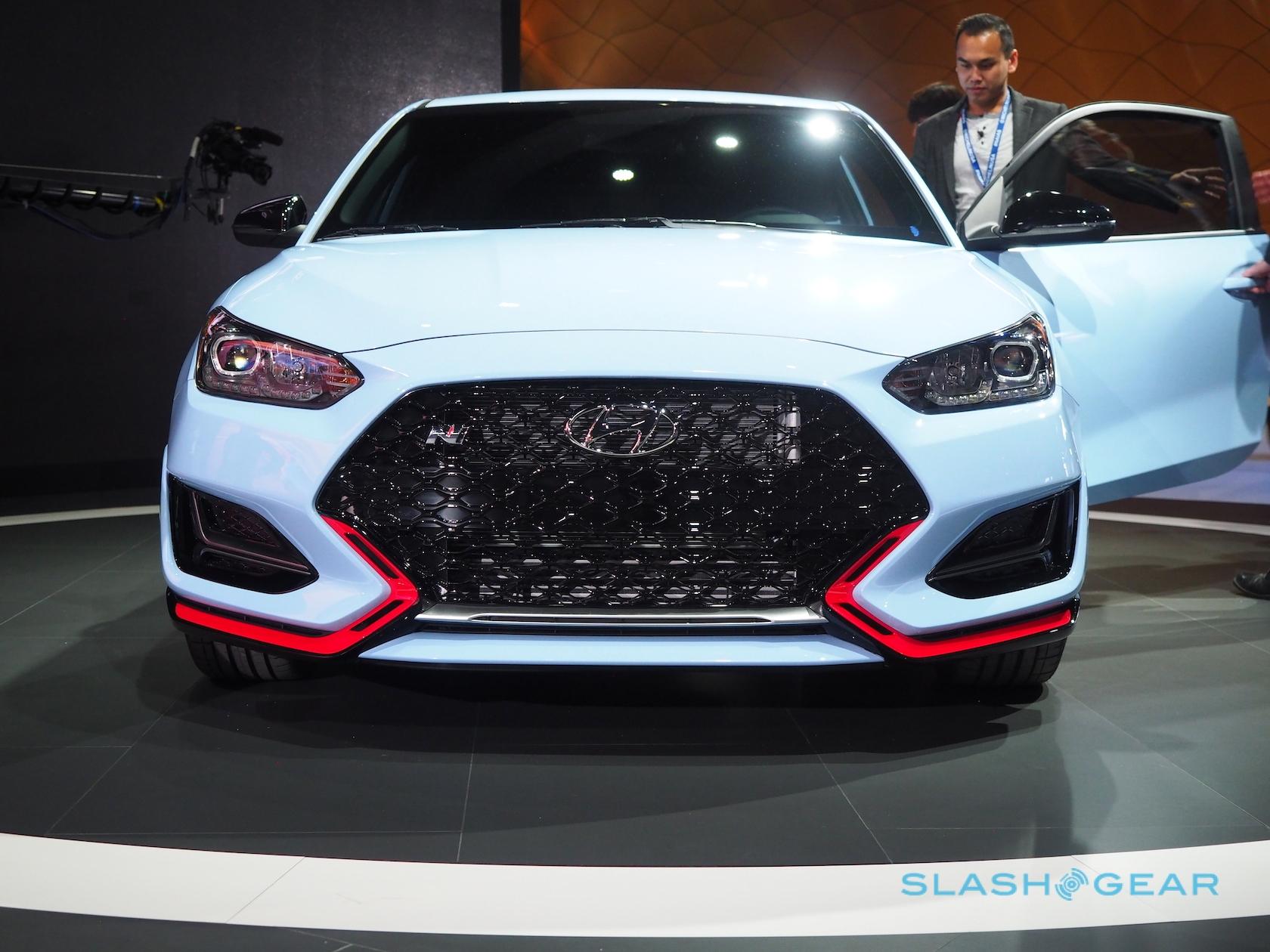 The Veloster N throws in exclusive cloth sports seats and an N-design wheel, shift knob, door sill plates, and a special instrument cluster. The blue accent theme is carried through, and there's a progressive sequential shift indicator.
Hyundai says the 2019 Veloster and Veloster Turbo will go on sale in the US in Q2 2018; pricing will be revealed closer to release. As for the 2019 Veloster N, that won't reach US shores until Q4. Again, pricing will be confirmed closer to that point.