2019 Hyundai NEXO fuel cell SUV goes 380 miles per tank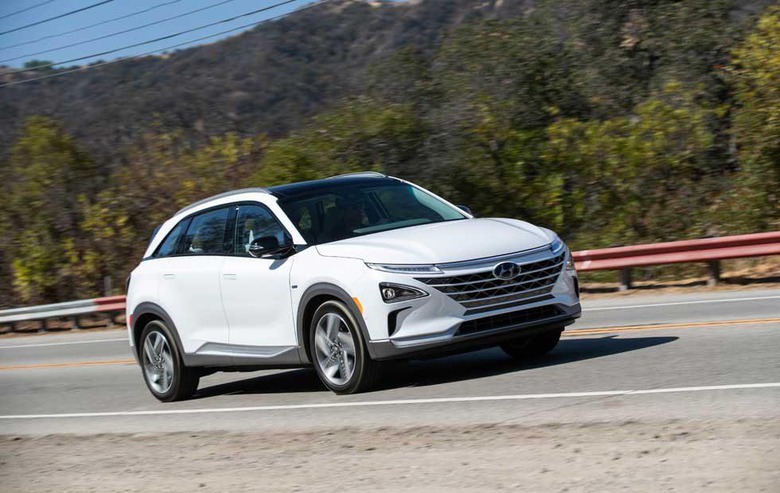 Hyundai is introducing its new 2019 NEXO fuel cell SUV made for the US market and hailed as the only mass-produced fuel cell vehicle for the States. The NEXO will be available in California before the end of 2018 with no specific sell date offered. Initially, the NEXO will be available via Keyes Hyundai in Van Nuys and Tustin Hyundai.
In early 2019, Capitol Hyundai will be added in Northern California. Hyundai says that hydrogen is key to a more sustainable society. NEXO has advanced driver assist systems inside with Forward Collision-Avoidance Assist (FCA), Lane Following Assist (LFA), Driver Attention Warning (DAW), High Beam Assist (HBA) and Remote Smart Parking Assist (RSPA). RSPA allows the NEXO to autonomously park and retrieve itself from parallel or perpendicular parking spaces with or without the driver inside.
That system can also back the NEXO into a parking spot by touching a button on the key fob. LFA is a new Hyundai tech that helps the SUV stay centered in a lane at speeds up to 90mph. BVM and SVM tech projects side views of the mirrors into the center cluster for the driver to view when changing lanes or when the turn signal is on.
BCA and RCCA tech help the driver to see approaching vehicles in its intended path. NEXO has an estimated driving range of 380 miles on a full tank of hydrogen, Hyundai says that it 115 miles more range than the predecessor. NEXO Blue models have estimated eMPG of 65 city, 58 highway, and 61 combined with Limited version seeing a bit less at 59 city, 54 highway, and 57 combined.
Refueling time is only five minutes, assuming you are in an area with hydrogen stations. The NEXO has 161 peak horsepower and 291 lb-ft of torque. The vehicle might debut in warm California, but it can work in cold climates as well. Hyundai says the vehicle can live in temps as cold as -20 overnight and start in the cold within 30 seconds. Pricing is unannounced.
SOURCE: Hyundai