2019 Genesis G70 takes a strike at German luxe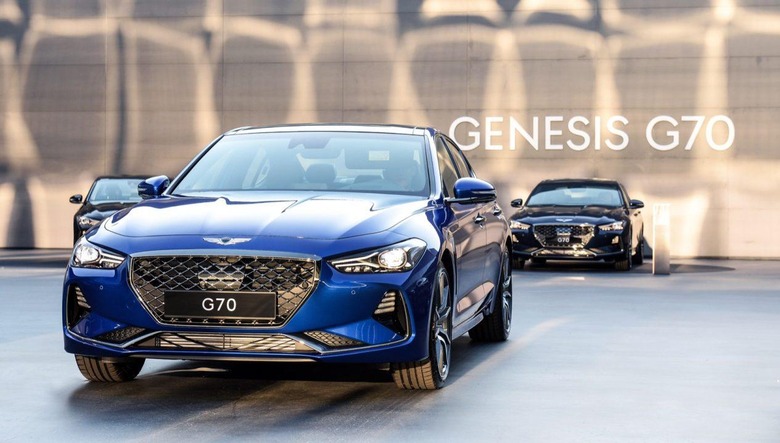 Once upon a time, if you wanted a luxury car you'd head straight for the Germans. Now, upstarts from elsewhere in the globe are proving they have just as much talent. Genesis has taken the wraps off the 2019 Genesis G70, a sleek sedan that slots in as the entry-level option in the automaker's increasingly well-esteemed line-up. As you might expect, the equation is fairly straightforward.
First, take a bunch of active safety technology and driver-assistance. Then, combine it with a well-appointed cabin. Finally – the one lingering mystery at this stage – price it competitively, to undercut the competition from Audi, BMW, and Mercedes.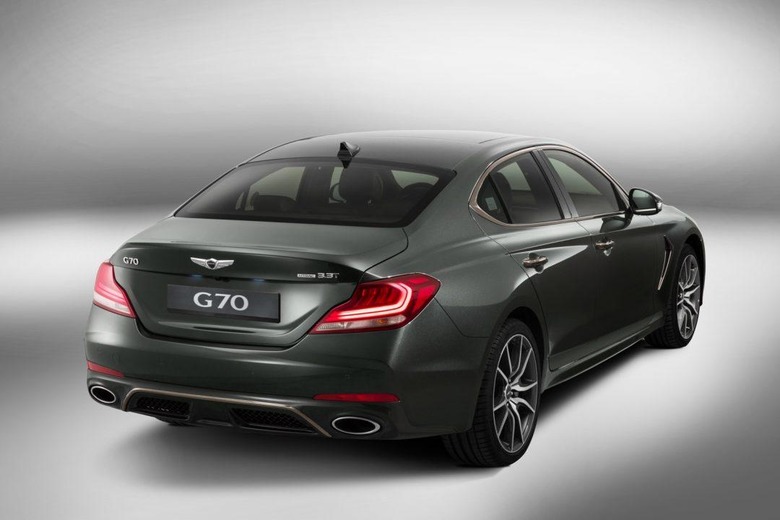 While we may not know US pricing, which Genesis says will be announced – along with final specifications – early in the new year, we do know what sort of technology we can expect. There are three engine options in the initial line-up. A 3.3-liter V6 turbo offers the most power, with 365 HP. It'll be found in the G70 Sport, which will do 0-62 mph in 4.7 seconds, and continue on to 168 mph.
Genesis has paired the engine in the G70 Sport with variable-ratio steering, together with electronically controlled suspension as standard. There'll also be launch control and a dynamic torque vectoring system for better handling in corners. Finally, there's a mechanical limited slip differential (M-LSD) for better directing torque to the wheels with most grip.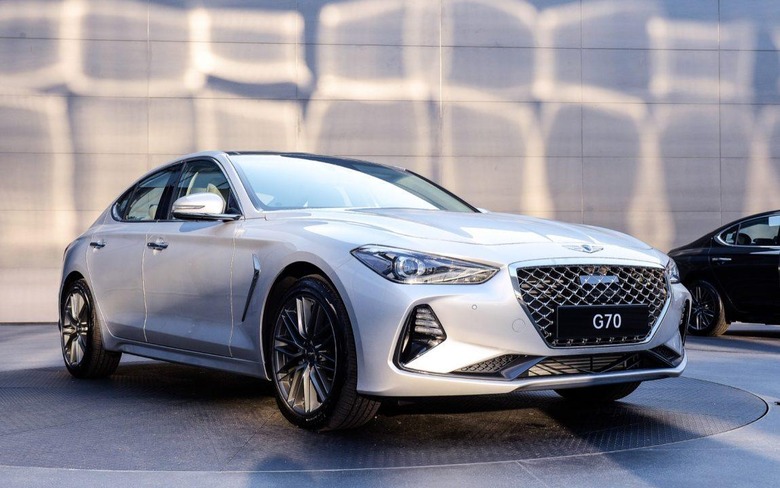 Meanwhile, there's also a G70 2.0 turbo model, which has 242 horsepower. It'll be offered as a sports package model, with 251 HP too. Finally, there'll be a G70 2.2 diesel, which has 199 HP. All three will use active noise enhancement for what Genesis says is a more vocal soundtrack in the cabin. All will be offered in RWD or AWD form.
That interior is all new, too. It has a sports steering wheel as standard, then aluminum for the door handles, quilted leather on the door panels, and real metal speaker grilles. The seats are finished in Nappa leather, in five different colors: black, gray, Burgundy, brown, and beige. The G70 Sport and higher-trim 2.0T cars will have Sports Gray and Sports Red color options.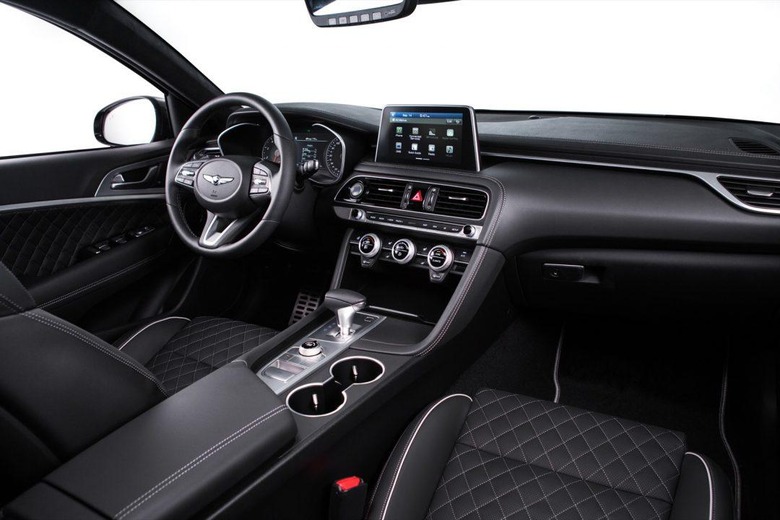 The G90 donates its smart posture control system, which automatically adjusts the seat, steering wheel, exterior mirrors, and head-up display to the optimum position based on body size and shape. An 8-inch center touchscreen supports Apple CarPlay, Android Auto, and MirrorLink, and is paired with a 15-speaker Lexicon surround sound system option. In South Korea, there'll be server-based voice recognition for improved accuracy.
Outside, design cues are borrowed from the larger G90 and G80 cars. That means a long hood and short overhands, bold wheels, and hockey-stick shaped side windows. The grille is oversized, leading to long character lines that crease the hood, while LED daytime running lights flank it. More LEDs arrive at the rear, while the G70 takes the G80's rear lamps and stretches them even wider.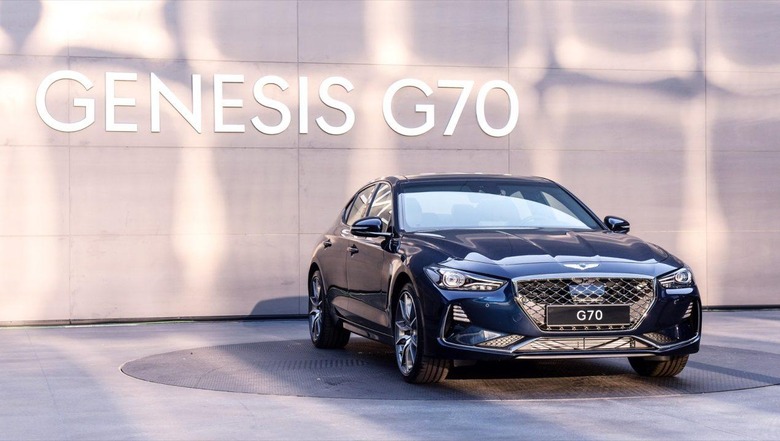 As for the safety and convenience tech, there are nine airbags, an active hood that will lift in the case of a pedestrian collision, and a bevy of gadgets for the road. orward Collision-Avoidance Assist (FCA), Highway Driving Assist (HDA), Blind spot Collision Warning (BCW), and Driver Awareness Warning (DAW) are all onboard, and there's emergency braking not only for other cars and pedestrians, but bicycles too.