2019 Chevrolet Silverado 1500 engines detailed with Turbo-4 surprise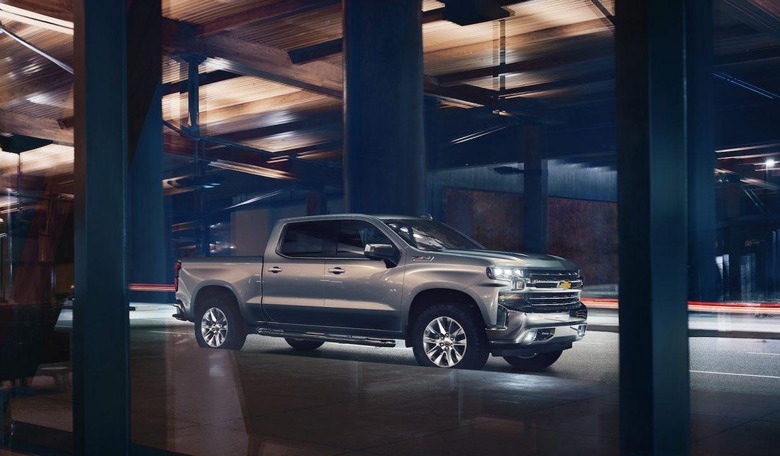 Chevrolet has detailed the engine line-up for the 2019 Silverado 1500 truck, and there's an unusual new 2.7-liter Turbo four-cylinder lurking among the V6 and V8 options. Set to hit dealerships sometime in Q3 2018, the new Silverado will eventually be offered with six different engines, though the diesel isn't expected until early next year.
What might surprise many Silverado fans is Chevrolet's decision to join the four-cylinder party. That's something Ford has been triumphing in recent years with its EcoBoost engines in the F-150, and now the 2019 Silverado 1500 is getting in on the action. The new 2.7-liter I-4 Turbo replaces the the old 4.3-liter V6.
It'll be standard on the Silverado LT and Silverado RST, paired with an 8-speed automatic transmission. Despite being significantly lower in capacity, it'll pack more torque: Chevy says to expect 310 horsepower and 348 lb-ft. It also gets Active Fuel Management and a start/stop feature, and though EPA economy figures haven't been confirmed yet, the truck-maker says it's expecting an improvement there over the old V6, too.
The most common engine, though, is going to be a V8, according to Chevrolet's predictions. Both the 5.3-liter V8 and the 6.2-liter V8 have been updated for the 2019 model year, offering up to 420 horsepower and 420 lb-ft of torque.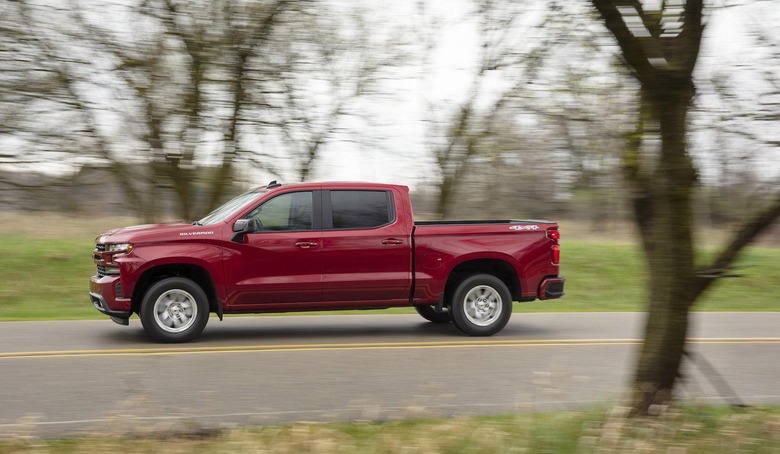 The 5.3-liter V8 with Active Fuel Management and a 6-speed automatic transmission will be offered on the Silverado Work Truck, Custom, and Custom Trail Boss, as an upgrade to the standard 4.3-liter V6. That'll give a choice of either 285 HP/305 lb-ft or 355 HP/383 lb-ft. Chevy says those are its high-value configurations.
The 5.3-liter V8 with Dynamic Fuel Management and stop/start technology will be optional on the LT and RST, and standard on the LT Trail Boss, LTZ, and High Country. It'll have an 8-speed automatic, and deliver 355 horsepower and 383 lb-ft. of torque.
Finally for the gas engines, the 6.2-liter V8 will be available on the Silverado LTZ and High Country only. It gets a 10-speed automatic transmission, stop/start, and Dynamic Fuel Management, and Chevy is promising 420 horsepower and 460 lb-ft of torque.
If you want the diesel, however, you'll have to wait: that's not expected to begin production until early in 2019. It's a 3.0-liter Duramax inline-six turbodiesel, matched to a 10-speed transmission, and will be offered as an option on the Silverado LT, RST, LTZ, and High Country. Chevrolet is yet to confirm power figures, though has previously promised that its diesel will get better economy than Ford's in the F-150.