2019 Camaro ZL1 1LE 10-speed automatic transmission lands in late February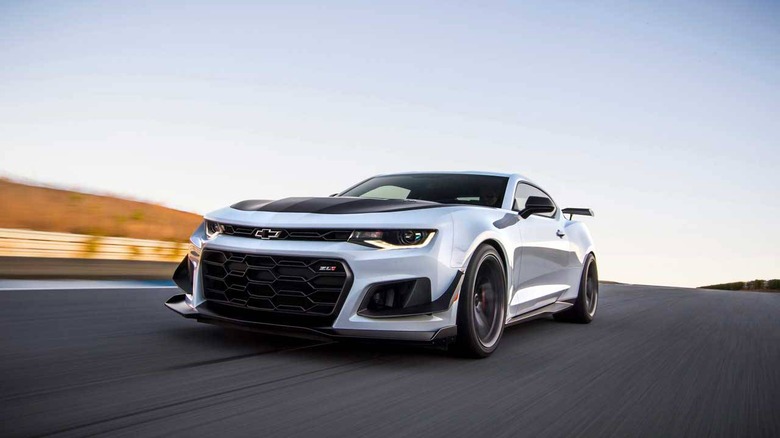 Chevrolet has a new big gun from Ford to fight at the road course and drag strip, that car is the 2020 Shelby GT500. The GT500 is offered only with a dual-clutch automatic transmission. The Camaro ZL1 1LE, by contrast, has always been offered with only a manual transmission.
That will change in late February when Chevy will cram a 10-speed automatic inside the 2019 ZL1 1LE Camaro. That will put the Camaro on par with the GT500 letting those not wanting to row their own gears to profit. Chevy says that the new paddle-shift 10-speed will be good for gains of several seconds for lap times on longer courses compared to the manual ZL1.
Chevy also notes that the 10-speed gives customers more performance options. For ZL1 1LE duty, the transmission has unique calibration, electronically limited slip diff, and a performance traction management system. Chevrolet also tuned the front and rear Multimatic DSSV dameps to accommodate faster shifts in weight transfer.
The transmission also has a new transmission oil pan and an additional cooling duct for the steering gear. Other than the 10-speed automatic transmission, the ZL1 1LE carries on unchanged. It has additional aero bits for downforce, adjustable suspension, unique wheels and tires, and a supercharged 650hp LT4 V8 engine.
The car has Brembo brakes all around, dual automatic climate control, Bose audio, heated and ventilated front seats and a heated steering wheel. The ZL1 1LE package has a $7,500 MSRP with the 10-speed automatic costing another $1,595.