The 2019 BMW M2 Competition's official M parts look must-haves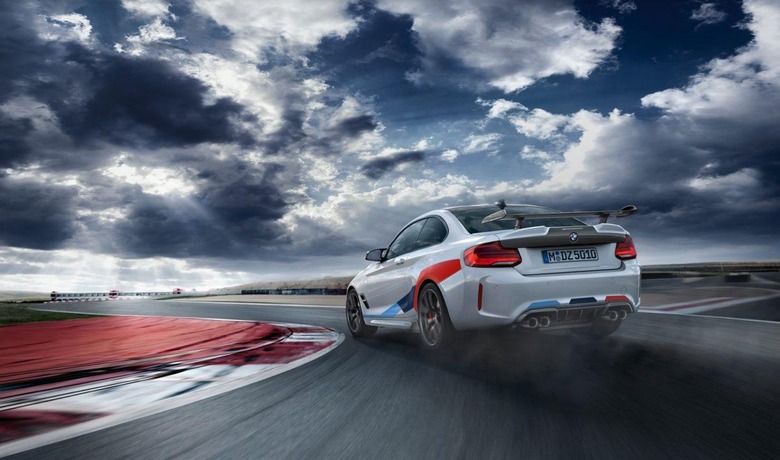 We were already excited at the prospect of the 2019 BMW M2 Competition; now, consider us positively giddy. BMW has announced a batch of official M Performance Parts for the new sports coupe, giving it a race-inspired makeover both inside and out, not to mention helping you be a better driver.
If you missed the news last month, the 2019 M2 Competition replaces the old 2018 BMW M2 that had already earned modern-classic status. It borrows the engine from the BMW M4, a twin-turbocharged inline 6-cylinder, with 410 horsepower for a 0-62 mph time of just 4.2 seconds with the DCT. Better still, you can still get it with a six-speed manual transmission.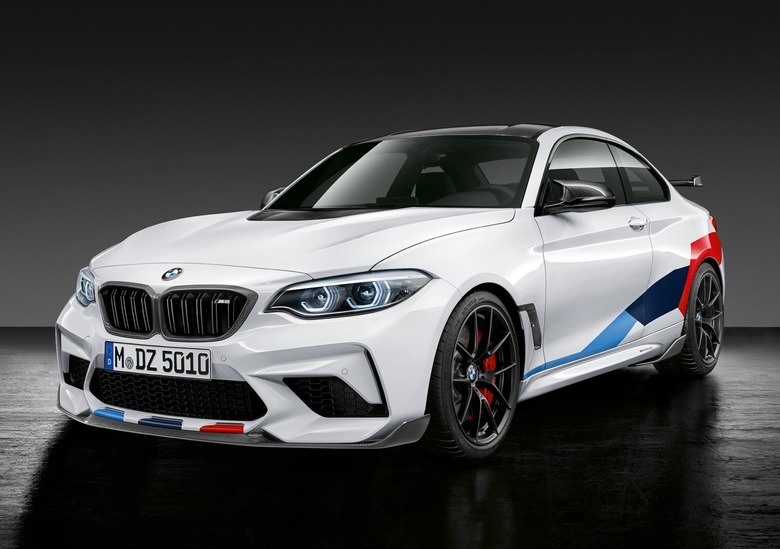 Out of the gate, it looks good. Still, we can't help but like the car even more when the M Performance Parts accessories are applied.
Maybe most important of the bunch is the new M Performance suspension retrofit kit. That lowers the coil-spring suspension by up to 20 millimeters, while the damping technology can be independently adjusted both for the compression stage and the rebound stage. You get 12 and 16 setting options, respectively.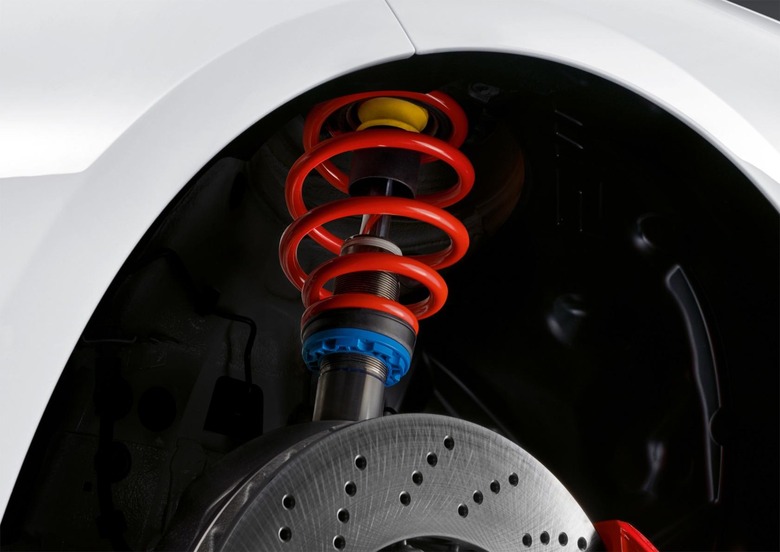 While you're there, you might want to switch out the wheels, too. The M Sports Brake System Red gets compound brake discs for better thermal resilience, for instance, together with 6-piston fixed aluminum calipers on the front axle and 4-piston fixed calipers on the rear. Sports brake pads can also be had, borrowing the tech from motorsport long-distance pads.
The M Performance forged wheel Y-spoke style 763 M wheels, meanwhile, cut over seven pounds from the standard 19-inch wheels the M2 Competition wears. They'll be offered in matte Jet Black or, for those who like a little glitz on the coupe, Frozen Gold. Either way, you get machined M Performance lettering in the rim flange, and the option of high-grip Michelin Pilot Sport Cup 2 tires.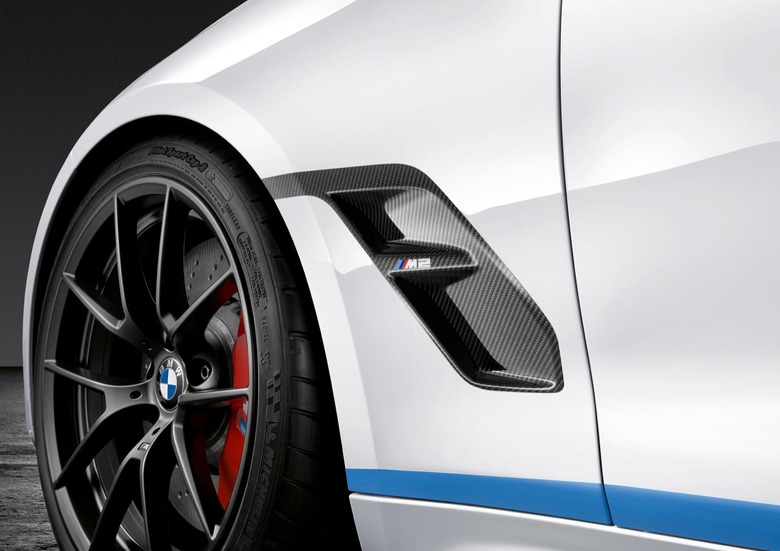 Then there are the carbon fiber options. You can have an M Performance hood, with partially-visible varnished carbon fiber and a beefy power dome, for example: it doesn't just look the part, but saves almost 20 pounds in the process. The same goes for the optional carbon fiber roof and tailgate, which save around 11 pounds and 13 pounds respectively. BMW will even swap out the front side panel for a lighter carbon fiber version too.
At the back, there's an M Performance exhaust system, with stainless steel flaps and a titanium rear silencer. The 93mm tailpipes are carbon fiber, too, and you're looking at a weight saving of over 17 pounds. It has a range of volumes, depending on whether you have the 2019 M2 Competition in Efficient through to Sport+ mode.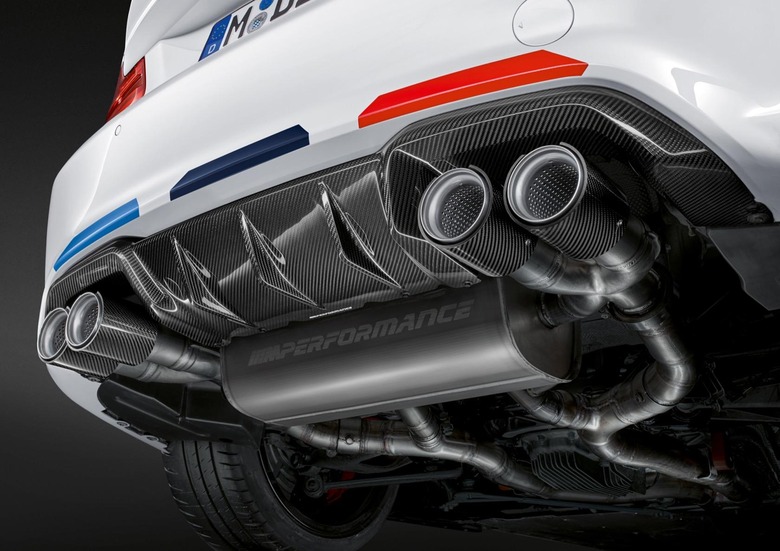 If you're wondering how all that weight loss impacts on driving, it might be worth coughing up for the M Performance Drive Analyzer. That combines an OBD stick that plugs into the dashboard and a smartphone app for iOS or Android; they pair over Bluetooth, and the app sucks up speed, engine data, accelerator and brake use, and lateral acceleration information, among other metrics. Throw in the M Performance Track Fix and Travel & Comfort System and you get mounting points for GoPro or other action cameras, both inside and out.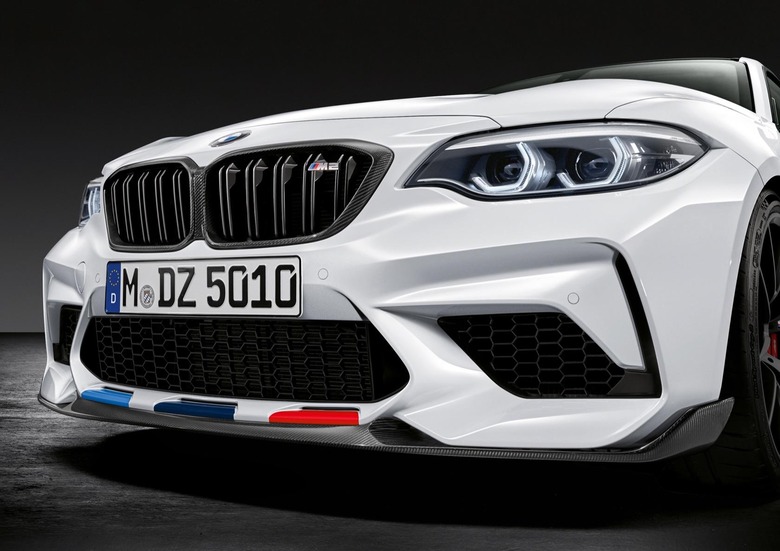 A whole range of carbon fiber and M-color parts and decals are available too, while inside there are replacement trim parts and lashings of Alcantara if you open your wallet. An M Performance Steering Wheel gets an integrated race display: in Sport Mode, for instance, it shows a stopwatch and G-forcxe, while in Race Mode it prioritizes time down to the hundredths of a second. Colored LEDs show gear shift suggestions.
Most of the new M Performance parts will be available when the 2019 M2 Competition arrives in dealerships. That's expected to take place this summer, at which point pricing – for both the car and the accessories – will be confirmed.