2019 BMW i8 Roadster First Look: Topless Hybrid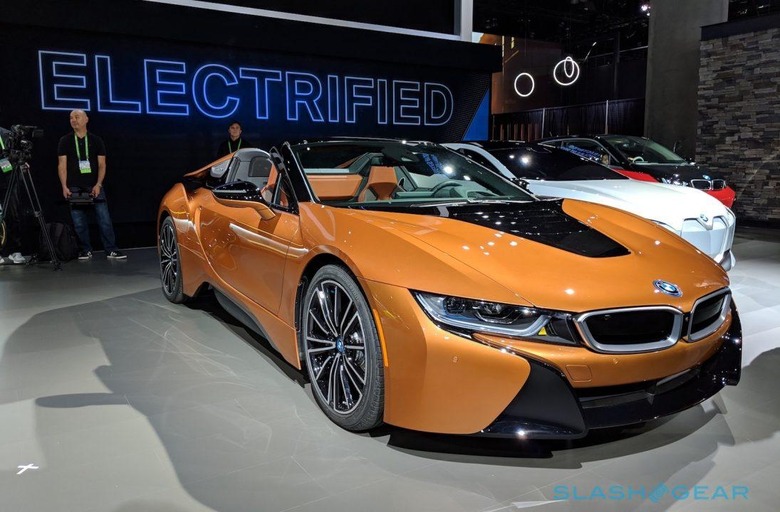 Given the choice between a coupe and a convertible, I'm always inclined to go with the latter, and now those who think similarly but who want a BMW i8 have an option. Just announced at the LA Auto Show 2017, the 2019 BMW i8 Roadster takes a sharp knife to the roof, though the differences between it and the also updated 2019 i8 Coupe are more than just the wind in your hair. Both have been in line for a number of improvements, including a welcome jolt of extra power.
Getting the most obvious difference out of the way: the top is gone. It's replaced with a soft top, though still retains the distinctive BMW i design language that keeps the i8 Coupe looking fresh despite having been around for several years now. Unlike in the i8 Coupe, you do lose the two rear seats; in their place, BMW cleverly converted the space into roughly 100-liters of additional storage. While it means the Roadster loses the 2+2 designation of the Coupe, really the two seats were always fairly deceptive. They're only really sized for two small children, rather than adults back there.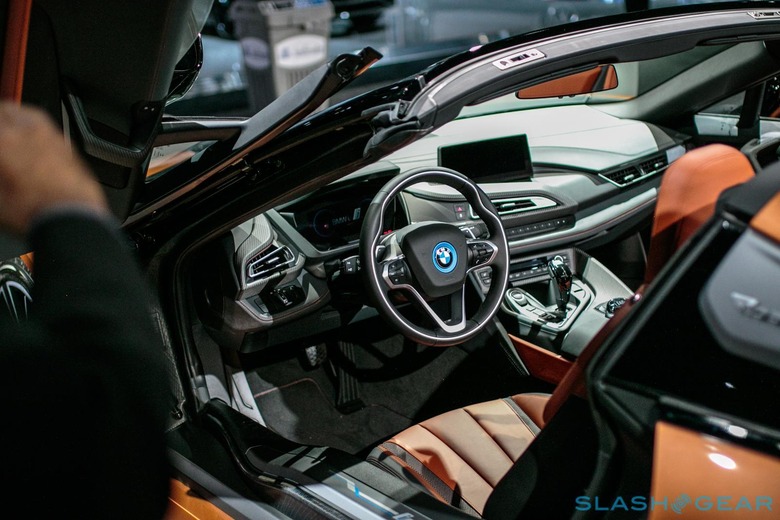 The all-electric roof opens and closes quietly in just 15 seconds, even while in motion up to 31 mph. Once the roof drops down and retracts fully into the rear, where the mechanism folds and stows away in a perpendicular position, the rear window comes up. It's by less than 2-inches, but BMW says it's enough to help guide airflow away from the cabin. If you want, you can overrule it manually.
That mechanism means the i8 Roadster actually gained some weight, even with the rear two seats omitted. It's only an additional 60 kilograms (132 pounds), putting it right at 1,595 KG. Both cars are based on BMW's LifeDrive architecture, with newly designed aluminum wheels; the frameless gullwing doors, side skirts, and windscreen frame are made from an ultra-strong, high-tech material known as carbon-fiber-reinforeced plastic (CFRP), with an aluminum outer shell. For rollover safety, in addition to using CFRP, extra struts and panels in the front and rear axles help maximize the body's rigidity.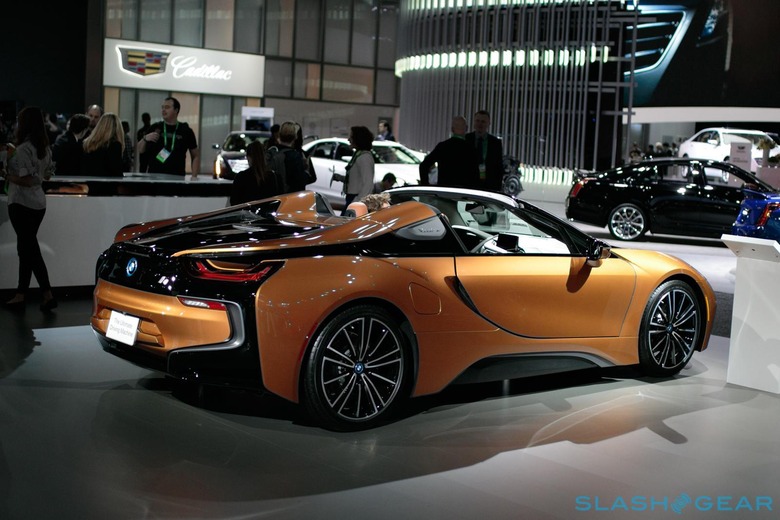 The "Roadster" and "Coupe" badging are each placed on the cars' C-pillars. It's an unusual location, but I personally think it really pops, whether you're looking at the car from the front or rear three-quarter profiles. For the 2019 model year, BMW has added two new color options: E-Copper metallic and Donington Grey metallic shades.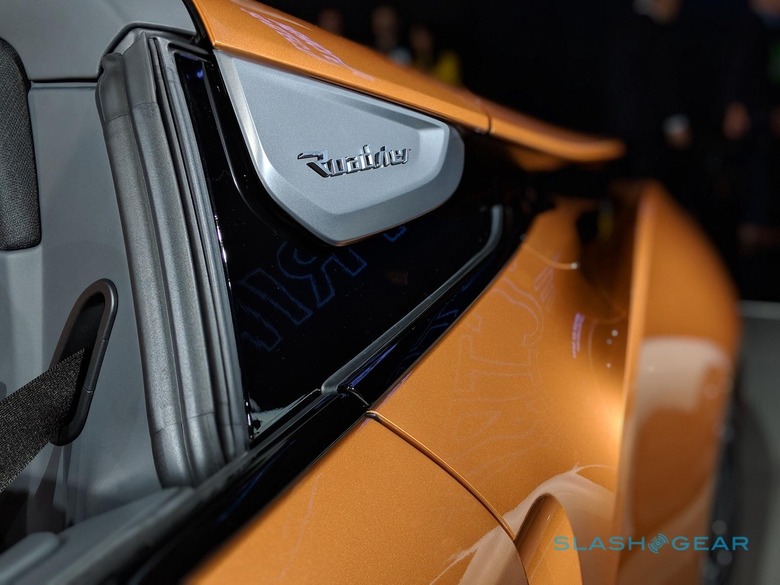 As before, there's an unusual drivetrain in comparison to what most sports cars offer. The 3-cylinder gas engine produces a 231 HP while peak torque is 235 lb-ft. While we've yet to hear the new exhaust note, I was told it sounds better than the outgoing model. There are numerous improvements to the BMW eDrive technology, meanwhile, starting with a higher-cell capacity – climing to 34 Ah from 20 Ah – which means gross energy capacity rises from 7.1 to 11.6 kWh (net: 9.4 kWh).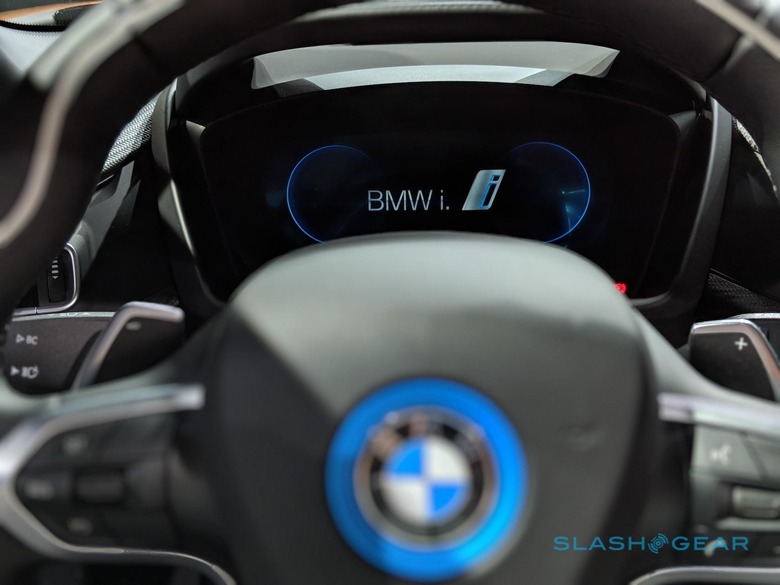 At the end of the day, that means you get an additional 9 kW/12 HP bump in peak output to 105 kW/143 HP. With all cylinders firing, there's now a total of 374 HP at your disposal, while the 0-62 mph run clocks in at 4.4 and 4.6 seconds for the i8 Coupe and Roadster, respectively. Also new for the 2019 model year, the i8 Coupe and i8 Roadster can now be driven solely using the electric motor at up to 75 mph, up from 44 mph. Once past that speed, of course – or when you hit the roughly 18 mile all-electric range – the gas engine kicks in, just as it does if you slam your foot hard on the accelerator.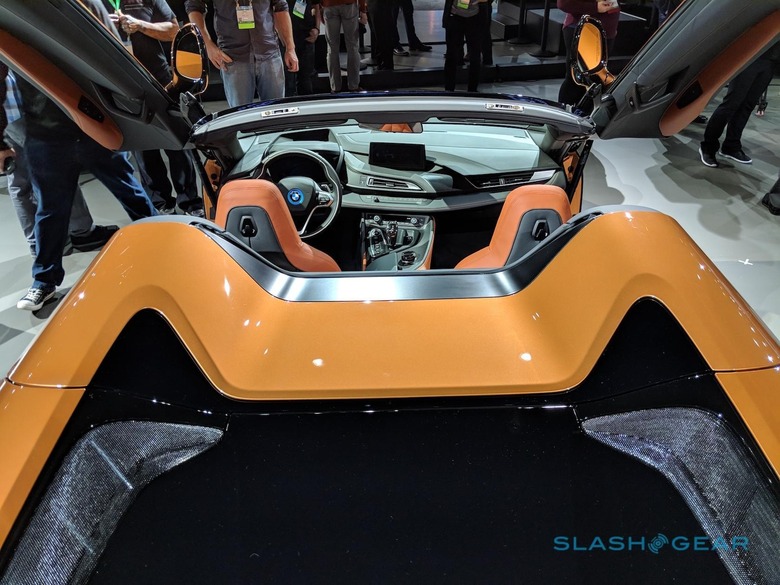 Inside, the cabin has had some design tweaks. There's a new Tera World Copper interior trim option, combining cloth and leather in an Amido/E-Copper color scheme. There are five drive modes – hybrid use in COMFORT, SPORT, and ECO PRO, along with all-electric driving in COMFORT or ECO PRO mode – each with different colors of digital gaging and cabin lighting. Heated front seats are standard.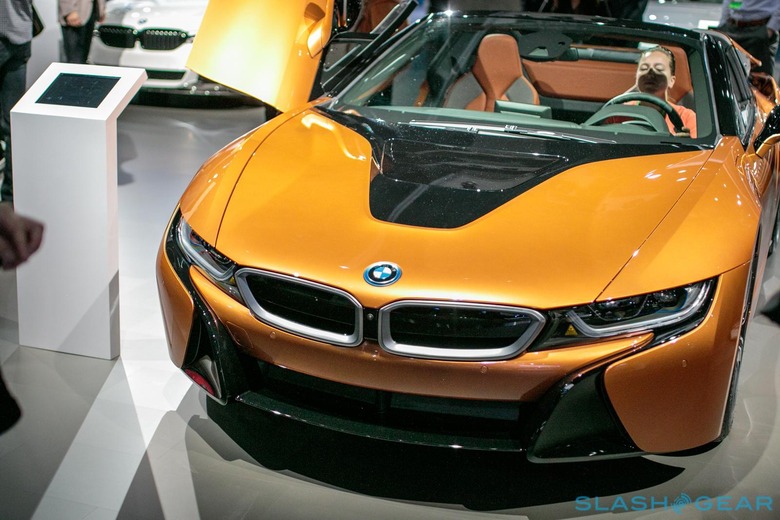 As for charging, there's a new standard cable which now includes a temperature sensor for safety. BMW's latest BMW iCharging Station can deliver up to 7.2 kW, and can recharge the i8 fully in under three hours. Optionally there's a new BMW TurboCord EV Charger which, for $499, can handle both Level 1 and Level 2 (3.5 kW) charging on 120V and 240V outlets.
The 2019 BMW i8 Roadster and i8 Coupe will go on sale in Spring 2018. Pricing will be confirmed closer to launch.