2019 BMW I3 120Ah And I3s 120Ah EVs Drive Further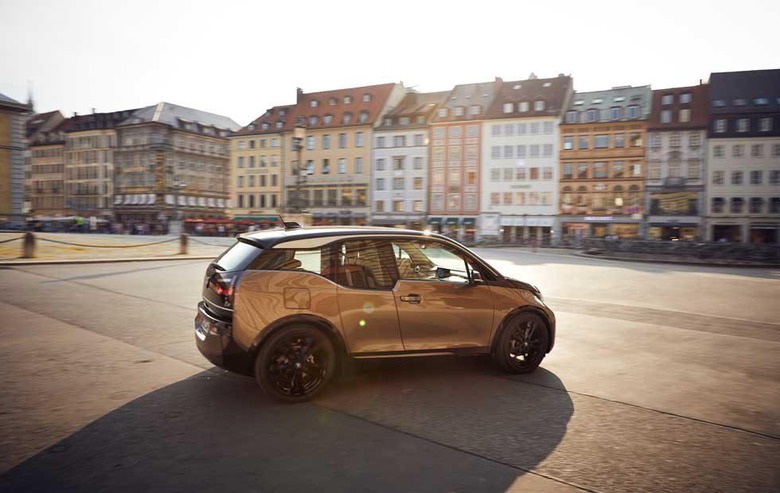 BMW is showing off the 2019 models of its electric car, the i3. For 2019 the ride is offered in i3 120Ah and i3s 120Ah. The original i3 back in 2014 had 60Ah inside giving it a mere 81-mile driving range. Last year, the 2017 model i3 had a 94Ah rating for a 115-mile driving range.
Both the 2019 i3 models now have 120Ah of juice and while EPA certification for driving range is pending, BMW says the new i3 models will go up to 153 miles per charge. That is a 30% improvement compared to last year's model and nearly twice the range of the original model.
The new battery capacity isn't all that BMW has for the 2019 models, a new exterior color is offered as well. The new interior color is Jucaro Beige Metallic with Frozen Gray accents. That color replaced the Protonic Blue Metallic from last year. BMW is also offering a new color for the optional Mega World interior and full LED headlights with corning lights and automatic high beams are offered.
The standard nav system for 2019 models gets iDrive 6.0 previously only offered with the Navigation Professional option. A WiFi hotspot and wireless charging tray for mobile devices is available as well. 2019 i3 models have 170hp electric motor and can reach 60mph in 7.2 seconds. The uprated i3s has 181hp and can reach 60mph in 6.8-seconds.
The interior color option that is new includes the Mega World option with Electronic Brown Trim and Mega Carum Spice Gray SensaTech with brown cloth highlights. Over 80% of the surfaces seen by passengers are made from recycled materials. BMW will offer the larger i3 REX and i3s REX models for 2019.
SOURCE: BMW