2019 Bentley Continental GT first drive: Return of the King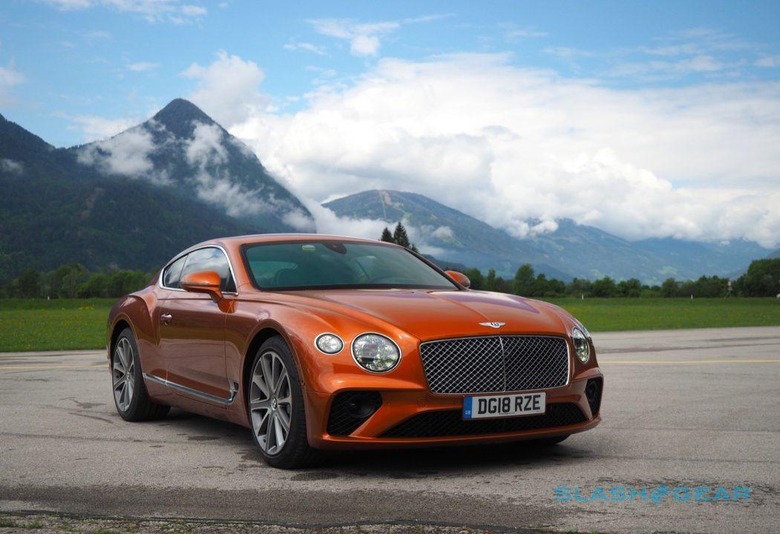 Faced with a cross-country jaunt, the super-rich – those for whom the 2019 Bentley Continental GT's six-figure price tag would not be a deal-breaker – have an enviable choice. Flying privately is, of course, the go-to for the 1-percent. Yet the allure of a super-luxe grand tourer, combined with the right road, could be enough to make you leave the Learjet behind.
While its name may be too glottal to be entirely charming, the Grossglockner High Alpine Road is undoubtedly one such route. Cutting through the Austrian Alps, its epic scenery is only rivaled by the sinuous curves and frenetic switchbacks that make it one of the must-drive roads for the automotively eager. Push hard, and the Glossglockner acts as a magnifier: every joy is enhanced, yet any flaw in your chariot of choice is dragged out and displayed.
The original Continental GT changed the game back in 2003, both for Bentley and in the luxury grand tourer market more broadly. First car of the modern Bentley generation, it cherry-picked the best of Volkswagen Group's technology and combined it with the made-by-hand mastery the marque has long been known for.
Still, even after the refreshed second-generation car in 2011, the Continental GT was clearly showing its age. Bentley's challenge for this third-generation model was twofold. First, it must appeal to the brand's loyalists: carry through everything they loved about the current car, only enhanced and improved.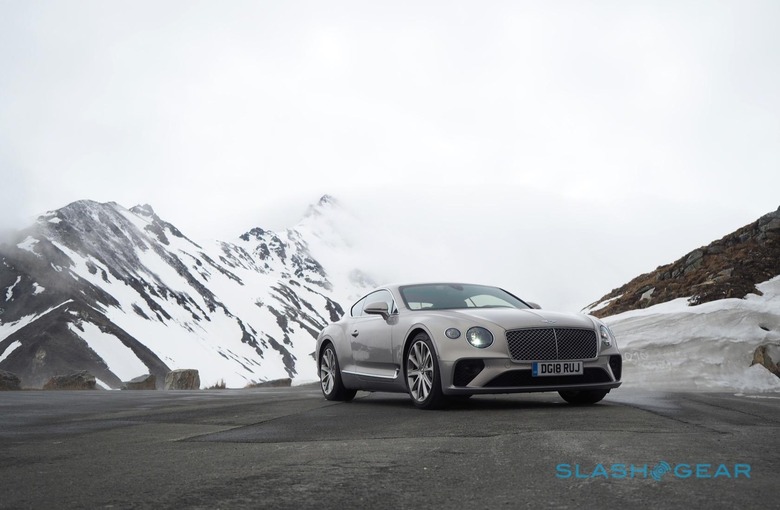 Second, though, is new blood. Bentley may have sold almost 70,000 of the last two generations of Continental GT, but its appetites stretch beyond that. It wants new customers; to lure in those who might not have previously considered this distinctive British bruiser.
The result is a car that's unmistakably a Continental GT, and yet fresh – along with being entirely new. Bentley's designers lengthened the hood and pushed the cabin back, trimming the front overhang but slightly enlarging it at the rear. The front grille is bigger, more upright, and positioned further down, helping give the whole car a more aggressive, eager stance.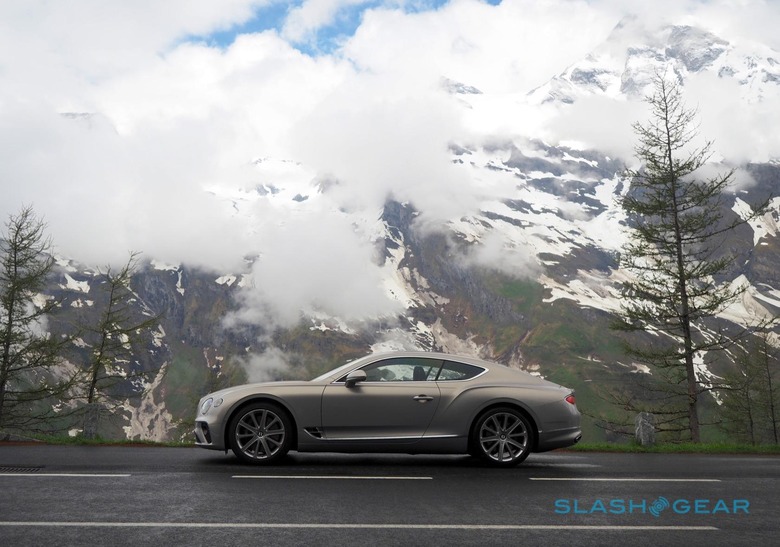 Bentley uses "Superforming," the metalwork process it created, for the most recognizable aspects of the Continental GT's design: its pronounced front and rear fenders. Again, they pick out the cues of the previous cars, but magnified and strengthened. The edges are sharper; the curves more voluptuous.
To that richness of form, then, the designers bring some restraint. A lot of the excess detailing that helped date the old car has been lost in this third-generation, leaving just a handful of flourishes to catch your eye. The headlamps, for example, feature a beautiful cut-crystal pattern inspired by fine glassware. The "12" on the trailing edge behind the front wheels – a reference to the number of cylinders churning under the hood – has been picked out in polished metal fins.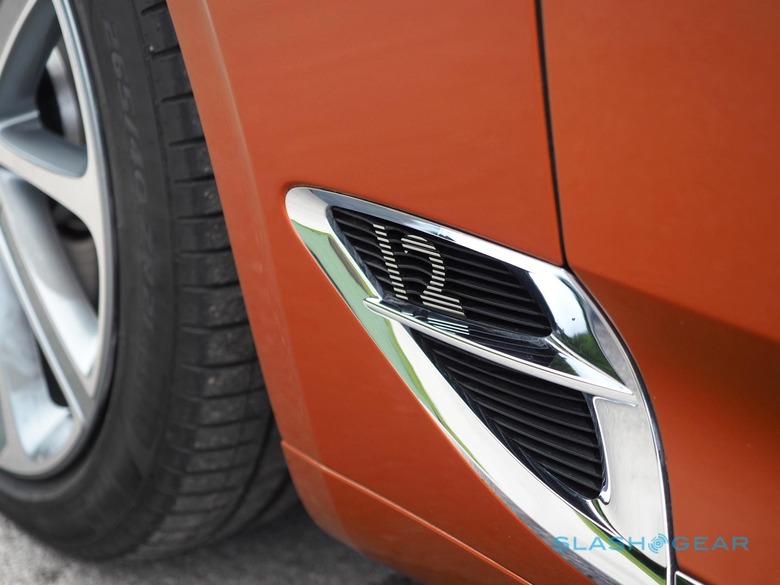 It's the rear, though, where arguably the most cleaning has taken place. The taillamps are still broad eclipses, but their illuminated ring-within-a-ring structure is far less ostentatious than the lighting on the old car.
There's technology woven throughout, however. Those stunning headlamps may be based on traditional craftsmanship, but they're illuminated by super-bright matrix LEDs that can be intelligently switched on and off to light the road yet not dazzle oncoming traffic. That's along with being so bright that, Bentley says, there's no need for a headlamp washer.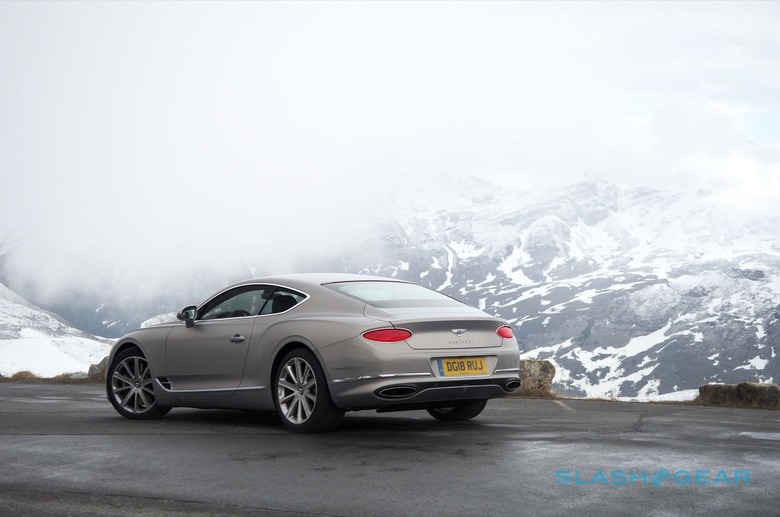 Inside, I'd argue that Bentley's ground-up redesign has been even more effective. The technology – and the infotainment system in particular – of the old car had become its weakest feature, and has now thankfully been put out to pasture. In its place, Bentley has a whole new system based on the same technology you'd find in Porsche's latest Panamera.
The four-door Porsche can't hold a candle to the Continental GT's cabin, mind. It's a reminder that a large chunk of the not-inconsiderable sticker price of this car goes on the craftsmanship and the authenticity of the materials. Real leather, real wood, and real metal, and so much of all three, each worked in beautiful ways.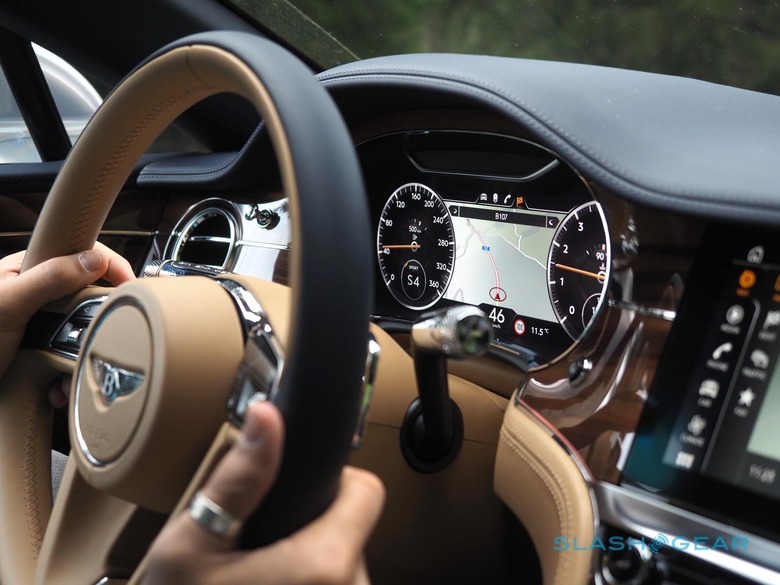 The dashboard itself is a sweep of hand-stitched hide, sandwiching one or two of a variety of wood veneers, and then picked out with strips of metal and subtle illumination. The steering wheel is thick-rimmed, with small but tactile metal paddle-shifters behind. The perfectly weighted controls seem tailor-made to telegraph their tactile heft directly to the somesthetic areas of your brain.
Bentley's expertise at working leather is in fine display. The doors and seats feature a new, diamond stitched design – in fact diamonds within diamonds – each requiring 712 stitches, and growing in size as they flow across the seat backs and through the door panels. The combinations of hide colors you can create is huge, changing the Continental GT's cabin from dark, purposeful cocoon at one extreme, through to light and airy at the other. Each piece of leather has the signature of its creator on the back.
In the center there's a new, 12.3-inch touchscreen for infotainment and navigation, high-resolution and with a far more driver-friendly layout than anything you'll find in another Bentley. Beneath it, there are plenty of dedicated buttons to control the HVAC system – including rotary dials for the temperature with embedded displays at their center – and the large drive mode selector.
Bentley is offering a new finish here, too, accompanying the diamond knurling of the knobs and stalks. Called Côtes de Genève, it's a machined three-dimensional surface inspired by Swiss watches. The resulting ridges are beautiful, though hardly cheap, as a roughly $1,900 option.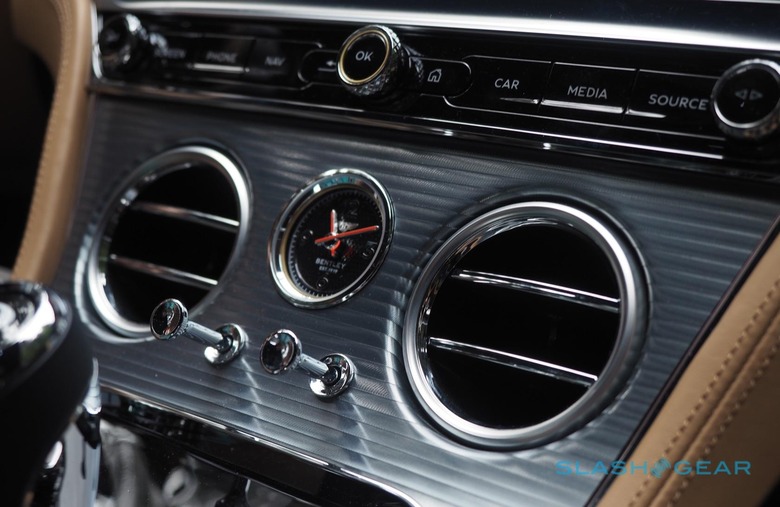 The driver's gages have gone all-digital, capable of showing a mixture of engine information, multimedia, and navigation updates across a variety of layouts. A large, color head-up display completes the trio of screens.
Bentley, though, wants you to be able to hide at least some of them if you prefer. Luxury, the automaker argues, is the option of not having a big display blaring information at you, and so it created a rotating display on which the central touchscreen is mounted. Shut the car off, and it swivels – a surprisingly complex process requiring forty different moving parts and tolerances of less than half a millimeter – to show a clean expanse of wood veneer, part of the ten square meters of the 0.1 mm thick wood featured in the cabin as a whole.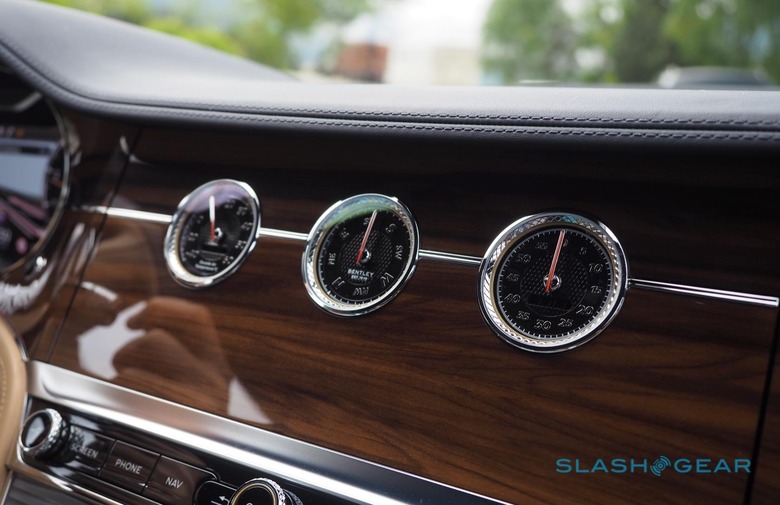 While you're on the move, however, pressing the screen button shows the third side of the triangular panel. That has a trio of analog gages: the outside temperature, a compass, and a chronometer. It's more visual theater than anything else, but as JP Gregory, Head of Exterior Design at the automaker argues, it allows "the archetype and design of the materials themselves to dominate."
The rest is familiar Bentley: the eyeball-like metal air vents, for instance, and their tactile organ stop controls. The 10 speaker, 650 watt standard audio system would be superlative on most cars; Bentley, though, offers both a 16 speaker, 1,500 watt Bang & Olufsen alternative, and a top-end Naim system with 18 speakers, two active bass transducers, and a ridiculous 2,200 watts. They sound, you'll be unsurprised to discover, incredible. Only the lightest sprinkling of Audi parts – the buttons on the steering wheel, for example – threaten to nudge you ever so slightly from your British idyll.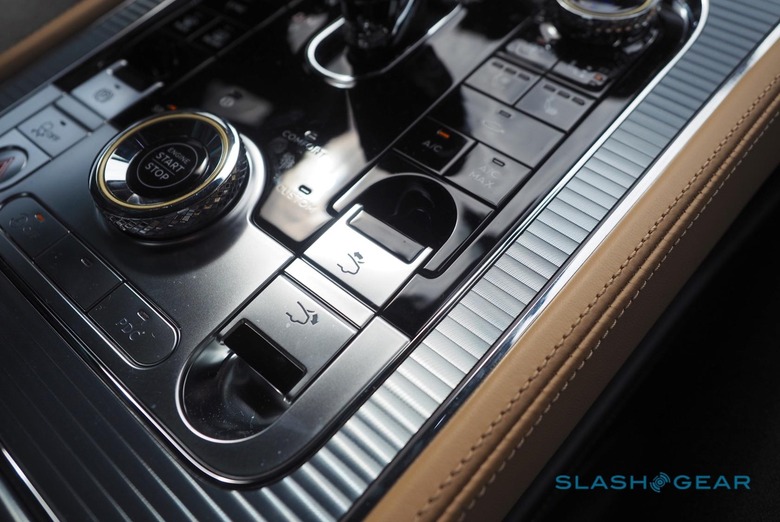 Where it really matters, though, it's all Bentley. The 6.0-liter W12 engine is a torque-rich masterpiece, twelve cylinders and twin-turbocharging combined with a new 8-speed ZF dual-clutch transmission. It delivers 626 horsepower and a sumptuous 664 lb-ft. of torque, the latter arriving sooner than in the old Continental GT, and then building constantly through to over 4,000 rpm.
Despite being more powerful, though, it's also more than 66 pounds lighter than the old engine, plus 16-percent more economical. It'll do 500 miles on a full tank or, if you prioritize going fast over going far, it'll use its new launch control system to hurtle you from 0-60 mph in 3.6 seconds, and on to a top speed of 207 mph.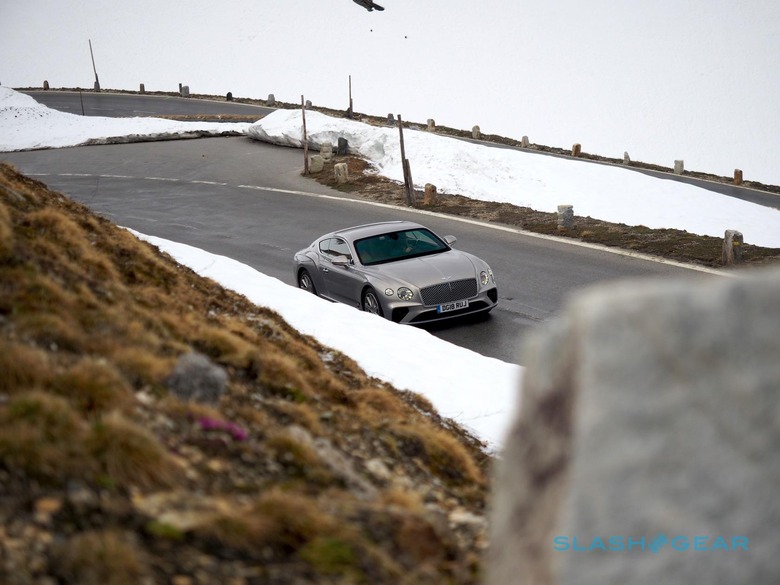 It sits on a new air suspension system, featuring three chamber springs that can hold 60-percent more air volume in their softest settings. That means more range to soak up imperfections in the road. A 48 volt active anti-roll bar has been included, too, which can deliver 962 lb-ft. of torque in 0.3 seconds to counter body roll.
There's active torque vectoring and an electronic center differential, pushing power front and back and side to side as the drive mode and driving conditions demand it. Normally, the Continental GT defaults to rear-wheel drive, but it can push up to 38-percent of its torque to the front wheels in the Comfort and Bentley drive modes, or up to 17-percent in Sport mode.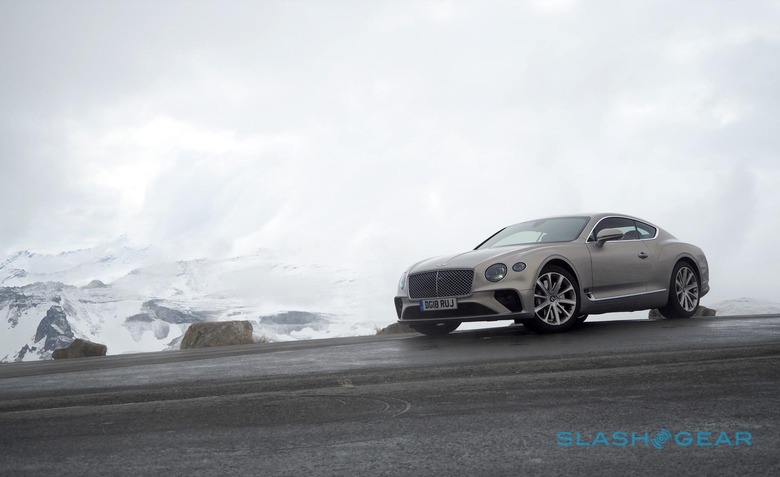 Then there are the brakes, billed as the most powerful iron system the automaker has ever created. The 420 mm front discs get ten piston calipers apiece; the 380 mm rear discs each get four. Bentley uses them for the torque vectoring, too, gently applying slowing the inside wheels during cornering to avoid oversteer and tighten up the turn.
It's around 170 pounds lighter than the old car but, at 4,949 pounds, still hardly a featherweight. Nonetheless the weight distribution is better, and that pays dividends in the corners. It's more eager to dive into turns, and then pick up out of them; you don't lose that sense of heft, but the degree to which Bentley has avoided body roll is, frankly, astonishing.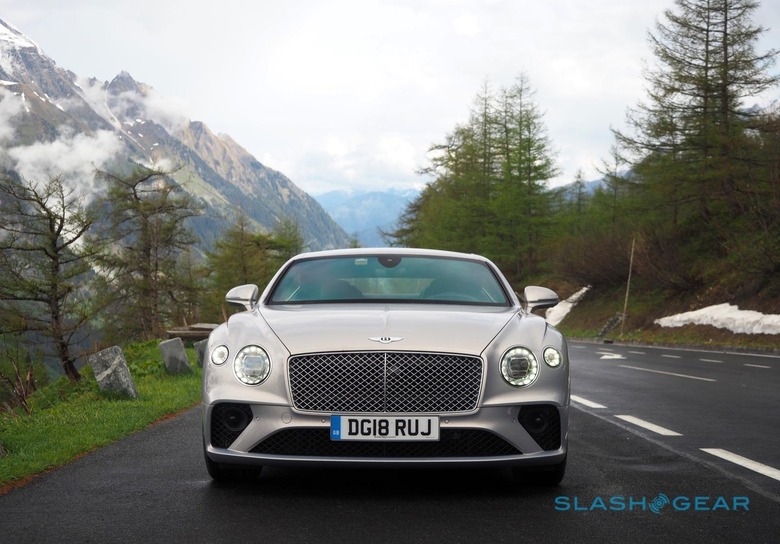 Indeed, I soon realized that the best way of driving the new Continental GT is to capitalize upon its various excesses. Brake hard as you enter the corner, taking advantage of the prodigious, body-squeezing grip from those huge discs and their 28 pistons to shed speed. Rely on the combination of wide, sticky rubber and clever torque vectoring to pivot around the turn. Then jam your right foot down and rely on that glorious surge of power to hurtle you back up to speed once more.
You should absolutely be in Sport mode while you do it. Bentley mode – the automaker's preferred balance of sporting-restraint in the grand tourer style – is soft enough that it's better suited to cruising. More importantly, though, Sport mode lets the W12 engine sing at its most full-throated, something you notice even more with the ridiculously effective sound insulation keeping extraneous road noise at bay.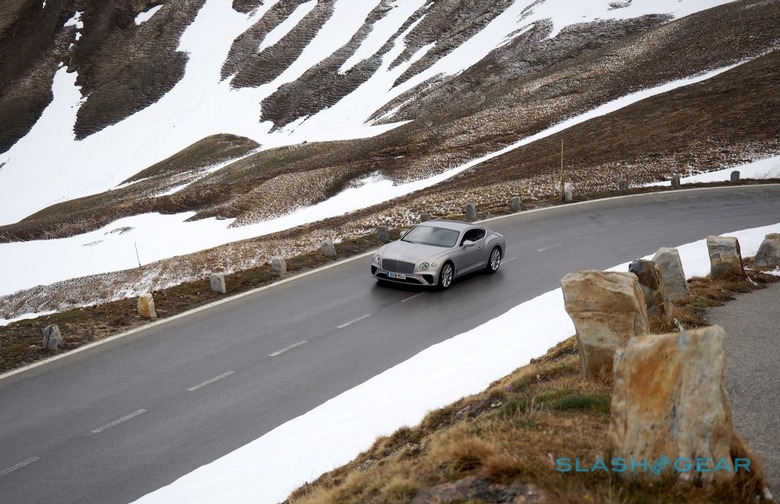 Straight line pace is, frankly, dangerous. The old car was never a slowpoke: bury the accelerator, and it would pause for a moment as if in consideration, then hurtle forward like a steam engine. With the new Continental GT, that hurtle is even more aggressive, but the preliminary pause is much shorter, too. Overtaking shouldn't be addictive, but it's made so with the knowledge that even the narrowest gap in oncoming traffic is sufficient to slice around slower cars and trucks ahead.
Find yourself on the highway, though, and the Continental GT just as capably demonstrates its cruising talents. Switch into Comfort mode and suddenly cross-country touring seems eminently practical. There's now adaptive cruise control with lane position holding, that recognizes road signs along with dipping into the navigation system and GPS to adjust speed and gearing according to the road's gradient and upcoming corners. That dual-clutch transmission, rifle-bolt sharp when you're pushing hard, proves equally capable at slushing you around with near-imperceivable discretion.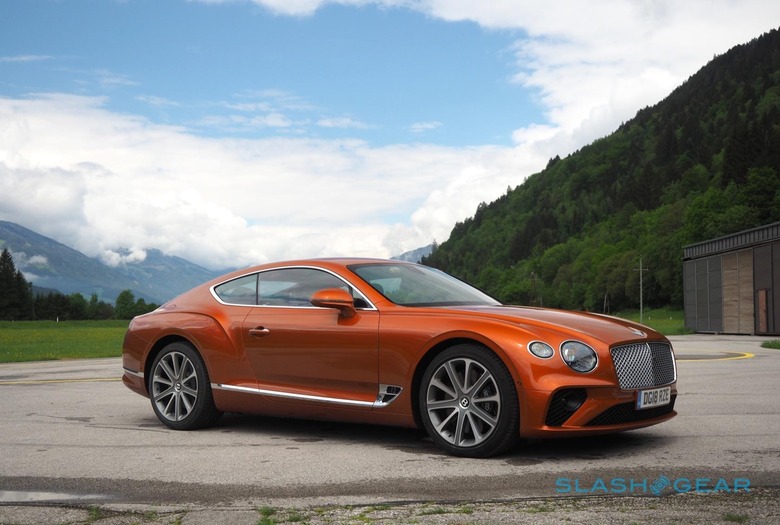 As Alex wrote last week of the McLaren 720S, there's no definition of what makes a "grand tourer" in the exact sense. It's a term applied to a wide range of cars as a result, encompassing extremes like the feisty McLaren at one end, to Mercedes' yacht-like S-Class Coupe at the other. Little, though, straddles that dichotomy of performance and cruising in extreme luxury like the Continental GT.
Sadly, those among us in the US with the $214,600 to spend on a grand tourer will have to wait a while. The 2019 Continental GT arrives in Europe this Summer, but US deliveries aren't expected until Spring 2019.
Bentley isn't saying how many it expects to sell, but it's worth noting that last year, despite its age and this new model approaching, the outgoing car was only slightly bested in sales by the Bentayga SUV. There are more than 700 customers with certified deposits for the new car already, Mark Del Rosso, President and CEO of Bentley Americas says, and dealers in the US have been holding deposits for 2-3 years.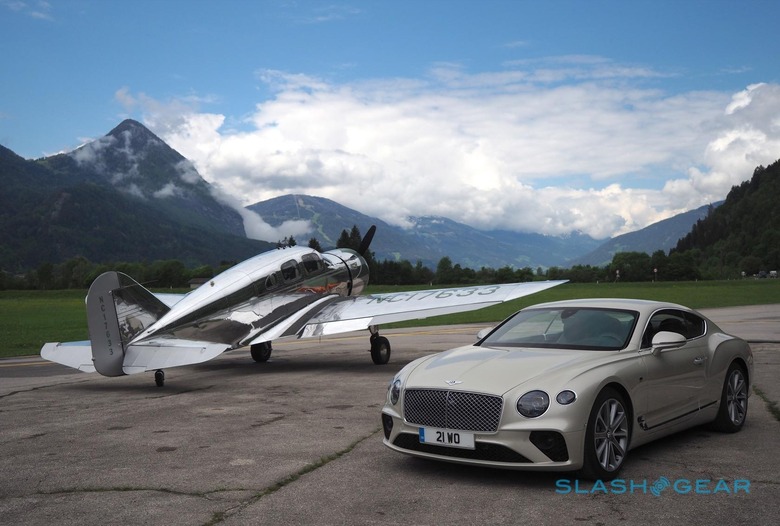 Having to pick just one car to occupy your dream garage may be the epitome of a first world problem, but that doesn't make it any less fun a game to play. There's no dearth of powerful exotics out there for when you demand speed, but few are comfortable enough to consider making them a daily driver. Conversely, luxury cars are more cosseting than ever, but those more enthusiastic behind the wheel may find themselves left cold.
In short, there is no perfect car. No perfect combination of strengths and compromises. That being said, the 2019 Bentley Continental GT takes as its recipe a few core tenets – the ability to do 500 pain-free miles on a single tank of gas, with superlative levels of power on tap – and drapes them in finery few automakers can rival. Faced with that, I think you can safely leave the jet behind.